Teens Chase And Tackle Terrified Piglets In Bizarre Festival
"The pigs don't stop screaming."
Surrounded by a crowd of yelling spectators, four curious piglets trot around a large dirt enclosure, sniffing and rooting around in their new surroundings.
A loud horn goes off, and suddenly a horde of teenagers comes stampeding toward the young pigs, grabbing and pulling them by their legs so they can't flee.
Others run full speed and body-slam the animals to the ground as they try to escape. The piglets are screaming and writhing in fear — but the crowd cheers in delight.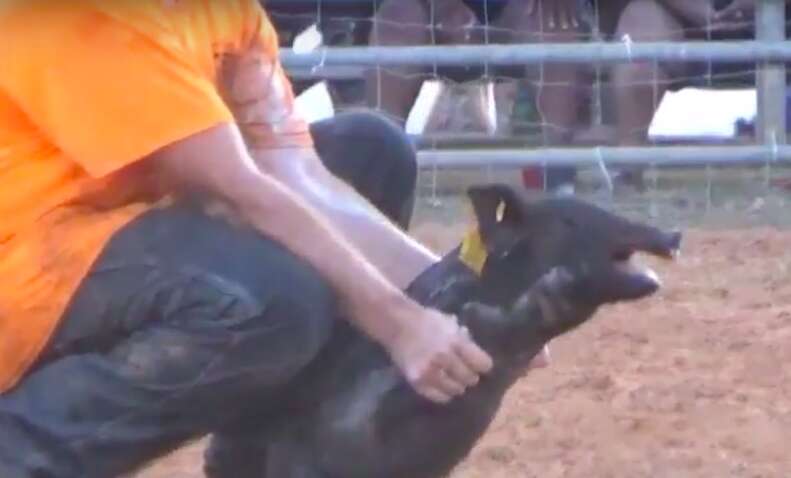 This was the scene Melody Paris, of Georgia Animal Rights and Protection (GARP), watched in horror two years ago, after being tipped off about the event by a concerned citizen.
Hosted each September in Barnesville, Georgia, the annual "pig chase" has been happening for the past 40 years — and is part of a festival hosted by the city's chamber of commerce to bring the community together and promote local businesses.
But all this component does, Paris argues, is torture animals for entertainment.
"What's truly heartbreaking is that these little pigs go in there and have no idea what is about to happen," Paris told The Dodo. "They are so tiny and innocent. We witnessed kids bending these animals' legs back, grabbing their ears and snouts and throwing their entire body weight on them. The pigs don't stop screaming."
Hosted over the course of a day, the pig chase event features around 20 pigs and piglets — some going through the cruel spectacle multiple times if a winner isn't crowned. Each chase is broken up into an age group, so young children, teenagers and adults all participate.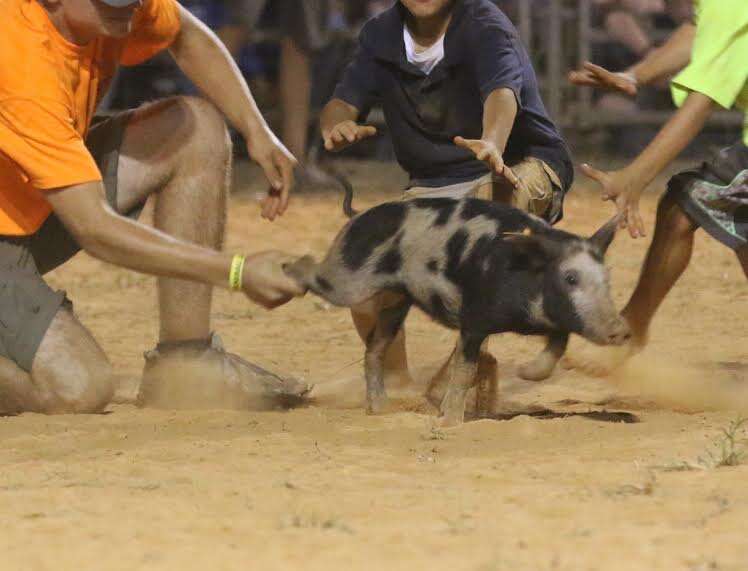 "The people who catch a pig actually win them," Paris said. "They put their pig in a burlap bag and take them away. The woman who reached out to us about it for help said she had seen one of the pigs in a ditch with two broken legs after the previous year's race. We're assuming whoever won him or her didn't want to keep them, so they were just tossed away."
The cruelty doesn't stop there. Paris and her colleagues also witnessed the handlers who are hired for the event abusing the pigs outside the chase.
"We witnessed the workers slapping the pigs, slamming them down and spitting on them," Paris said. "In addition to the event being extremely cruel, it's teaching children that violence against animals is OK. We really need to be teaching them compassion."
After seeing the event firsthand, GARP wrote to the Barnesville-Lamar County Chamber of Commerce to urge officials to replace the event with something that doesn't involve animals.
"We received no response," Paris said. "We went ahead and released a petition and our video from the event. They've since asked us to take everything down. They said it was misleading."
So far, the group's petition against the event has garnered over 89,000 signatures. A counterpetition has popped up, but hasn't gained nearly as much traction.
Paris hopes continued pressure from the public will put an end to the cruel spectacle for good — and educate the community about just how much pigs need their help.
"We're not giving up until it stops, however long that takes," Paris said. "Farm animals have absolutely no protections, and that's even more of an opportunity to teach people that pigs can suffer just as much as dogs or cats. They have the same exact capacity for fear and pain as any other animal. They're intelligent, loving animals and there's no reason to treat them this way."