Gentle Calf Has The Wobbliest Legs After Rough Start In Life
She was saved by a stroke of luck — just in time for Christmas.
Jen Sale hated going to the auction house — it was smelly, dirty and all the animals there were terrified.
"Almost everyone is there to purchase animals for slaughter," Sale, CEO and founder of Sale Ranch Animal Sanctuary, told The Dodo. "It's a scary, awful place."
A few weeks ago, Sale and a few animal lovers had gone to the California auction house to rescue a newborn calf. Sale was going to keep the newborn at her sanctuary, and her friends planned to feature the calf in a film about the dairy industry.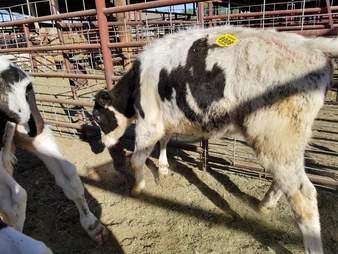 Pistol Annie inside of a pen at the auction house

| Sale Ranch Animal Sanctuary
After bidding and winning the release of a 2-day-old baby calf, whom they named Pistol Annie, Sale and her friends went to leave. But then Sale caught sight of another calf being pushed into the bidding pen.
This calf was a little older — maybe about 3 or 4 months old. She had big eyes, a freckled nose and very wobbly legs.
Mercy after she'd been rescued and rehomed at the sanctuary

| Sale Ranch Animal Sanctuary
"My heart exploded with sadness and pain," Sale said. "She was shaking so hard, barely able to hold herself up, and foaming at the mouth. I knew in that moment I had to save her. There was no way I was leaving her there."
When Sale put in a bid for the calf, others bid against her. The price kept going up, but Sale refused to stop bidding. "I was determined to bring her home to the ranch," Sale said.
Mercy after she'd been rescued and rehomed at the sanctuary

| Sale Ranch Animal Sanctuary
Her determination paid off — Sale won the calf's freedom. But since Sale hadn't intended on rescuing a second animal, she had no way of getting the calf, whom she named Mercy, back to the sanctuary. But a friend saved the day by lending her a trailer, and both Mercy and Pistol Annie went to their new home together.
But the calves weren't out of the woods yet. When they arrived at the sanctuary, both animals were weak and sick with pneumonia.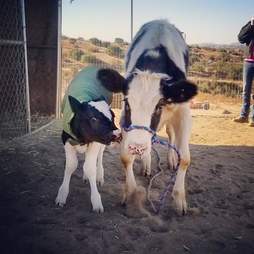 Pistol Annie and Mercy standing together at the sanctuary

| Sale Ranch Animal Sanctuary
A vet team immediately tended to the calves to help them get better. They also examined Mercy's wobbly limbs — it looked like Mercy had been born with contracted tendons in both front legs. But Sale also suspected that Mercy had been kept inside a veal crate before ending up at the auction house, which had probably made her legs a lot worse. 
'Her legs are significantly deformed from ... spending the first 3 to 4 months of her life in a small crate, which has deformed them more," Sale said. "She also doesn't lift her head — we think she had a chain to keep her confined, and always on her left side."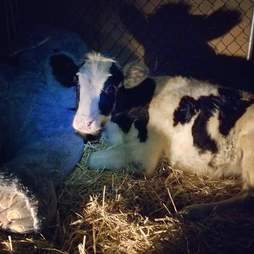 Sale Ranch Animal Sanctuary
Unfortunately, Pistol Annie took a turn for the worse when she started showing symptoms of clostridium, a bacterial disease that can be deadly. A week later, she passed away.
When Mercy tested positive for clostridium too, Sale worried that Mercy was going to die as well.
But Mercy had a determination to live, according to Sale, and the vet team worked hard to save her life. After several days, Mercy's fever finally broke and she regained her appetite.
Sale Ranch Animal Sanctuary
"She has finished her treatments ... and is showing such positive improvement," Sale said. "She is brighter ... and is standing up on her own several times a day."
For the moment, Mercy remains in quarantine and hasn't gotten the chance to meet the other sanctuary animals yet — so Sale spends as much time with her as possible.
Sale heading Mercy on the forehead

| Sale Ranch Animal Sanctuary
"Today I got to kiss her forehead and it was magical," Sale said. "She is [a] beautiful and sweet baby who is so gentle. To see her go from fearful of people to seeking attention in such a short time is incredible."
Once Mercy is fully better, Sale and the vet team will do their best to heal Mercy's legs — and everyone remains optimistic.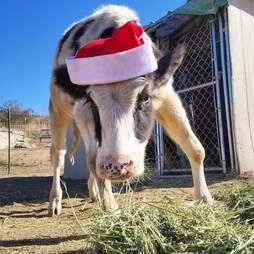 Sale Ranch Animal Sanctuary
"Mercy is a beautiful blessing and is looking more like a Christmas miracle with each passing day," Sale said. "I cannot wait to see her healthy and out in pasture with [the other cows] Cherry, Faith and Hope. She has friends waiting to love her."
You can also help Sale Ranch Animal Sanctuary rescue more animals like Mercy by
making a donation
.