People Are Inviting Goats To Their Zoom Meetings To Make Them More Fun
"People might not notice at first, but eventually someone says, 'Is that an animal?'"
Since the world is mostly staying inside these days, there aren't as many chances to connect with animals and nature — so some animal sanctuaries got together and figured out a way to virtually bring their animals into your home.
​Goat 2 Meeting is a program created by Sweet Farm Sanctuary in California that allows you to bring goats (or sheep, ducks and other animals) onto your conference calls hosted by platforms like Zoom, Google Hangouts, BlueJeans and GoToMeeting. Other animal sanctuaries across the country have joined the program as well, including Catskill Animal Sanctuary in New York, and so far staff members and animal residents have loved being a part of it.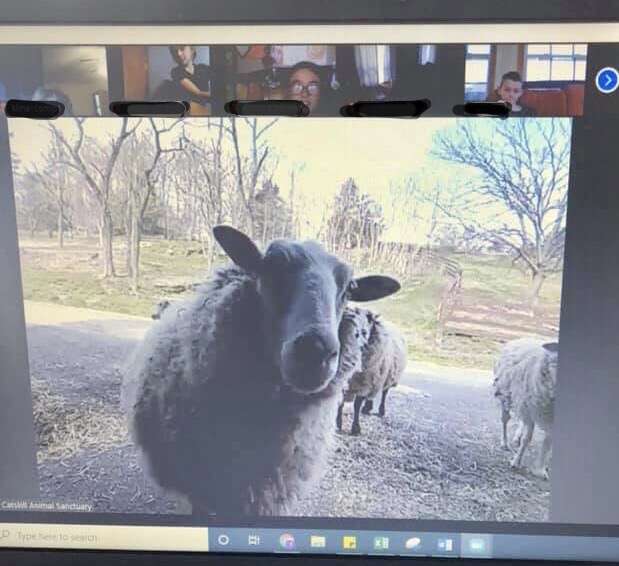 A lot of times, no one on the call except for the organizer has any idea that a goat is going to be joining them — and the reactions of shock and surprise have all been pretty priceless.
"Sometimes the cameos are a surprise for the group, and in that case I just point the camera at the animal and don't say anything," Lauren Barbieri, youth programs manager at Catskill Animal Sanctuary, told The Dodo. "People might not notice at first, but eventually someone says, 'Is that an animal?' and then everyone else chimes in that it looks like a goat … or a sheep … and why is there an animal here anyway? At that point I'll let the group leader introduce the program, or I'll introduce the animal and myself. And then everyone's reactions turn to excitement, of how they can't believe there's a goat, and how cute the goat is, and how nice it is to see them."
Groups can book time slots that range from 10 to 25 minutes. Depending on how long the booking is, the session can also include a walk around the sanctuary grounds, giving people a chance to experience the great outdoors from the safety of their homes and learn a little more about the animals who live there.
"There's definitely a lot of laughing," Barbieri said. "For some people, they don't have much of an opportunity these days to get outside or to see any animal. People talk about how this is the best part of the day (or week, or month!) and they ask all sorts of questions about who the animals are, how they came to be at the sanctuary, which animals they get along with, how old they are, and more."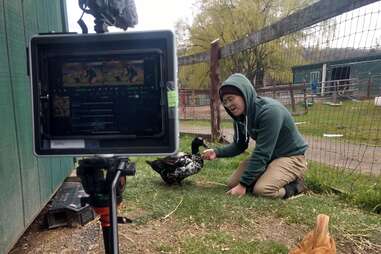 Normally, the animals of Catskill Animal Sanctuary get a lot of human interaction because of all the visitors who stop by to see them daily, but lately that interaction has been limited to just their caretakers. The conference calls give them a little extra time to spend with the people they love and a chance to show off for the camera and all of their fans, and they're definitely taking advantage of it.
"The sheep in particular have loved having some of their favorite humans around and have been pushing to get in front of the camera," Barbieri said. "I've been knocked over on my backside several times by an overenthusiastic sheep!"
Of course, animals are pretty unpredictable, and since the conference calls are always live, there have been some pretty funny moments caught on camera since the program started — and all of the participants have absolutely loved each and every one of them.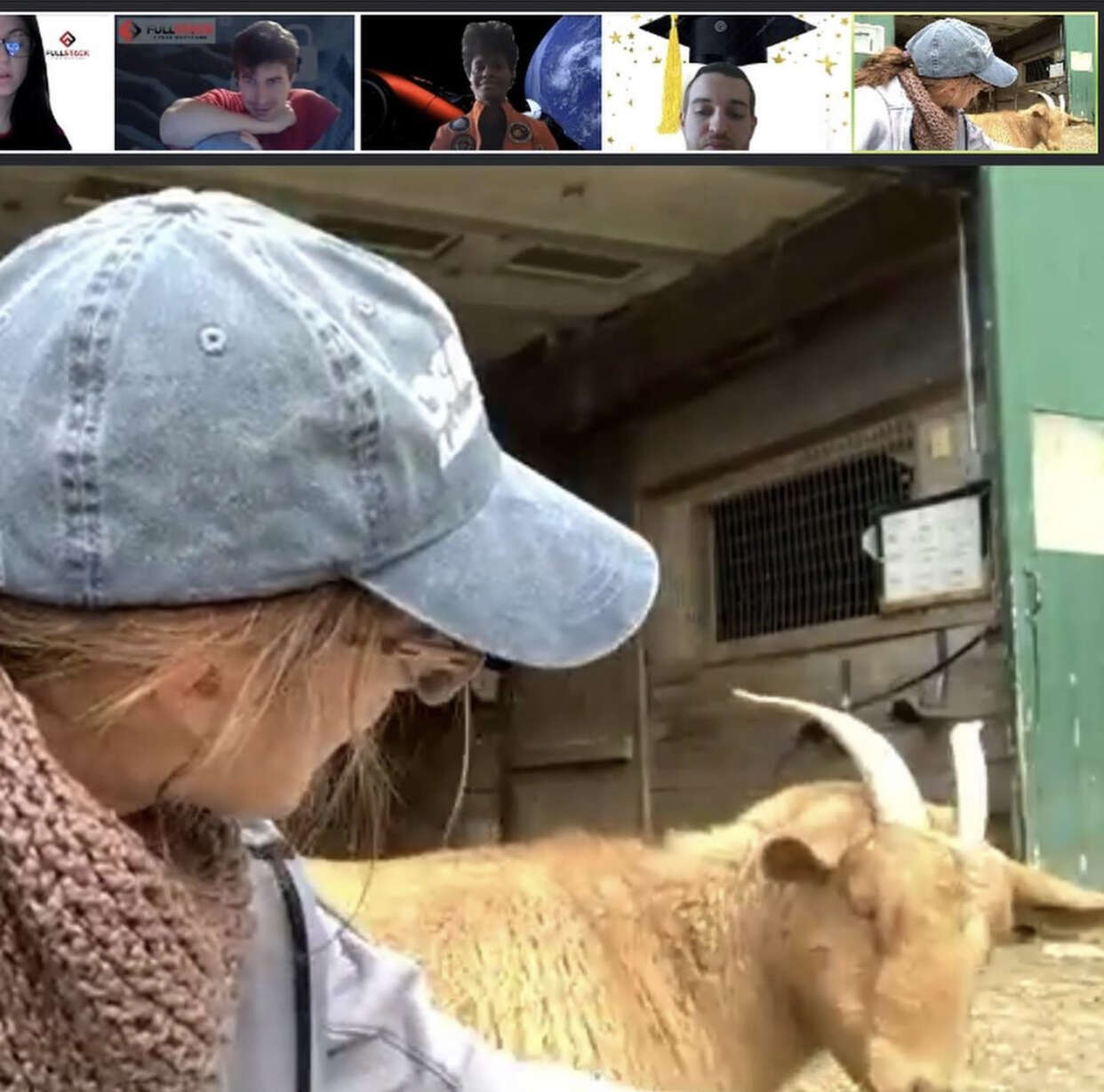 "The goats and sheep love to get their nose right up to the camera," Dani Auretto, donor relations manager at Catskill Animal Sanctuary, told The Dodo. "People absolutely love it. My favorite moment was Kathy (the sanctuary's founder and executive director) forgetting she had a gingersnap in her jacket and Amelia (the pig) chasing her across the field as she was talking to a group of students in their ancient Greek language class at the University of Iowa. Also, the number of animal backsides now in Zoom screenshots is probably very high!"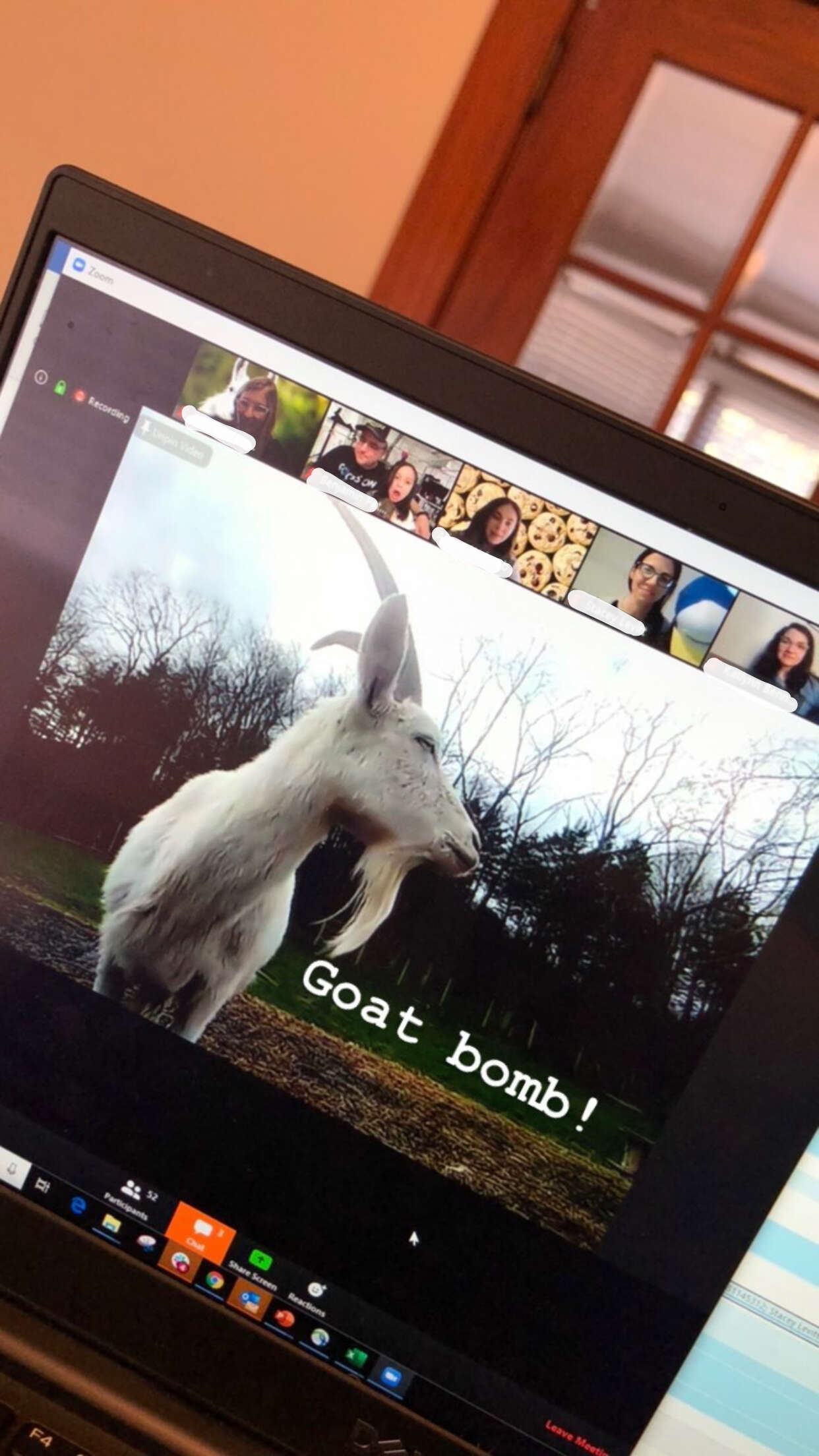 It can be hard to find ways to add variety to our lives right now — and bringing a goat or a herd of sheep into your meeting is definitely one of the best ways to do it.