Major Snuggle Session Between Dog And Baby Goat Caught On Film
"These two slobs spent more time cuddling on the couch than I've ever seen."
Almost as soon as a little baby goat came into the world, he was unwanted.
Arnold was born with crooked legs on a farm in Canada, and because of his defect no one wanted to deal with him.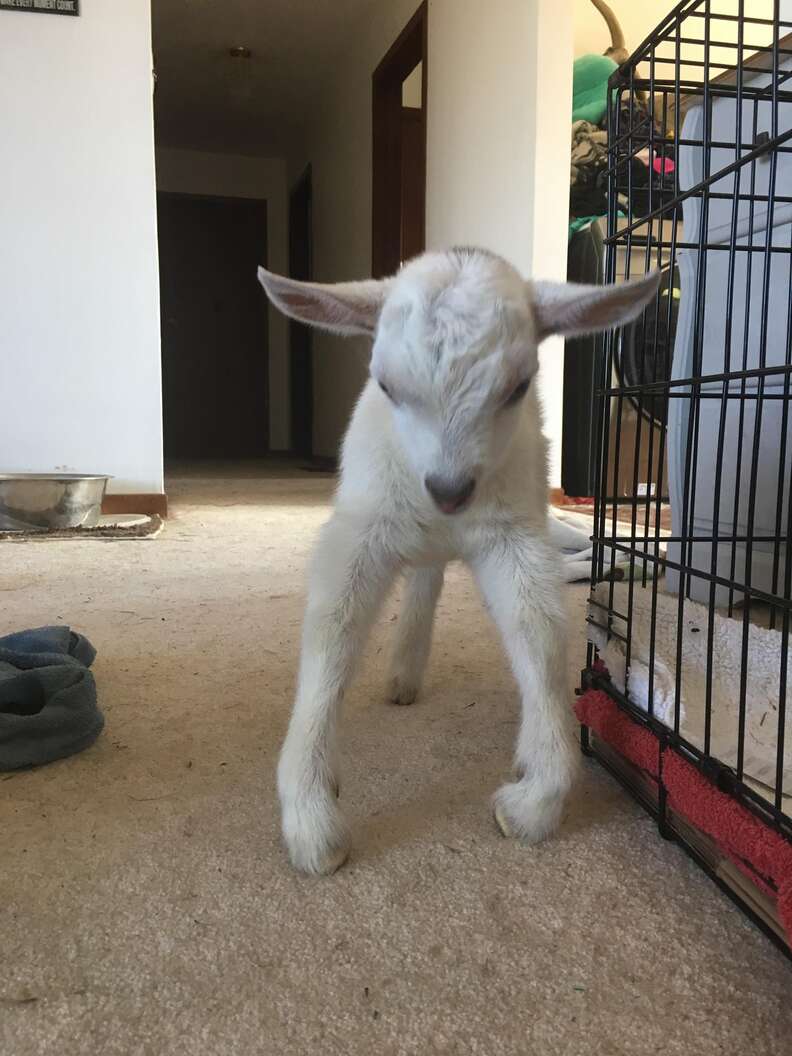 "He had contracted tendons so was going to be put down at just a couple days old," Megan Mostacci, cofounder of Black Goat Farm and Sanctuary in Ontario, told The Dodo. "We took him."
At the sanctuary, Arnold started doing physical therapy to help with his tendons. He also got splints on his legs.
"Twice a day we would do stretches and then splint them as straight as we could get them," Mostacci said. "They came off at lunchtime so he could nap and then [again] at bedtime."
Arnold had a lot of healing to do for such a little animal. And somehow he seemed to have the intuition that going through anything difficult is better when surrounded by love and affection.
The little goat struck up a very snuggly rapport with Drake, a Nova Scotia duck tolling retriever at the sanctuary.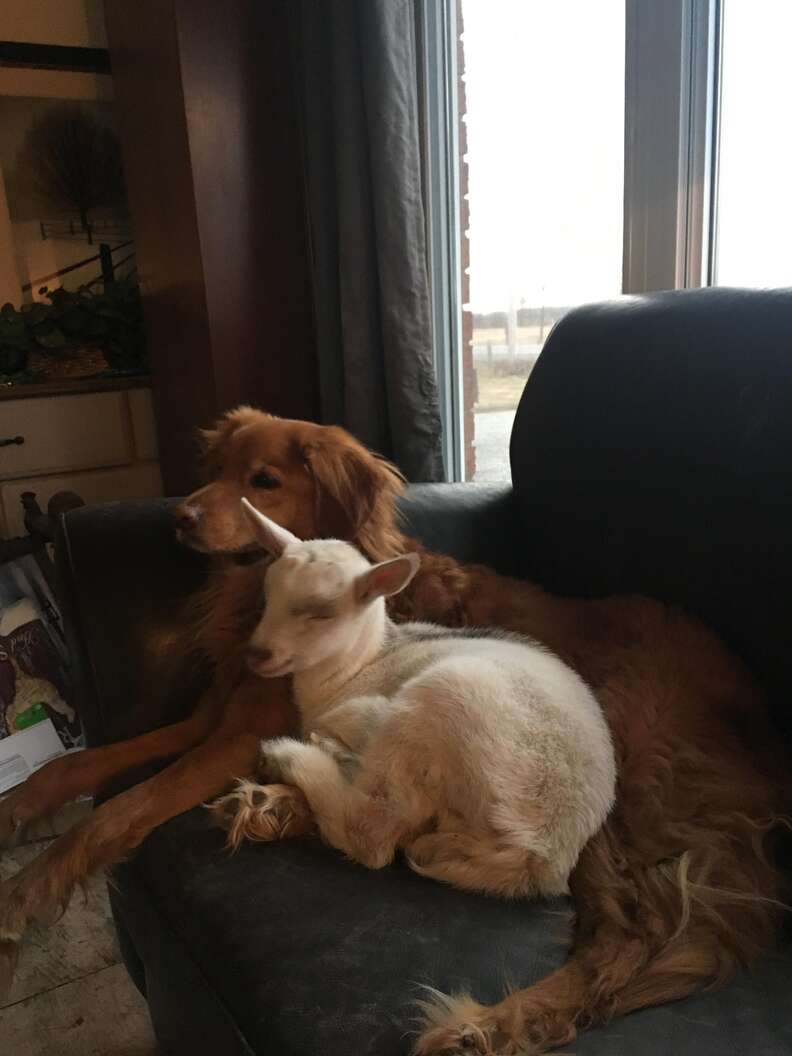 "He absolutely fell in love with Drake," Mostacci said.
Part of the foundation of the relationship seemed to be a shared interest: getting comfy on the couch.
"Drake is a lazy dog," Mostacci explained. "He likes to sleep on the couch."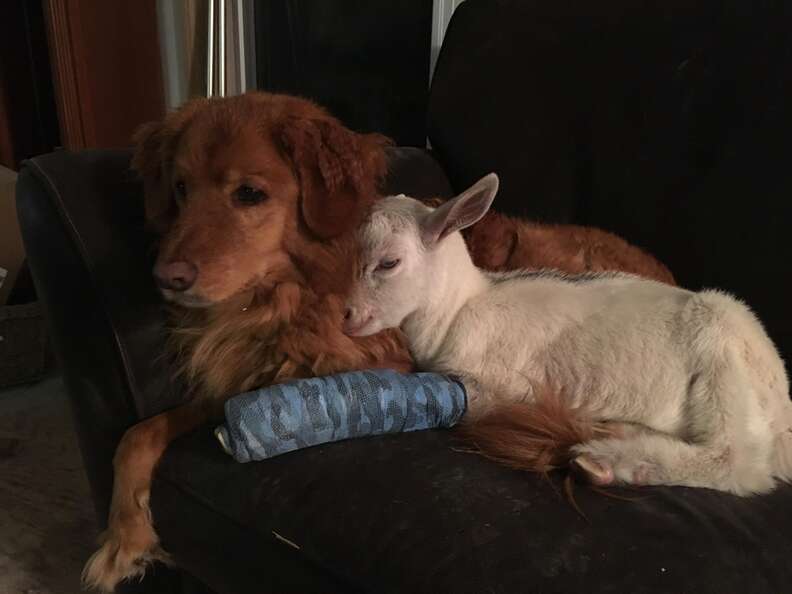 Because of Arnold's crooked legs, this less-than-active activity suited Arnold perfectly.
"Arnold was an old soul and since his splints slowed him down a bit he didn't seem to mind being a lazy boy himself," Mostacci said.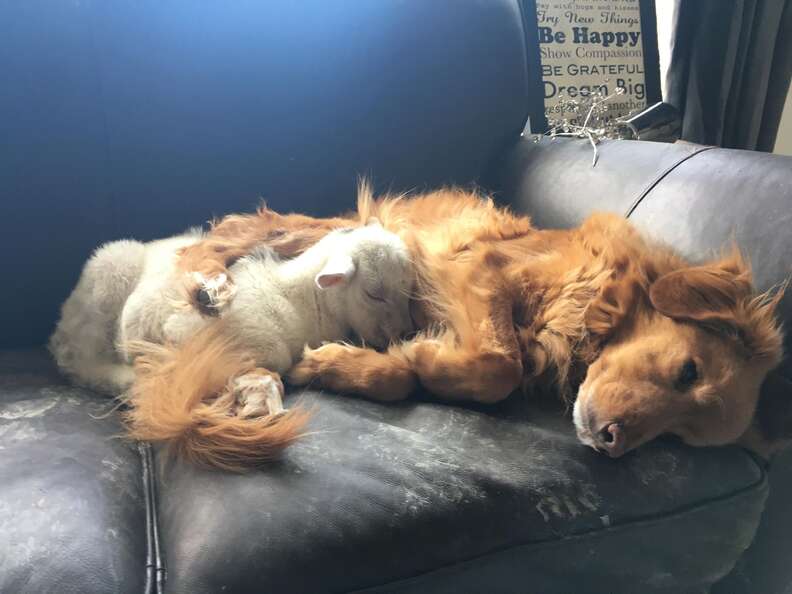 The collaborative lazing about evolved from side-by-side snuggling to all-out spooning.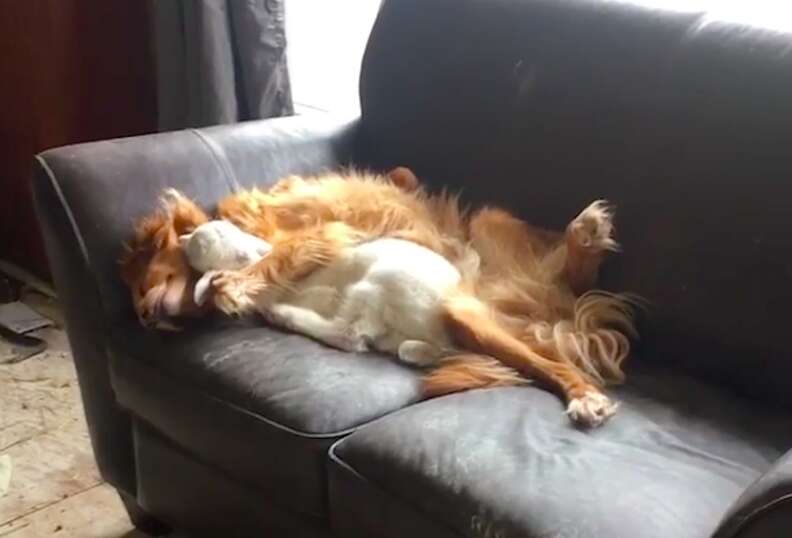 At times another animal — an errant cat, for example — would even decide to join the snuggly pair.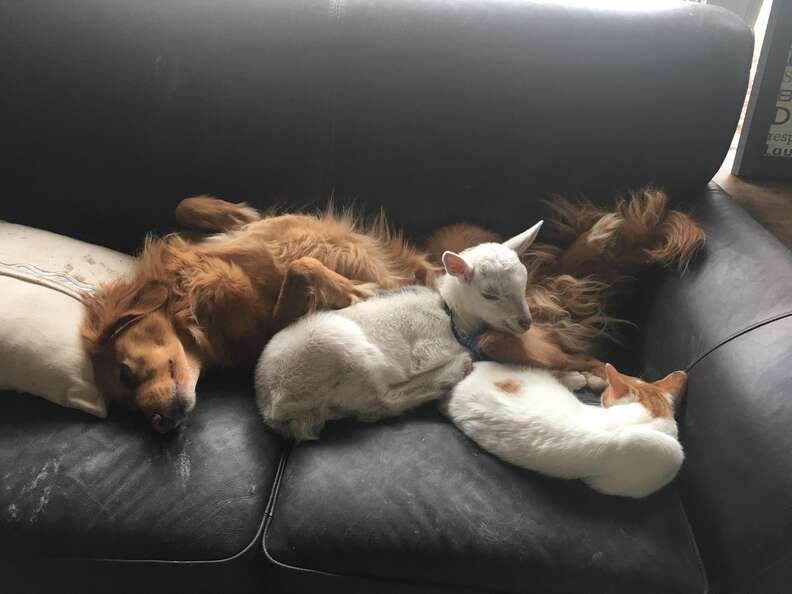 "These two slobs spent more time cuddling on the couch than I've ever seen," Mostacci said.
Soon, Arnold started growing both bigger and stronger. His legs improved and it became time for him to be a bit more active — he's still a young goat, after all.
Drake probably noticed this change.
"Arnie would play on Drake and climb all over him and Drake didn't care," Mostacci said.
Arnold's hair started turning darker and he grew larger and larger — too large to be the little spoon anymore.
He started spending more time playing in the yard than sleeping on the couch.
But recently Arnold had a growth spurt that aggravated one of his tendons a little, so he got a splint until he could walk easily again.
And Arnold knew just what to do.
"He came to the house," Mostacci said. "He hopped right up on the outdoor couch with Drake to snuggle."