Mini Horse Goes Missing After Massive Flood — Then People Looked Up
They were afraid she had drowned 😱💓
Last week, record-setting rains and flooding in western Japan submerged houses and forced hundreds of thousands of people to evacuate.
The town of Mabi in Kurashiki, Okayama Prefecture, was especially hard-hit, but amidst the wreckage, a sign of hope appeared — in a very unexpected place.
On Friday, Life Town Mabi, a local healthcare facility for the elderly, was forced to evacuate due to rapidly rising waters. Amidst the chaos, the therapy animals who had comforted residents for years were set loose.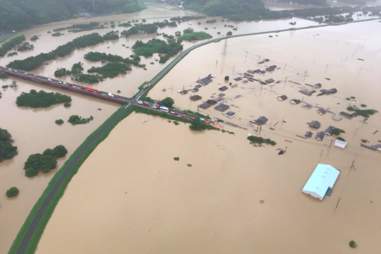 Twitter/Peace Winds Japan
A favorite at the facility was Leaf, a 9-year-old miniature horse who lived on an adjacent farm with her young colt, Earth.
Twitter/Peace Winds Japan
With the farm entirely submerged, most Life Town Mabi workers assumed the little horse had drowned. But Mari Tanimoto, an employee who cared for Leaf, knew the little horse was tougher than she looked, and held out hope that somehow she had swum to safety.
As it turned out, Leaf had found higher ground.
On Monday, volunteers from Peace Winds Japan (PWJ), a disaster relief group, traveled to visit a school that had been turned into a temporary shelter, and they stumbled upon an amazing sight: a tiny, mud-caked horse perched precariously on a slanted roof.
Twitter/Peace Winds Japan
While rescuers prepared to retrieve Leaf, the horse lost her footing and tumbled to the ground. But just as she'd survived the flood against all odds, the tough little horse wouldn't be brought down by a fall. PWJ workers examined the horse, finding that she had sustained only minor injuries to one leg.
Twitter/Peace Winds Japan
Leaf is now healing at a neighboring farm, and getting plenty of attention from relieved evacuees who have been stopping by to feed her carrots and cabbage, according to The Japan Times.
Twitter/Peace Winds Japan
Residents are still puzzled as to how Leaf got on the roof and made it through the storm without help, and sadly they're still looking for Leaf's baby, Earth. But while there may never be an adequate explanation for Leaf's miraculous survival, one thing is certain — she's brought the town some much-needed hope.