Brave Mini Horse Who Lost A Leg Worked So Hard To Be Able To Walk Again
"He had some things going for him, like his incredible will to survive."
Shelley Jones had no trouble picking out the pattern to adorn her mini horse Pogo's prosthetic leg. It had to be a Superman pattern, because the 115-pound horse is such a little superhero.
"He's a super pony," Jones tells The Dodo.
Jones, founder of Helping Horses Alabama, rescued Pogo in May, after a local bus driver spotted him running loose.
Jones tracked Pogo down, and discovered he was suffering from severe injuries — most significantly, he'd lost his right rear hoof.
She learned that he and two other miniature horses had been attacked by dogs in December. The other two died; somehow, Pogo survived.
The injury went untreated for six months — which, remarkably, may be the very thing that saved Pogo's life.
It's commonly thought that horses can't learn to walk on three legs, and won't be able to use prostheses. This is a view that is changing, thanks to some veterinary innovators. But usually horses with these kinds of leg injuries are still euthanized.
Pogo had already been living with his injuries for half a year, though. He'd learned to get around on his three legs — and Jones could tell that the tiny horse really wanted to live.
"We can't put him down," Jones recalls thinking at the time. "He had too much going on for him."
Veterinarians determined that removing Pogo's injured leg would be the best course of treatment. An initial amputation left him with bone exposed, and insufficient protection for his soft tissue. So Pogo went to the Auburn University College of Veterinary Medicine for more treatment.
Equine surgeon Dr. Lindsey Boone led another surgery on Pogo's leg, to clean up his amputation. He had a temporary prosthesis, then got the Superman-adorned prosthetic leg he is wearing now.
"Amputation is a pretty big deal in horses, particularly adult horses," Boone told local news station WRBL. "He had some things going for him, like his incredible will to survive, how small he is and [how he] got over that traumatic episode in some way on his own."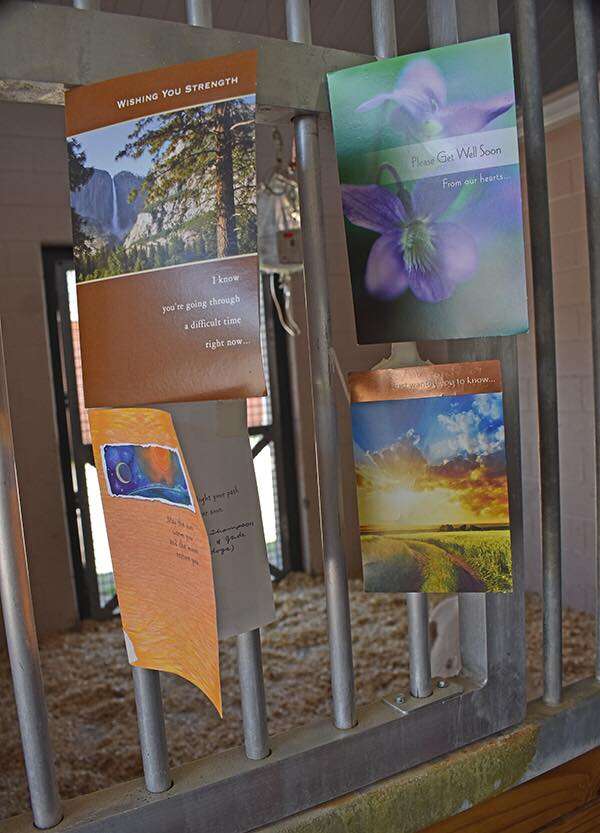 Pogo was at Auburn for about two months, healing and getting rehabilitative therapy while he learned to walk using his new prosthetic. His striking looks and inspiring story won him new fans — who sent in get-well cards to decorate his stall.
Pogo also learned during that time to be less mistrustful around humans. He'd been quite shy when he arrived — understandably, given what he'd been through — but got friendly and confident while his health improved.
About a week ago, Pogo was released to go home to the Helping Horses Alabama farm — and the rehabilitator who leads Auburn's physical rehabilitation service gave Pogo a graduation ceremony, during which he wore a mortarboard and collected a certificate.
Jones says Pogo is doing great at Helping Horses Alabama. He is playful and funny, and "arrogant" in a way Jones finds hilarious.
"Mr. Big Shot," Jones says. "He seems so happy."
Pogo still gets lots of physical rehabilitation, and will for some time to come. Jones expects in another month or so, Pogo will likely be well enough for adoption.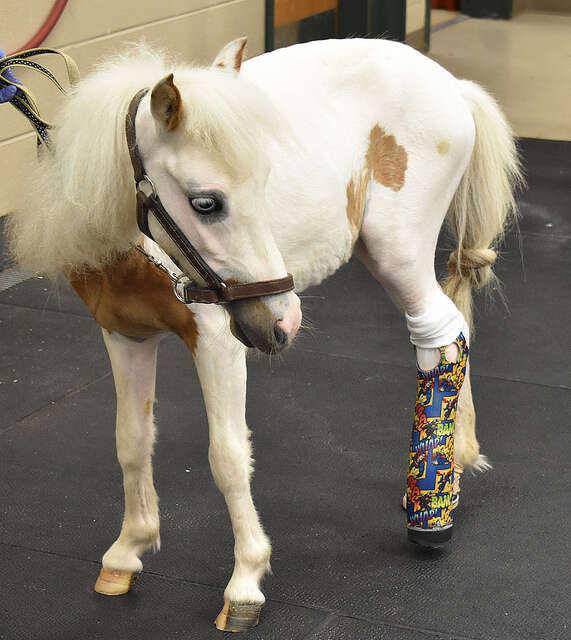 She would love to keep Pogo as a pet, of course. That's not the plan, though.
Jones feels that Pogo has a greater purpose than just making her happy.
Pogo is her Superman-cast-wearing super pony, with an incredible story of perseverance and survival. She'd like to see him go on to become a therapy horse and work with kids who have their own hurdles ahead.
"He gives people a lot of hope," Jones says. "His circumstances were dire and he never gave up."