Very Sick Piglet Abandoned At Shelter Looks Completely Different Now
"Even though she was in so much pain, she'd snuggle up and want us to rub her belly."
The baby piglet was so sick, no one thought she'd make it.
"She had an incredibly severe case of sarcoptic mange, which is one of the most severe types of mange you can get," Jen Sale, CEO and founder of Sale Ranch Sanctuary, told The Dodo. "If it's not treated, it can be fatal."
A man had dropped the piglet off at a shelter near Temecula, California. He told the shelter workers that the piglet was a stray, but the shelter thinks the man might have actually owned the pig, according to Sale.
"They [the shelter workers] think it was the rancher who actually brought her in," Sale said. "He didn't care for her when she got sick. Instead he just dropped her off and said he found her."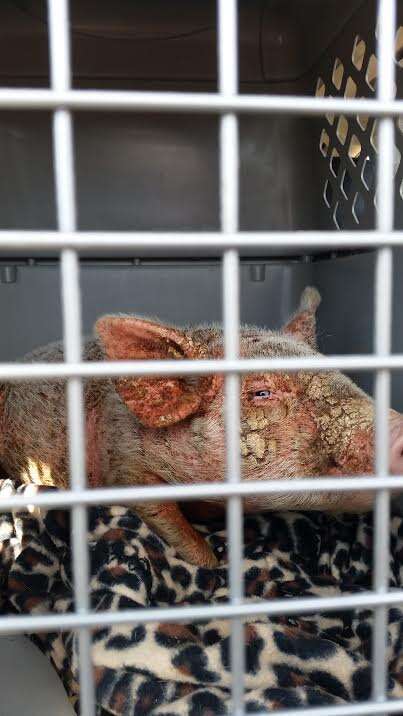 The shelter, however, wasn't equipped to care for a pig — it mainly took care of dogs and cats. So the workers contacted Sale, who runs a nearby farm sanctuary, and asked if she'd take the pig, later named Cherry Blossom. Sale, of course, said she would.
While no one knows exactly what caused Cherry Blossom's mange, Sale suspects the baby pig lived in squalor at her former home.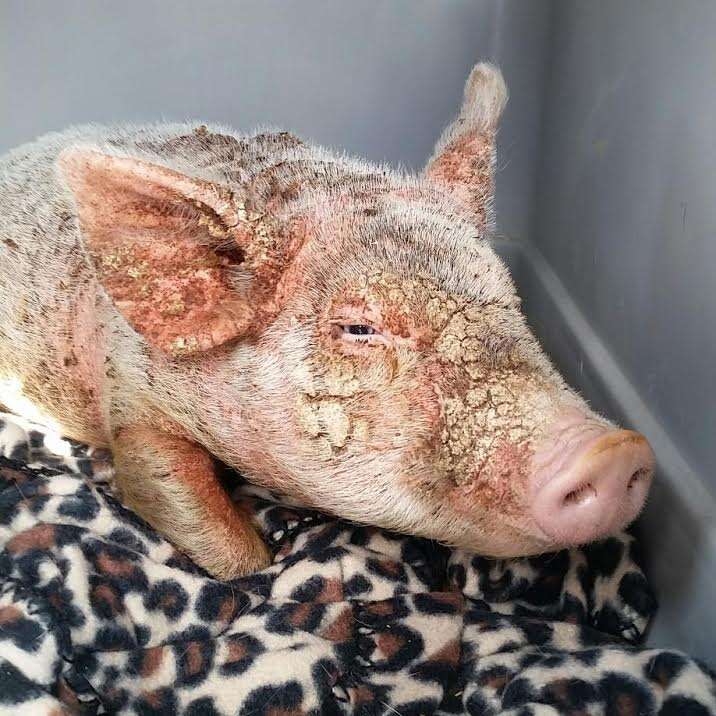 "Most likely she was born into overcrowded, filthy conditions," Sale said. "As a baby, her immune system was still developing, and she kind of got walloped."
The mange didn't just look bad — it was obviously causing Cherry Blossom a lot of agony.
"When she came to us, she was in such excruciating pain that she had shut down," Sale said. "You could see the most incredible sadness and uncomfortableness in her."
But Cherry Blossom was still incredibly affectionate toward Sale and her husband.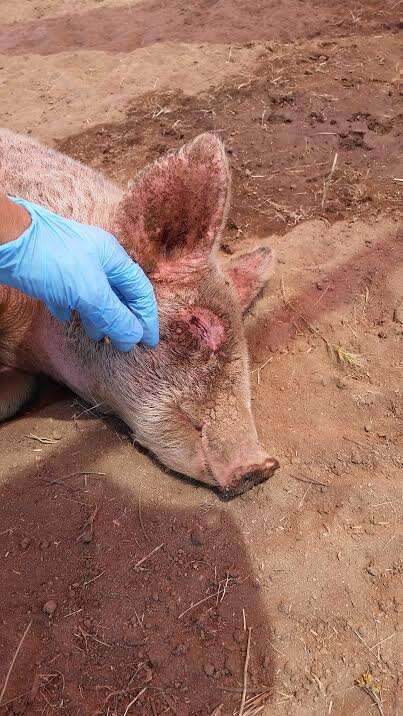 "She still wanted comfort from us," Sale said. "We'd come and put the medicine on her, and she learned very quickly that we were helping her. And even though she was in so much pain, she'd snuggle up and want us to rub her belly. She's just a testimony for how forgiving and loving animals are."
With the help of a veterinarian, Sale started treating Cherry Blossom with healing cream rubs and laser light therapy.
Now, two months later, Cherry Blossom looks like a completely different pig — and she probably feels different as well.
"Her hair is fully growing in, and her skin is totally good," Sale said. "The transformation really is amazing."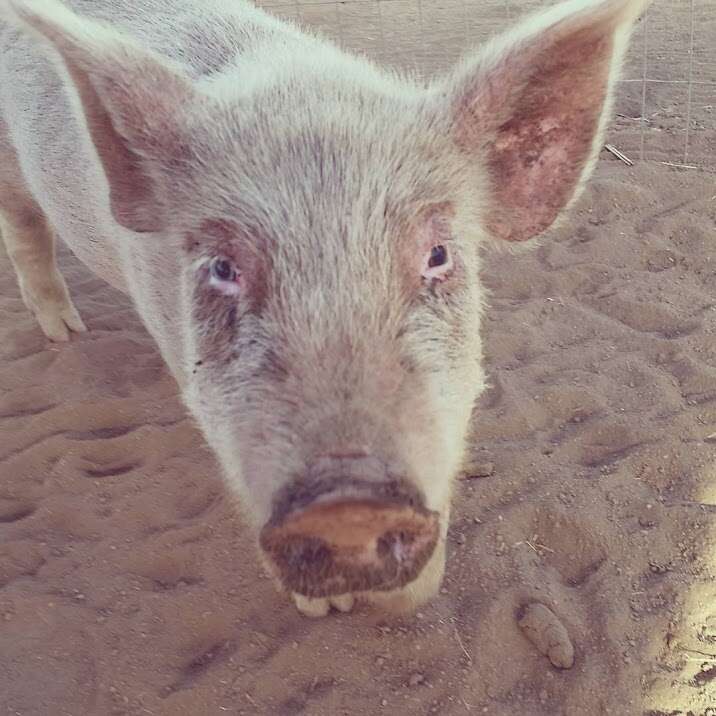 With Cherry Blossom feeling better, her full personality is finally coming out.
"She's super silly," Sale said. "She'll play with her ball. She loves her little mud hole. And she gets along with everybody. She runs around with our dogs, she goes over to our barnyard to visit the animals there. She's just a sweetheart, and all she wants is attention and affection from people."
Cherry Blossom is so gregarious, Sale decided to pair her up with one of their rescued calves, Faith.
"They've been having playdates," Sale said. "We're hoping to put them together this next weekend."
"We're just really grateful and blessed that we were able to bring her home and take care of her and get her healthy," Sale said. "Even though she kind of had a rough start to life, she's doing very well. She's going to have a really beautiful life."