Dad Decides To Practice His Saxophone For The Best Audience
"They drove out to the backroads so my dad could play the cows the songs he's been learning" 😂
Richard Herrmann, of Oregon, has been learning to play the saxophone for seven months and is getting better every day. He doesn't often get the chance to play for an audience, though, and recently, as he and his wife were out on a run together, they had the best idea.
"My wife and I run together past the field occasionally," Herrmann told The Dodo. "The cows always seem curious. I asked my wife, 'I wonder if they would come if I played the saxophone?' She said, 'Let's try it.'"
There are videos all over the internet of people playing music for animals, and Herrmann decided it was his turn to give it a try. He and his wife drove over to the field and got out of the car, and Herrmann quickly got into position.
"Actually, this is my first audition for a live audience," Herrmann said to the camera as his wife began to record. "Let's see how it goes!"
Herrmann decided to start with "Isn't She Lovely" by Stevie Wonder — and the moment he began to play, all of the cows in the field stopped dead in their tracks.
"They were walking one direction and when I started to play, you could see them freeze for a few seconds and then started walking over to the fence where I was," Herrmann said.
It wasn't long before every single cow in the field was rushing the fence like they were at a rock concert …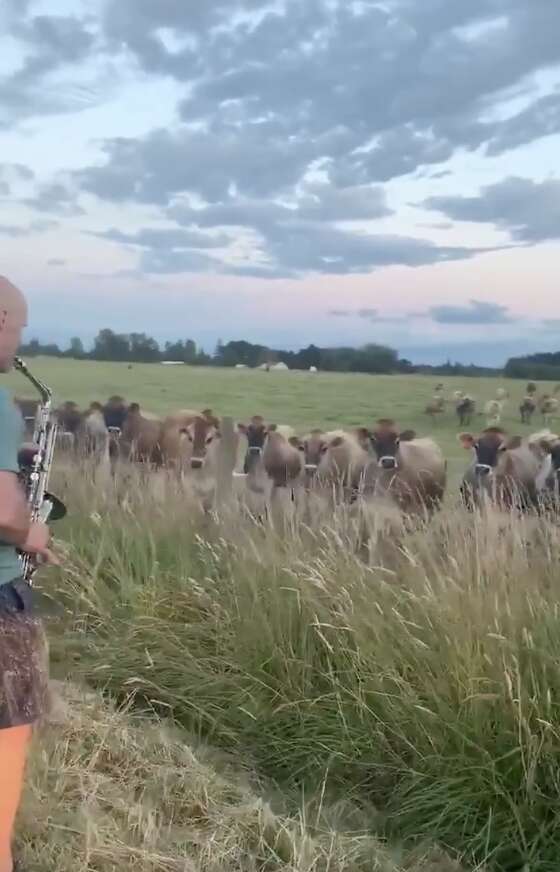 After his first song, Herrmann went on to play "Careless Whisper" by George Michael and "Tequila" by The Champs. The cows stayed completely captivated the entire time he was playing, and the whole thing went so much better than he could have imagined.
"I thought they might come over, but I wasn't sure," Herrmann said.
After seeing the videos, Herrmann's daughter decided to share them online — and of course, everyone quickly fell in love with the adorable dad winning over a group of cows with a saxophone.
It just goes to show that music truly can bring all kinds of people and creatures together. If you're ever driving past a field of cows and you've got some talent, why not try putting on a show. You never know what could happen!