Dog Who Helped Raise Baby Calf Still 'Babysits' Him
"Six months later and Lincoln still thinks he needs to watch over Calvin" ❤️️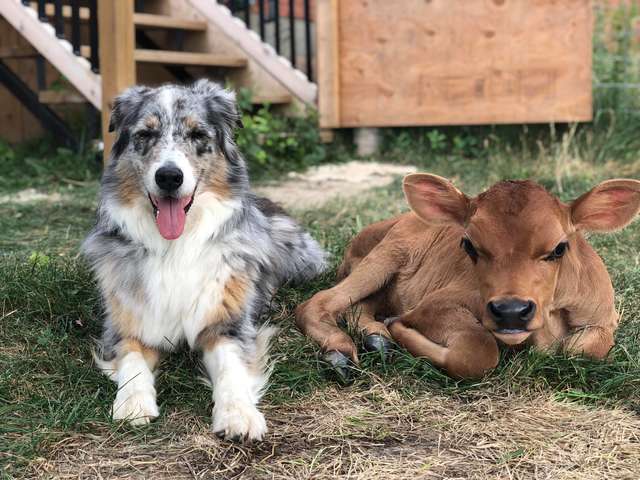 Perhaps the loyal dog felt naturally protective of the little guy — and he had reason to be. Calvin was saved from a dairy farm where, as soon as he was born, his life was in danger. (Cows on dairy farms need to keep giving birth so they keep producing milk — but the calves are usually shipped off to be raised for slaughter at just a few days old.)
Thankfully, some people at the farm wanted to make sure Calvin had a future and so the sanctuary stepped in and gave him a forever home.
As soon as Calvin was taken out of his concrete pen and brought to the fields of the sanctuary, he could hardly contain his excitement.
"He never got to go outdoors or stretch his legs and just run!" Megan Mostacci, cofounder of Black Goat, told The Dodo at the time. "You can see how much he loves running."
Once Calvin got some of his energy out, he met the individual who would become very significant for his new life: Lincoln.
They immediately took to each other.
Lincoln helped watch over Calvin while he was running around and exploring the sanctuary, and he was also there in Calvin's moments of repose, napping on the grass.
The loyal dog seemed to feel responsible for and devoted to the baby cow — and that was just fine with Calvin, who had been taken from his mom at such a young age.
Half a year later, it's refreshing to see that little has changed in Calvin and Lincoln's relationship — except that Calvin is becoming huge.
But Lincoln still seems to see his little bovine brother as the baby cow he once was.
While Calvin grazes in the fields, Lincoln is often there doing his brotherly duties, watching over the steer's every move.
"Six months later and Lincoln still thinks he needs to watch over Calvin," Mostacci observed.
Yes, Lincoln takes his responsibility for Calvin very seriously — even when he's goofing off in a patch of grass right next to him.