Little Lamb Spotted Bolting Down Busy New York Expressway
No one knew where she came from — but the police officers fell in love ❤️️
On Wednesday morning, people driving along the Gowanus Expressway in Brooklyn on their way to work were suddenly very, very confused — because there was a lamb running around all alone through the cars.
No one has any idea where the little lamb came from, but it's possible she fell off of some sort of transport truck. Luckily, a driver spotted a police officer with the New York City Police Department (NYPD), Officer Dominick Gatto, and quickly told him all about the lost lamb.
Office Gatto then called for backup so he and his fellow officers could stop traffic, and all of the drivers watched as the police were eventually able to catch the very unusual morning commuter.
"He called for the local precinct to come assist with a cage," Christopher Roskosky, a member of the digital and social media team with the NYPD, told The Dodo. "Once they were able to control traffic they approached the lamb and were able to get her into the cage."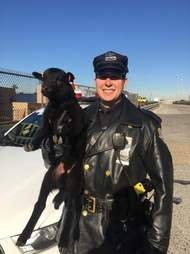 NYPD
The lamb was clearly a little confused, but was very sweet to the officers, who nicknamed her Petunia. She was likely very relieved to finally be safe from the oncoming cars, and her rescuers wished they could ask her where she came from, and why she was running loose on the highway.
"Luckily, 'Petunia' was taken to @NYCACC and will hopefully not be on the expressway again until she has her license," the NYPD wrote on its Twitter account.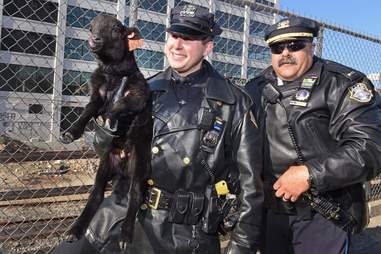 NYPD
"This morning she was running down the Gowanus Expressway, now she is with me on her way to Skylands where she will be forever safe," the sanctuary wrote on its Instagram account.
After being checked out by a vet, it was determined that Palmer was in good health despite her ordeal, and after her adventures on the highway, she'll now get to spend the rest of her days running around the sanctuary in peace with all of her new friends.