Tiniest Horse Saved From 'Kill Pen' Can't Stop Kissing Everyone Now That He's Safe
He even picked out his favorite puppy — and sleeps with him every night.
"Caleb is recovering after his rescue," Koby Wegge, cofounder of Sycamore Tree Ranch, a new refuge for rescued animals in Texas, told The Dodo. "He was sick when he came here. Virtually every horse or donkey rescued from the kill pen arrives very sick."
Caleb, who is 7 months old and has strikingly blue eyes, had to spend a month in quarantine along with the other recently rescued horses to ensure they were healthy and strong.
But recently he was allowed to explore the pasture of the sanctuary, which is serving as his and his mom's temporary home until they go to a forever home in Florida — and he just could not contain his excitement.
Video footage shows Caleb jumping for joy and galloping around the pasture. He was quite obviously excited to be in such a beautiful place where he could feel safe.
And it turned out that he is quite a social and curious creature. Rescuers spotted him getting close enough to kiss several of the other animals at the refuge.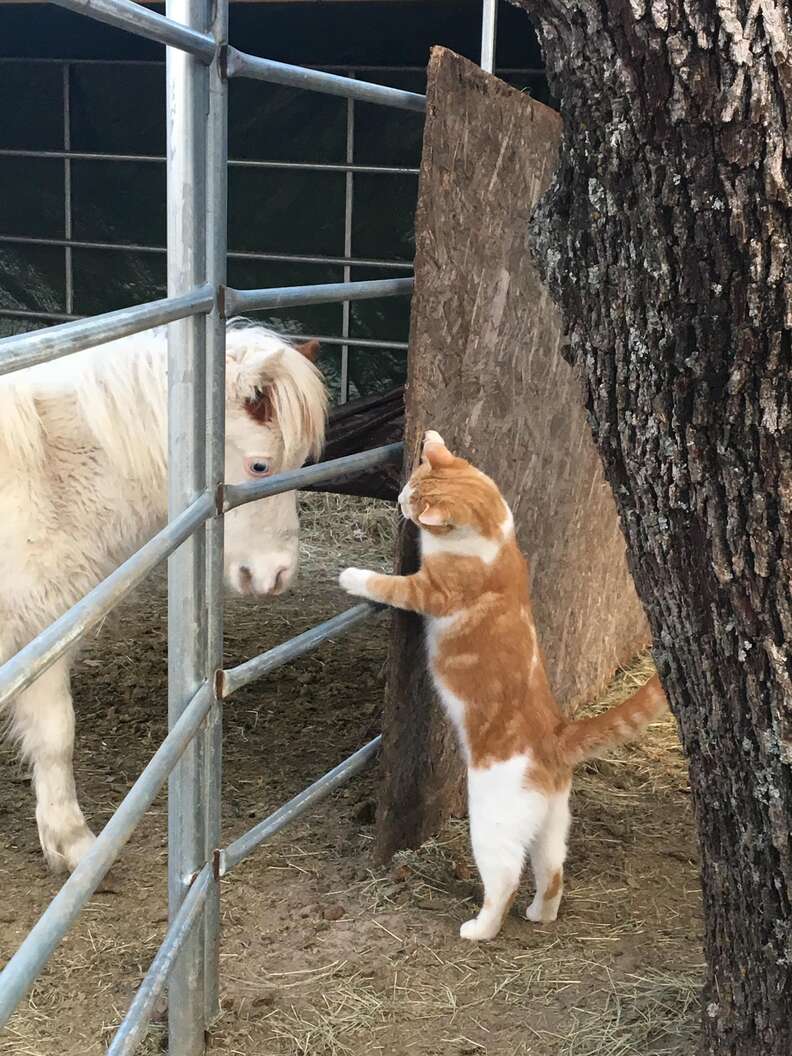 Wegge was especially touched, aside from the snuggling Caleb did with her and her dogs, by the mini horse's affinity for a cat named Rose.
"She was one of seven kittens born to her mother here, but unfortunately is the only one that survived," Wegge said. "I hand-fed little Rose with a syringe every two hours for the first couple weeks and honestly didn't think she would survive."
Even though little Rose was premature, she survived and grew into a strong and happy cat. "Not only did she survive, she is now the welcome committee here," Wegge said. "She loves everyone but especially the recently rescued mini horses!"
Rose leaned in and gave Caleb a long sniff and a little kiss on the nose.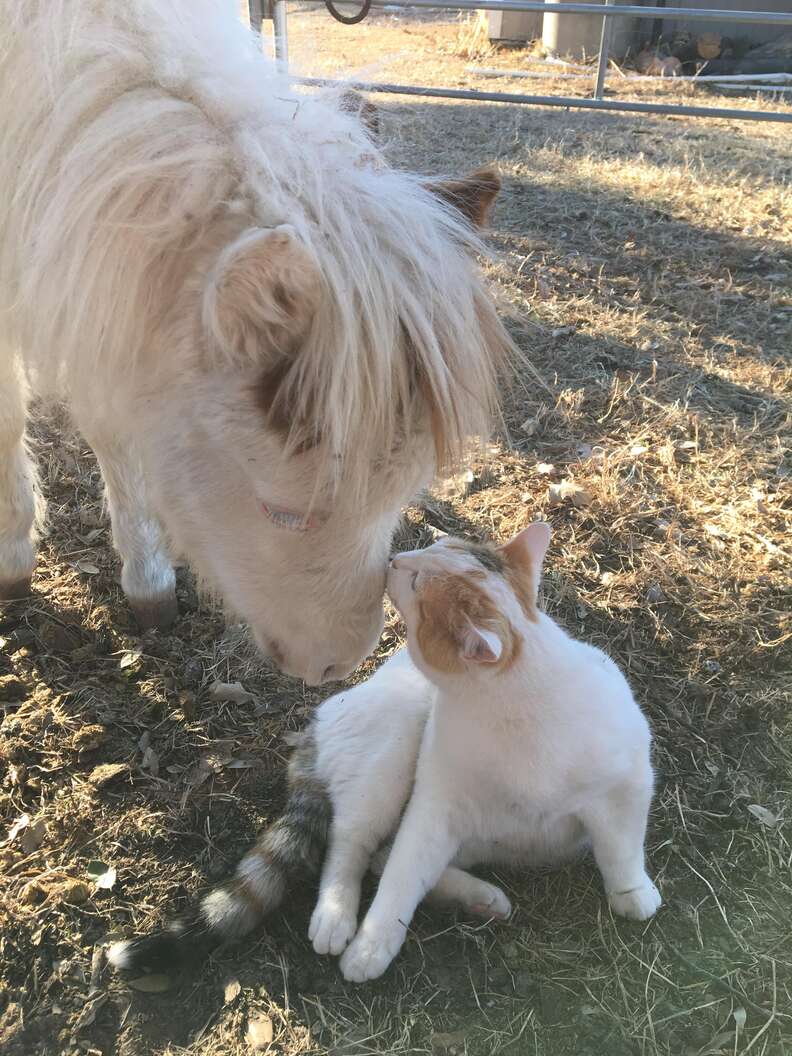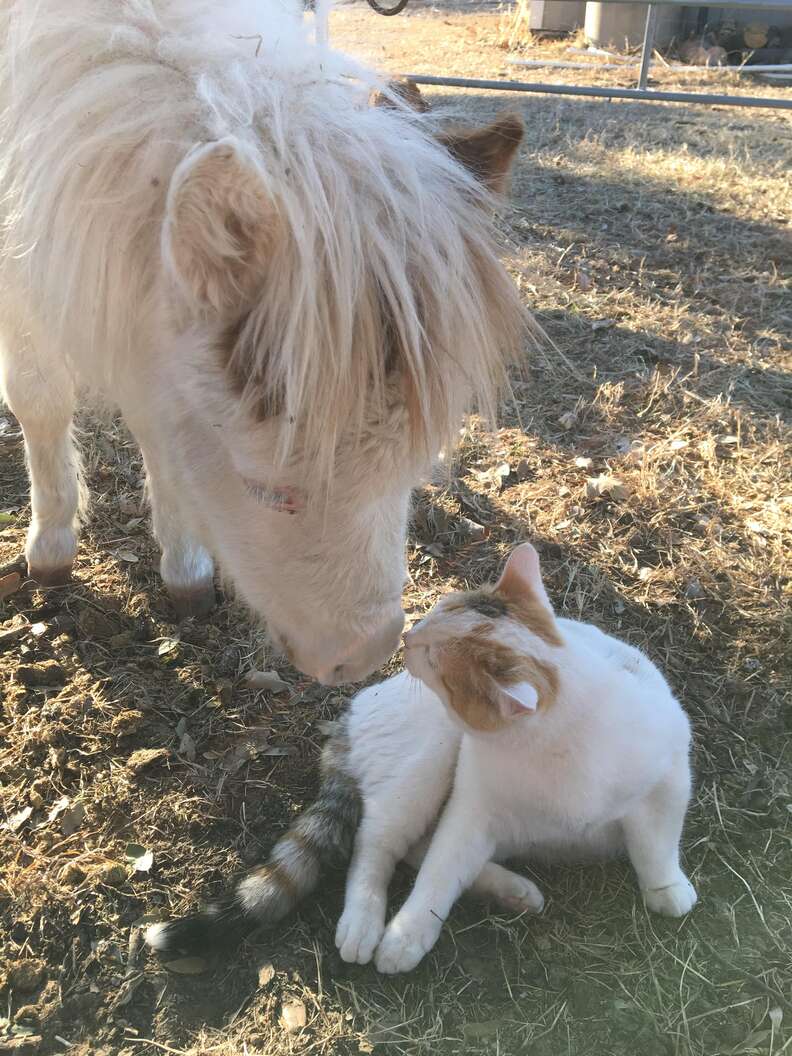 But Rose wasn't the only one to welcome and bond with Caleb. Duke, the Great Pyrenees puppy at the ranch, is completely obsessed with Caleb.
Even though there are several other dogs at the sanctuary, many of whom Caleb has kissed, Duke's bond with the mini horse seems especially strong.
"He and our puppy Duke have really bonded," Wegge said. "They sleep together every night!"
Caleb has also shown curiosity about a little human animal — Wegge's young daughter, who is still a toddler.
Caleb dutifully follows the little girl around, keeping his nose close to her.
Given how loving Caleb has shown himself to be, it's hard to imagine any other fate than this one for the sweet mini horse. And the connections being formed across species bode well for Sycamore Tree Ranch, which aims to become an animal-assisted therapy center for people suffering from grief and trauma.
"It is always exciting to see an animal who was saved, nursed back to health and then able to enjoy their life to the fullest," Wegge said. "It isn't easy work but it is very rewarding!"
To congratulate Caleb on his whole new life, and to help Sycamore Tree Ranch save more animals like him and his mom, you can
make a donation
.