Woman Celebrates Birthday For Little Cow Who Helped Her Heal
"I so needed that precious boy. He enjoys every day of his life."
Huckleberry the steer means so much to his mom that she calls him "my savior."
So when Huckleberry turned 1 on November 26, Rachel Beasley wanted to make it a very special day.
"He will never know how much I needed him," Beasley told The Dodo. "I needed him in my life."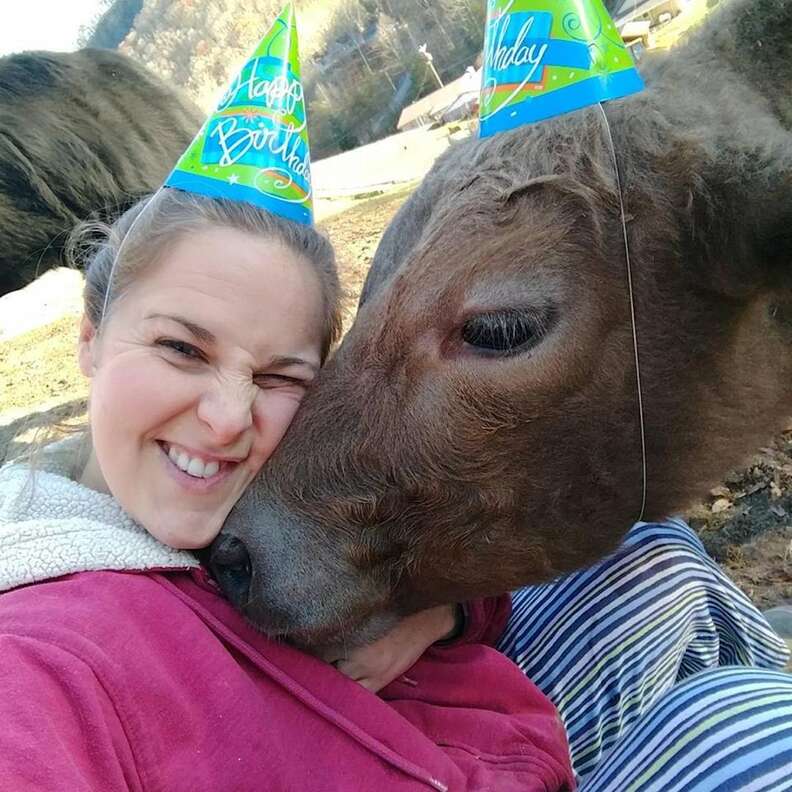 Huckleberry was just 2 days old when his mother unexpectedly died, almost exactly a year ago.
"We believe Huckleberry's mom consumed a toxic amount of acorns," Beasley said. "I am comforted by the fact that she didn't suffer long and her death gave my sweet boy a chance for a very long life."
Beasley, who works as an operating room nurse, lives on 38 acres in southwest Virginia.
She shares this property with a big menagerie of rescue animals, including several dozen chickens, five pigs, four cats, four dogs and two elderly sheep. Beasley's dream is to one day open an animal sanctuary.
Complicating things, she shares the property with her father's animals — cows and bulls being raised as livestock, not as pets. It took Beasley a long time even to tell her dad she'd become a vegetarian.
"He's had them since long before I was born. But they have lots of pasture and are well cared for, unlike many others," Beasley said. "He doesn't understand, but he mostly respects me."
Huckleberry's mother was one of Beasley's father's cows. When she died, and Beasley began to bottle-feed the calf, Huckleberry became hers.
"With him being a bottle baby there was no question," she said.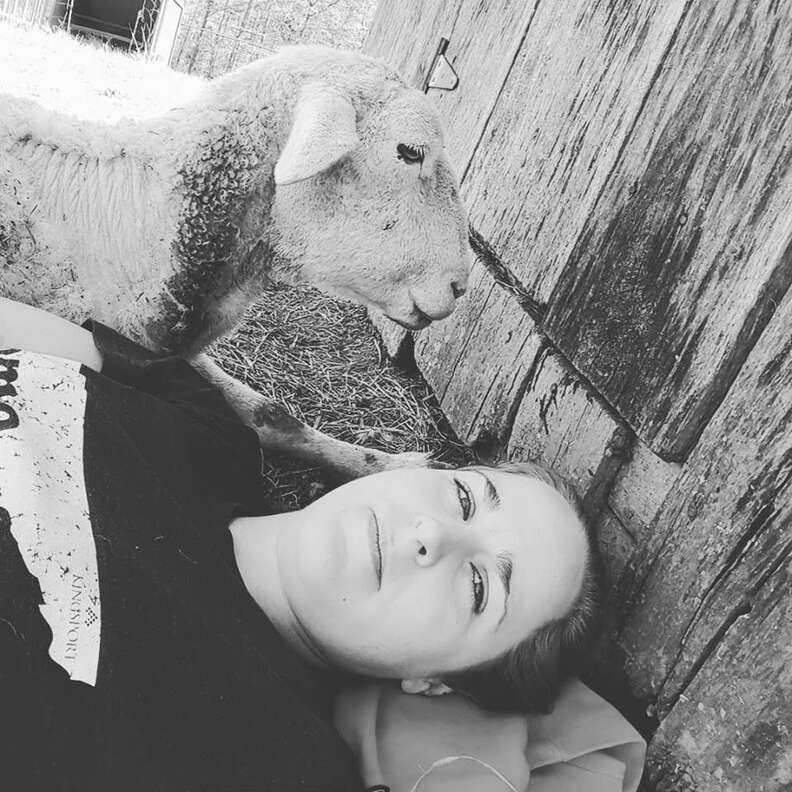 Beasley grew especially attached to Huckleberry because he needed her just when she was losing another of her beloved pets — Grace, an elderly sheep, whom Beasley describes as "one of the great loves of my life."
"Grace loved attention and would come running to me anytime I was in the field. I could tell you Grace stories all day, but trust me when I say she was incredibly special," she said.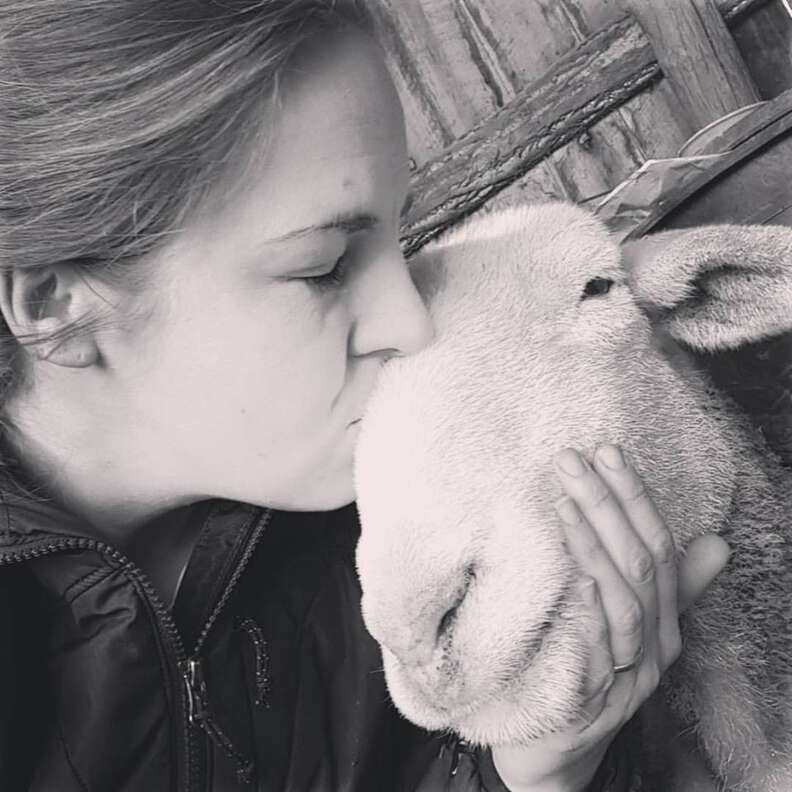 Grace was 16 years old, a half-decade older than a sheep's average life span. Her health was declining, and Beasley's heart was breaking.
"I spent hours laying with her in the field and barn and had the vet out multiple times," she said. "Grace was going downhill when Huckleberry arrived."
Grace died on December 15. Tending to Huckleberry helped ease some of the pain.
"I bottle-fed Huckleberry twice a day, much longer than necessary," Beasley said. "I honestly still miss bottle-feeding him. I don't have any human kids but it was such a special time with myself and Huckleberry. My favorite memories are calling him and having him come running to me for his bottle."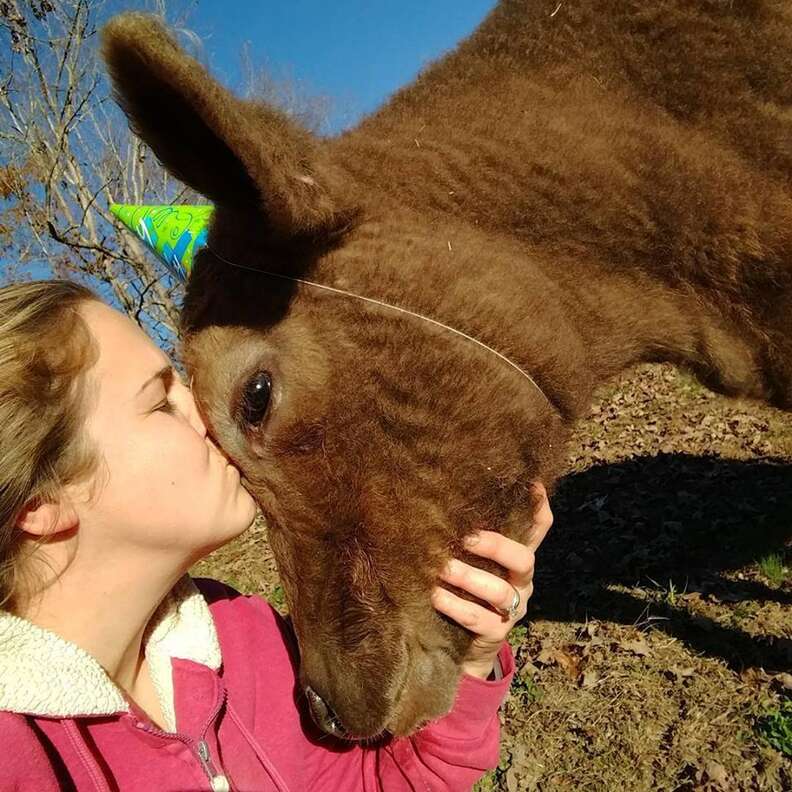 Huckleberry is a sweet, happy boy who loves to eat and get scratches. Beasley's love for him has only grown since he was a baby.
His first birthday was poignant for her as the anniversary of when this creature came into her life, and when another left her.
Beasley and Huckleberry wore matching birthday hats for the occasion. After trying — but failing — to find a cow-safe birthday cake recipe, she settled on giving Huckleberry "lots of treats and love." Huckleberry liked it, same as he likes everything Beasley does for him.
"It was emotional for me remembering him coming to me and reflecting on the last year," Beasley said. "I so needed that precious boy. He enjoys every day of his life."