Horse Rescued From Auction House Has Best Response To Being Set Free
"She definitely knows she's no longer on her way to slaughter."
When Jamie Castano visits a livestock auction house, he feels overwhelmed by the number of animals in need of help.
"You stand there in a warehouse, and ... you see that there are thousands that are going to be killed today, and it almost makes you feel like, 'What are you doing?'" Castano, founder and president of Freedom Farm Animal Rescue, told The Dodo.
Three weeks ago, Castano and a few sanctuary workers went to an auction to get pictures and videos of what was going on, though they hadn't intended on rescuing any animals.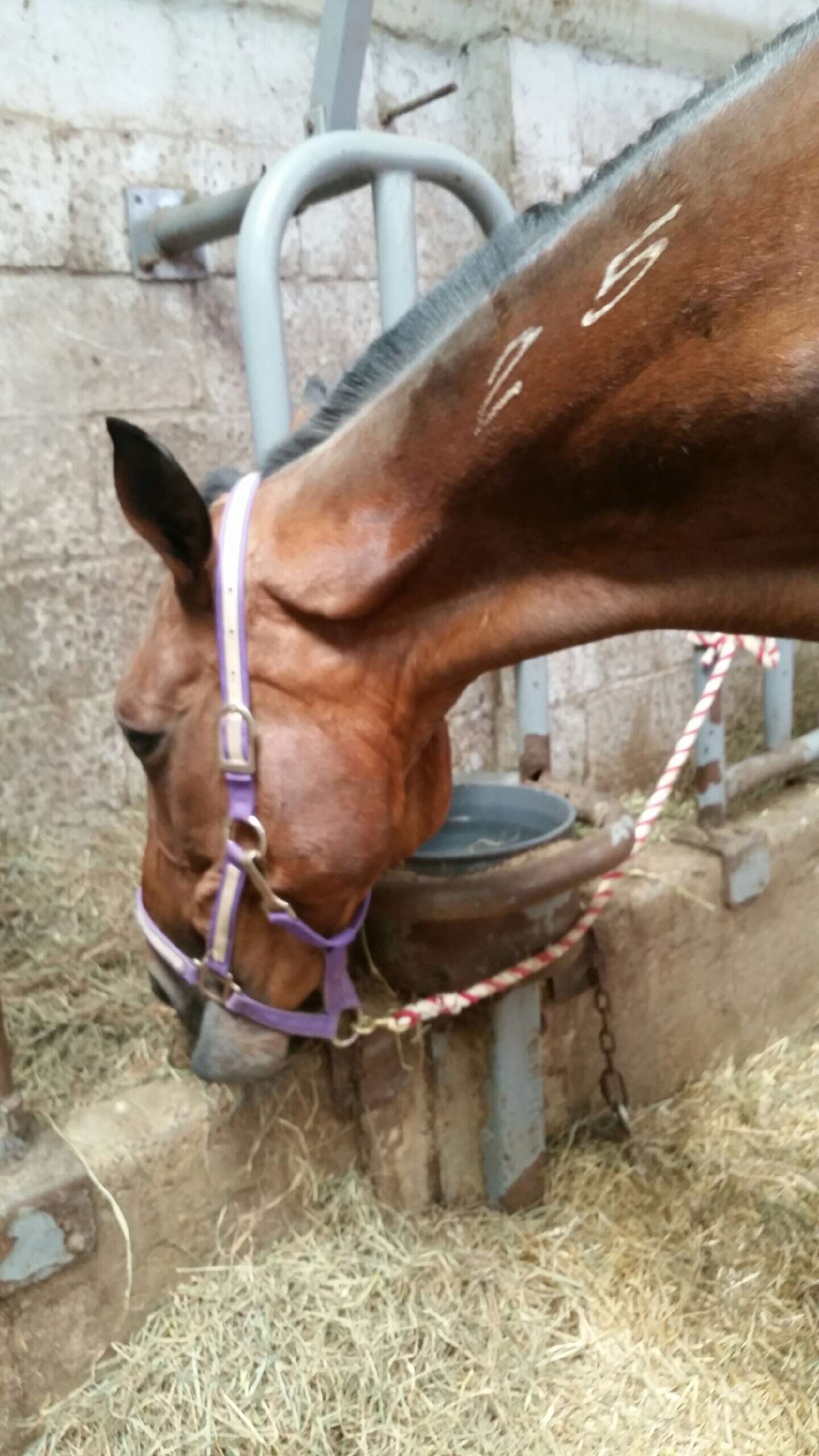 But their plans changed when Castano noticed a horse with "25" tattooed on her neck.
"I actually have the number 25 tattooed on my arm as a memorial for my uncle who had passed away," Castano said. "So when I happened to see her, I was like, 'Oh my god.'"
She was in a "direct ship" pen, which meant that she was being sent to slaughter right after she was sold, according to Castano. He also noticed that Joanie had a bunch of holes on both of her legs called "pin firing marks."
"They give them to racehorses," Castano said. "It's pretty much like a shot of acid to freeze the tendon or muscle. So when they have an injury or they're not performing their best, this is supposed to make them not feel that area. My vet had said, 'Maybe four or five pin firing marks is almost normal,' but she had 18 on each leg."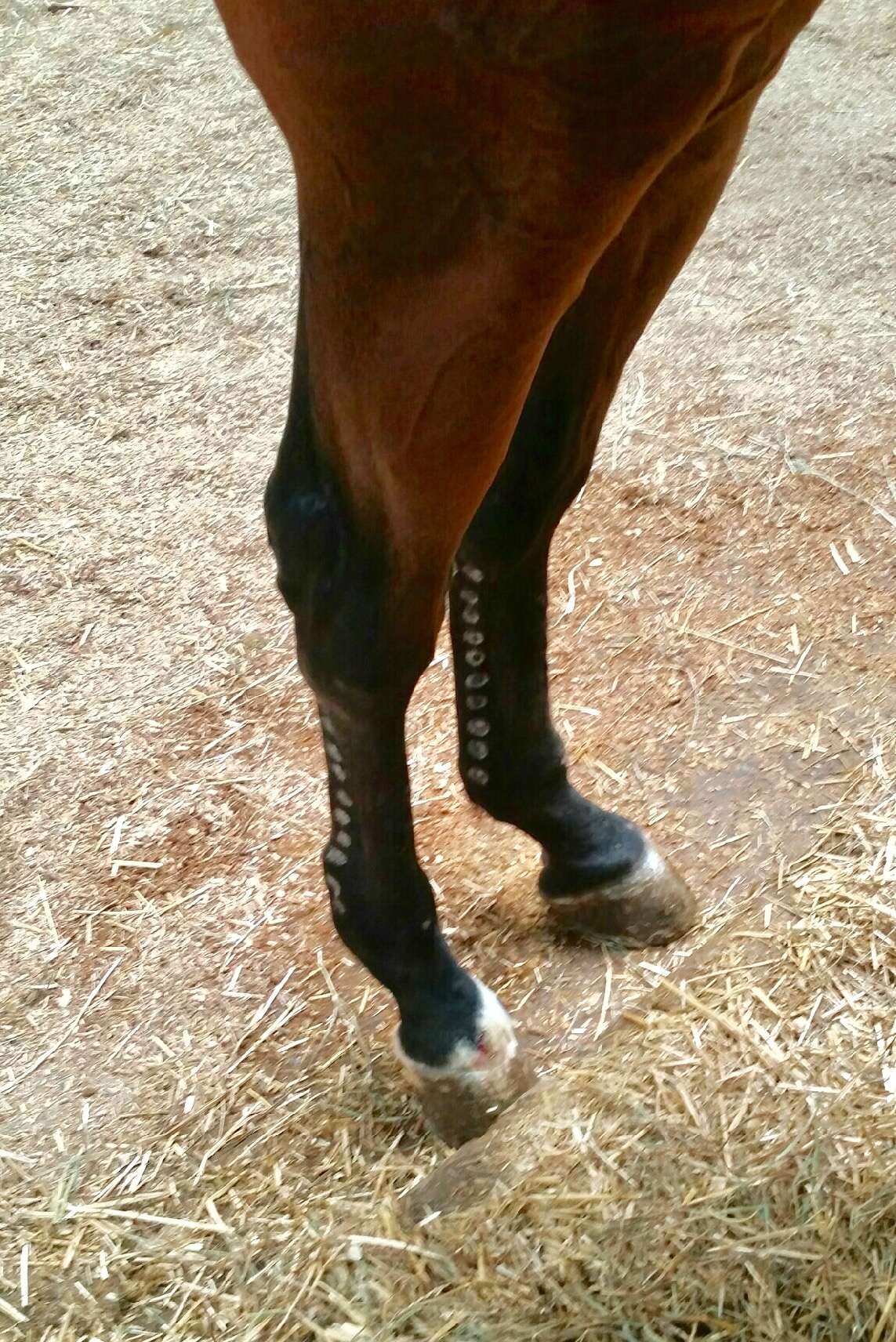 Castano and the other sanctuary staff wrote a post about Joanie on Instagram, and through this, they managed to raise enough money to buy Joanie's freedom and take her home that very day.
"We backed up the trailer to her quarantine field, and as soon as we let her out — we didn't even taken the stickers off her butt yet — she walked right out and started rolling," Castano said.
In addition to the "25" tattoo, Joanie had another brand on her that helped Castano figure out where she'd come from.
"She was actually born in 1999, I believe in Illinois, and her name was Gias Eternal, and supposedly she won a lot of races and she won a lot of money," Castano said. "And I guess when she got to the age when she could no longer race ... they retired her."
But instead of giving Joanie the retirement she deserved, she was sold to another owner and used as an Amish buggy horse.
"She's had hair loss on her head on the sides of her face where she would wear that buggy equipment," Castano said.
Then, for whatever reason, her last owner decided to sell her to the auction house, and from there, she would have ended up at the slaughterhouse.
But now Joanie is safe, and she's finally enjoying the retirement she deserves at Freedom Farm Animal Rescue.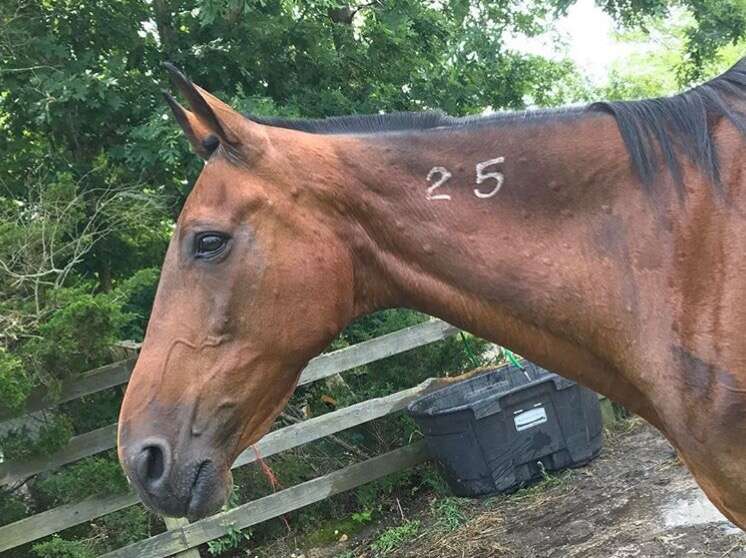 "At the auction, when we first walked up to her, I said, 'Wow, she's beautiful,'" Castano said. "I put my hand out to pet her and she flinched and threw her head like she was terrified of me — she didn't even want me to touch her. But now she's been in quarantine for three weeks, you can walk up to feed her, she runs up to the gate and she's all in your face. She definitely knows she's no longer on her way to slaughter."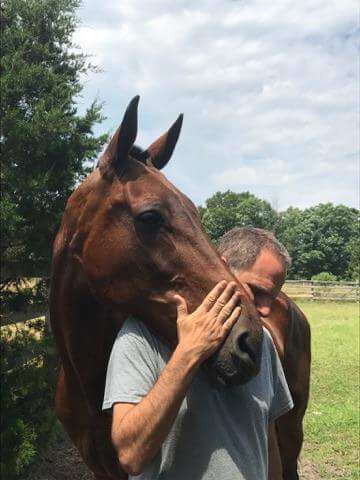 Joanie gets out of quarantine today, and Castano is looking forward to introducing her to the other rescue horses at the sanctuary.
"She's just an absolute sweetheart," Castano said. "If we're in her field, she'll follow us all around. To go from a horse that was on her way to a slaughterhouse to following us around the pasture — that's incredible."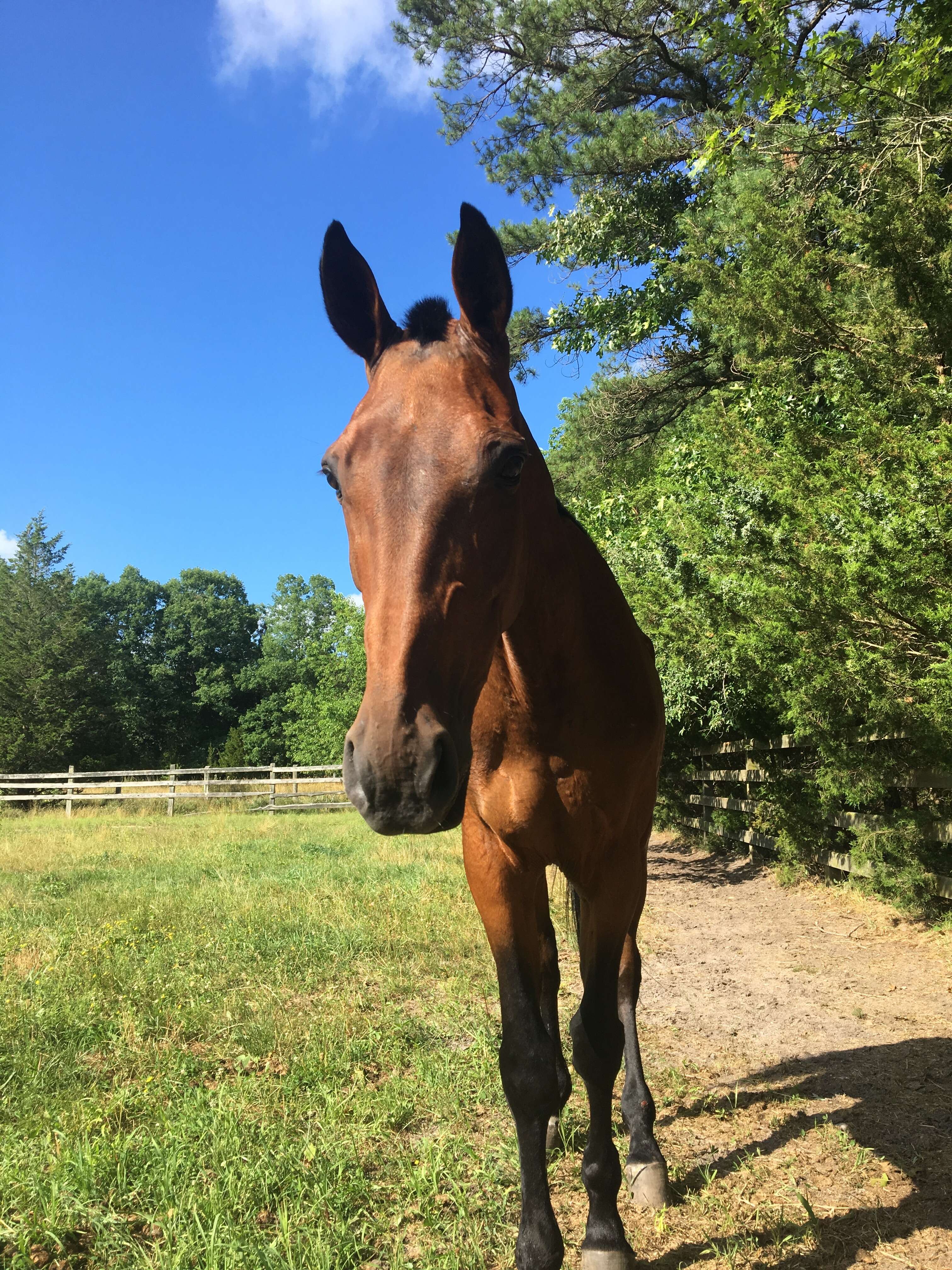 To see more photos of Joanie living the good life, you can follow Freedom Farm Animal Rescue on
Instagram
. You can also help support her, as well as the other animals at the sanctuary, by
making a donation
.