Woman Tries To Serenade Horse — But He Decides He Can Do It Better
The prettiest song ever.
This is Samson, a lovable horse who's as sweet as he is handsome.
But there's still much more to this exquisitely regal, raven-maned stallion than meets the eye.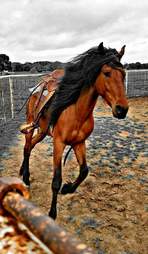 Heidi Rosanne Smith
He's quite a character as well.
Heidi Rosanne Smith
Samson was born a feral horse in the Twin Peaks Herd Management Area of California. He was eventually adopted by Heidi Rosanne Smith, and the two of them hit it off immediately. 
"The night I met him, he clung to my side and stayed right next to me," Smith told The Dodo. "Our bond was instant."
But recently, she discovered they share more than just a bond of friendship: They both love music, too. While practicing on her banjo at home on Monday, Smith decided to put on a little show for Samson to brighten his day — but, much to her surprise, the horse ended up brightening hers.
"As I was picking, he started kind of bobbing his head to the music and then reached over and started playing!" Smith said. "It was amazing because he was gentle with it, but he pretty much knew exactly what he was doing!"
Here's video of the moment Samson found his calling.
Samson is a cheerful horse most of the time, but with the banjo, Smith had never seen him happier. So, she's decided to make practice time with her horse a regular thing.
After all, that's what friends are for.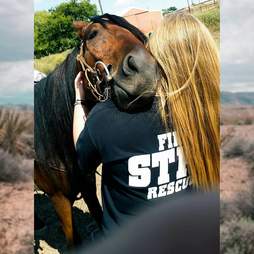 Heidi Rosanne Smith
"He's my best pal," Smith said.