'Security Guard' Goose Gets So Excited To See His Favorite Friend
"Salt will come running from wherever he is as soon as he hears my voice."
After a series of attempted break-ins at the Coastal Horse Care Unit, a horse rescue and rehab in South Africa, staffers decided to take safety seriously.

They got two security guards in early July to scare away the bad guys. But, as it turns out, one of the new hires is a little too friendly — especially when it comes to his coworker Sheri Wilson.

The security guard also happens to be a goose.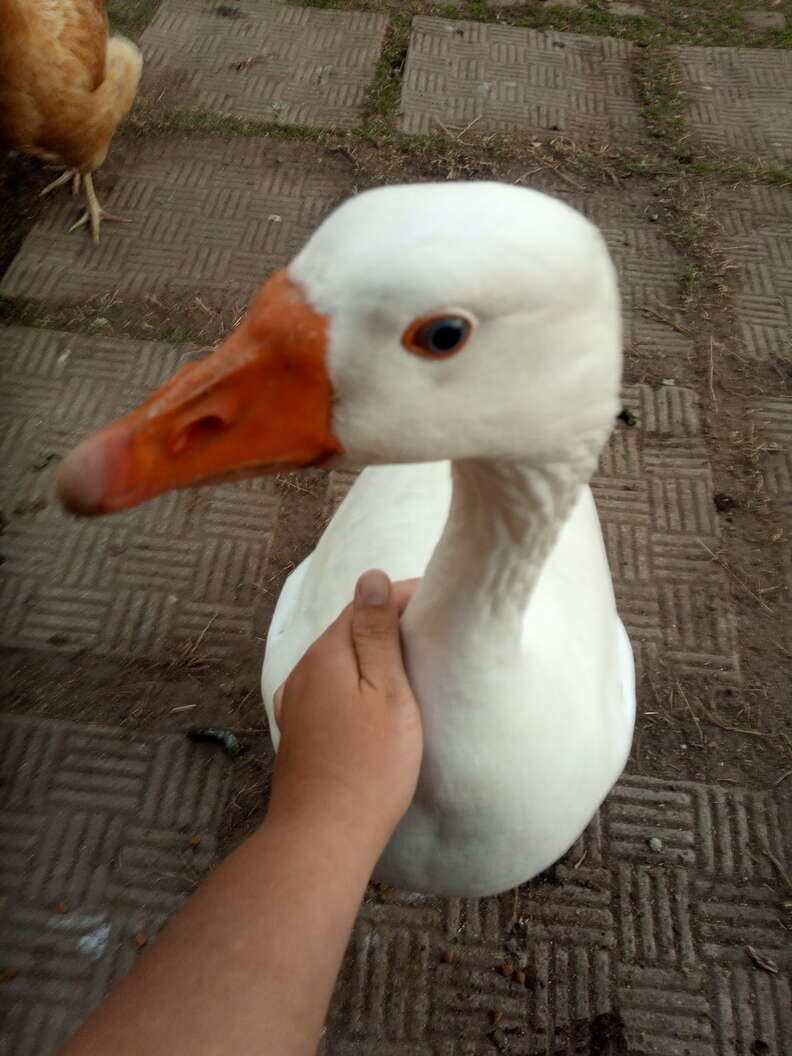 "The female, Pepper, is friendly but a bit shy and Salt is obviously much more friendly and will walk up to you and ask for attention," Wilson told The Dodo. "He does try to preen my arms and calves and is a bit puzzled because I don't have feathers to groom."

From the moment Salt arrived, he took an immediate liking to Wilson, who works as the stable manager's assistant at the rescue. "He settled in well here and would come right up and lean against my legs while I fed the ponies and donkey," Wilson said.
It was surprisingly sweet behavior for an animal meant to frighten away any strangers.
Now, whenever Wilson approaches, Salt can't control his excitement. The white goose honks with joy as he runs towards his new friend — even if it's not time for them to play. "Salt will come running from wherever he is as soon as he hears my voice," Wilson said, "even if I'm calling the donkey or pony or dogs instead of him."

Salt's loud greeting scares most people, but Wilson knows he just wants to be loved. "He'll walk right past the food I scatter to come and get pets and attention," Wilson said, "so I think it's mostly about the interaction."
You can watch his sweet greeting here:
There's no doubt that Salt and his partner Pepper enjoy the attention, but the two geese make sure to not let it get in the way of their work. After all, they're the first line of defense when it comes to protecting their new animal family.
It's clear that everyone feels a little safer having Salt and Pepper around.
"They do make noise and raise the alarm if strangers come near the garden and paddock they've decided is their territory," Wilson said. "I think they do very well."