Tiniest Piglet Saves Her Own Life By Jumping Off A Moving Truck
She ended up in the best possible place — and her best friend's a goat.
Last month, a woman was driving along a highway in Colorado when she saw a piglet rolling across the road. She slammed on her brakes and pulled over. She thought a car must have hit the piglet.
The piglet, who was about 3 days old at the time, was scraped and bruised, so the woman scooped her up and took her to Evergreen Animal Hospital.
Broken Shovels Farm
Based on the piglet's injuries, the vet didn't think a car had hit her, but that the piglet had jumped from a moving truck.
"She was probably in the process of being transferred from one of those breeding sow facilities to a feeder facility," Andrea Davis, founder of Broken Shovels Farm, a nearby animal sanctuary that cares for neglected and abused farm animals, told The Dodo. "Her injuries were pretty consistent with jumping off of a transport truck."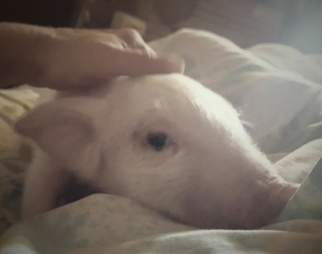 Broken Shovels Farm
The vet named the piglet Freeway in honor of her brave leap onto the asphalt.
After treating Freeway, the vet contacted Davis and asked if she'd take her.
"She said, 'Do you have room for a little pig?'" Davis said. "I had no idea how little she was going to be when she showed up with this little tiny cat carrier — I had never seen a piglet this young before."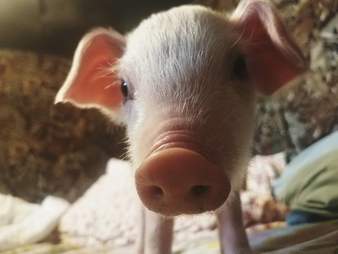 Broken Shovels Farm
Not only was Freeway tiny, but she was terrified of everything — yet the moment she met Davis, Freeway glued herself to her.
"Pigs really don't like being picked up generally," Davis said. "But for the first three days, she basically needed to be held the whole time. I had to actually sling her and carry her around with me everywhere. She slept with me; she followed me around; she did chores with me."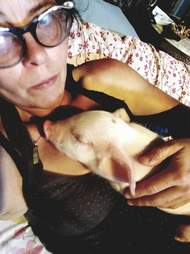 Broken Shovels Farm
And if Davis put Freeway down — even for a moment — she'd protest.
"She would squeal and throw these temper tantrums that were so loud that you could hear them all over the 10-acre farm," Davis said.
Broken Shovels Farm
Little by little, Freeway grew more comfortable at the sanctuary, especially after she'd made some friends.
Shortly after Freeway's arrival at Broken Shovels Farm, a goat named Pixel showed up. Like Freeway, Pixel had been found on the side of a road.
Broken Shovels Farm
"I thought, 'I'll try and pair these two up,' and they basically fell in love," Davis said. "They do everything together."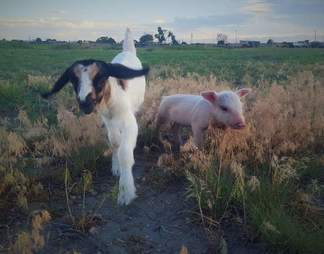 Broken Shovels Farm
And shortly after Pixel, another piglet named Charlotte arrived. She, too, had leaped from a moving transport truck. Now all three animals spend their days together.
"They love running and playing," Davis said. "Baby pigs sleep a lot. Pixel is a real fuzzy goat, and they love to snuggle with him."
Broken Shovels Farm
But there's one thing that Freeway likes to do that the others don't — get a hose shower.
"She'd just gotten really dirty one day, and I decided that I'd spray her off a little bit, and I thought, 'Oh, she might not like this,'" Davis said. "I had warm water in the hose. I was so shocked at her reaction — she basically started doing a little pig dance, and it was one of the funniest things I've ever seen her do. She was thrilled with water spraying on her. She was just like a puppy."
Freeway is now about 20 pounds, and she no longer likes Davis picking her up. "She's really independent now," Davis said.
But Davis doesn't mind — she knows this is a sign that Freeway finally feels safe.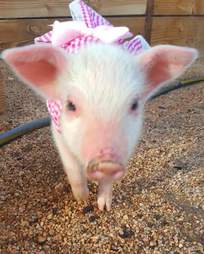 Broken Shovels Farm
To help Freeway keep living a happy life at Broken Shovels Farm, you can
sponsor her
or another animal at the sanctuary.
Broken Shovels Farm