Firefighter Does Sweetest Thing For Two Terrified Donkeys Fleeing Wildfires
They were so relieved to be safe ❤️️
Firefighter Chris Harvey and Sacramento Fire Chief Gary Loesch were driving down Honey Run Road in Paradise, California, on Saturday when they came across something entirely unexpected.
Just days before, the deadly Camp Fire had ripped through the Sierra Nevada foothill community of Paradise, leaving behind the charred remains of homes and husks of cars. The fast-moving blaze had claimed both human and animal lives, transforming a town of retirees and young families into something eerily deserted.
Or so they thought.
While en route to investigate an accident caused by a falling tree, Harvey and Loesch spotted two weary animals emerging from the smoke.
The donkeys were slowly hobbling down the center of the road in the opposite direction, and it was clear to Harvey that they were very lost.
"We pulled over to let them pass, and saw that they looked very tired, worn out and thirsty," Harvey told The Dodo. "I tried to give them some water in my hand from a water bottle, but it kept spilling out."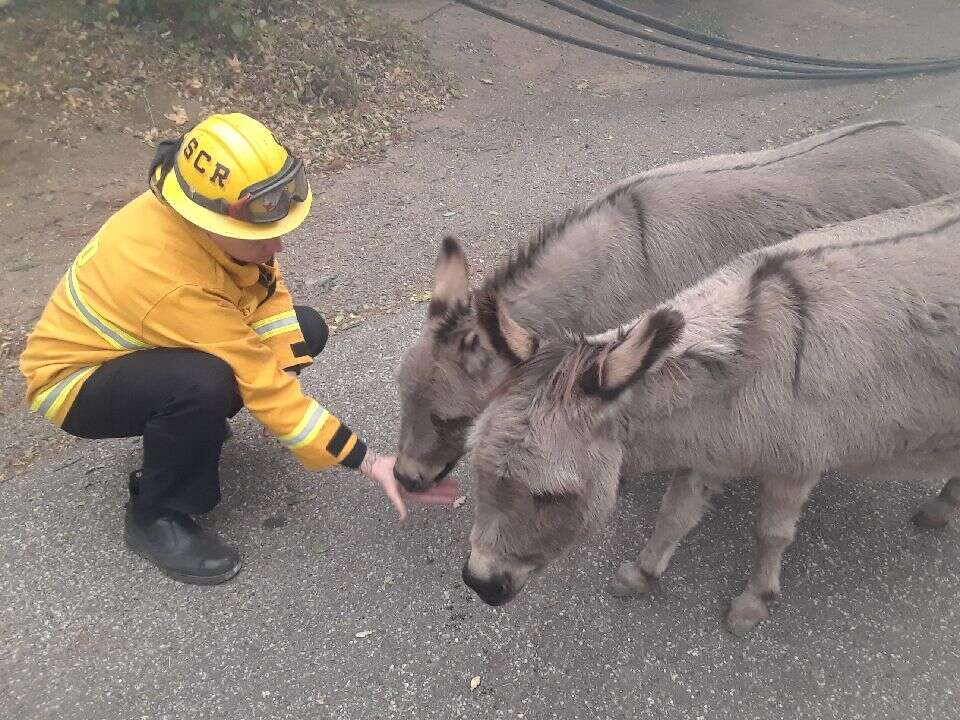 Harvey knew that after what the donkeys had been through the animals needed more than a few sips of water, so he grabbed the apples out of his and Loesch's sack lunches and fed them to the donkeys.
Immediately, Harvey could see the difference that his little act of kindness made to the survivors.
"They ate the apples quickly and seemed grateful for the snack," Harvey said. "We called base camp and had them dispatch animal control officers to get the donkeys."
Harvey and Loesch waited with the donkeys until they were safely in the care of animal control. Though it is unknown whether the donkeys will be able to reunite with their family, their rescue is a ray of hope when people need it most.