Your 'Faux' Fur Coat Might Actually Be Real
Shoppers are being tricked — and it's a nightmare for animals 💔
Stuffed in rows of tiny wire cages, animals like rabbits, foxes and raccoon dogs lie motionless.
Their feet are sore from the barren wire flooring, and their muscles are weak from never getting to run outside. The animals waste away in warehouses or outdoor pens, eating low-quality food that barely keeps them alive. They're the unseen victims of the fur trade, killed for "fashion."
Rabbits stuffed in tiny cages at a fur farm in China

| HSUS
Knowing the cruelties behind fur products, it's typical for animal lovers to buy fake fur — but experts warn that unsuspecting shoppers might actually be bringing home the real deal instead, lining the pockets of companies that kill animals.
Historically, consumers have been fooled into buying real fur products despite their good intentions. PJ Smith, director of fashion policy for the Humane Society of the United States (HSUS), says clothing labels are not always correct in identifying whether an item contains real fur, making it difficult for animal advocates to avoid these garments. It's also just as hard for retailers to fill their stock with faux products when items are not correctly labeled, Smith said.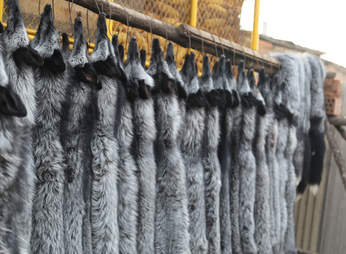 Pelts at a fox and raccoon dog fur farm in China

| HSUS
"For over a decade, [we] have battled the problem of real fur being marketed and sold as 'faux,'" Smith told The Dodo. "In the U.S., there was a loophole in the federal legislation [until the Truth in Fur Labeling Act of 2010] that allowed fur to be unlabeled if the value was under $150 … Without proper quality control, retailers are left to guess, and many times, guess wrong."
A rack of coats with fur trim for sale

| Shutterstock
In years' worth of investigations, Humane Society International (HSI) has identified many brands that have deceived customers about supposedly "fur-free" items. By purchasing a variety of supposedly artificial gloves, hats and shoes and testing them, investigators found multiple items that contained fur from real rabbits and even cats — including popular British brand Missguided.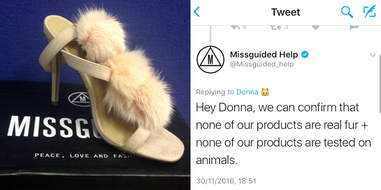 Shoes labeled for sale as faux fur that actually contained illegal cat fur. While in correspondence with the brand, Missguided, on Twitter, HSI was told by a company representative that none of its products contains real fur.

| HSUS
In 2010, then-U.S. president Barack Obama signed the Truth in Fur Labeling Act into law, which required fashion retailers by law to label all fur products accurately, including the country of origin. But still, in 2016, big names like Amazon, Kohl's, Neiman Marcus and Nordstrom were among brands that HSUS exposed for selling "fake fur" items that turned out to contain real fur from coyotes, rabbits and raccoon dogs.
A graphic showing a "faux fur" purse being sold on Kohl's website that labeled 100 percent polyester. It actually contained real rabbit fur.

| HSUS
Just this year, consumers flagged products sold from Amazon and UK brand TK Maxx after suspecting some of their clothing items labelled as fake fur were made with real fur. The shoppers were right; the raccoon dog furs were likely shipped in from China, where fur farming is a booming industry and countless animals face painful deaths each year for fashion.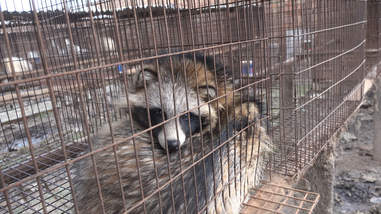 A raccoon dog living on a fur farm in China

| HSUS
So how can shoppers be sure that their purchases are fur-free? There are multiple methods, Smith says. The surest sign of fake fur is seeing threadwork on the fabric backing of the product where the "hairs" have been sewn in. Real fur can also be spotted by checking the tips of fur strands; if they look tapered like the point of a needle, it's likely the piece came from an animal.
When in doubt, Smith says, leave it on the shelf.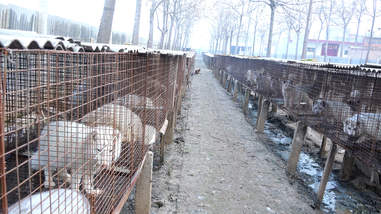 Foxes in rows of cages at a Chinese fur farm

| HSUS
"One of the best things people can do to help end the fur trade is not support companies that profit off the backs of fur-bearing animals," Smith explained. "If you're not sure if a company is fur-free or not, ask, and if you're not sure if the fur is faux or not, leave it on the shelf. By refusing to purchase fur products, designers will stop using fur, retailers will stop selling it and fashion writers will stop reporting on it as an acceptable trend."