These Pigs Could Barely Lift Their Heads When Rescuers Arrived
"They all seemed so grateful."
When officers arrived at a home in New Lisbon, New York, to answer an animal call late Saturday night, they stumbled upon a horrifying scene: A goose was caught and writhing in an electric fence near the front yard.
Rushing through the property to find the switch to turn off the power, each turn yielded an even more torturous scene. In the basement of the home, seven dogs were living on a floor of feces and waste, some locked in rusting metal cages with no room to stand. The walls were chewed down to the baseboards.
Outside, donkeys with overgrown hooves stood in a barren, muddy field. Pigs in a pen could barely walk or move their bodies due to the inches-thick deep dirt encasing their enclosure. Chickens were packed into tight wire cages with no room to walk, and rabbits lived in small wire cages with only straw to eat. Two more dogs were tied up outside.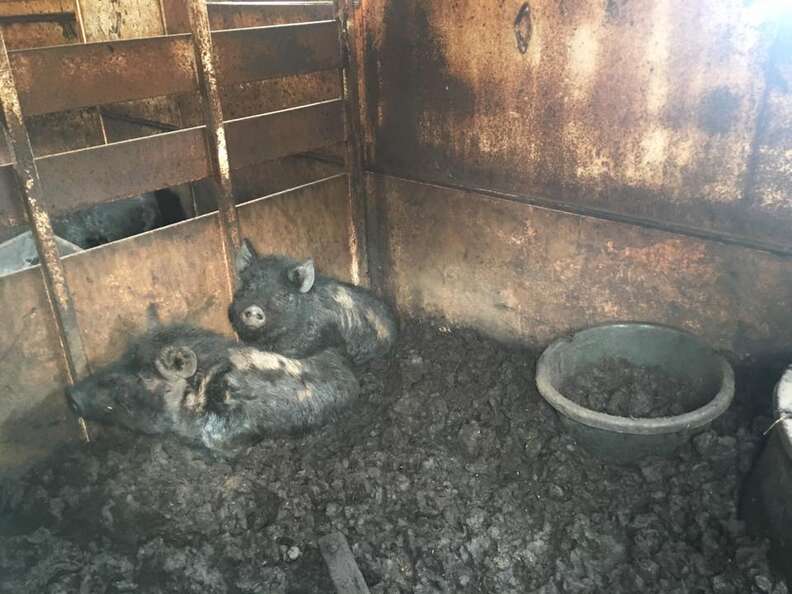 It was after 1 a.m. — but the officers called Stacie Haynes, executive director of Susquehanna Animal Shelter, for immediate backup. The goose had already passed away from being electrocuted, and many of the animals' conditions were just as dire.
"These animals were basically being tortured," Haynes told The Dodo. "They had no food or water. Their enclosures were filled with feces. They could barely even stand. It was horrific."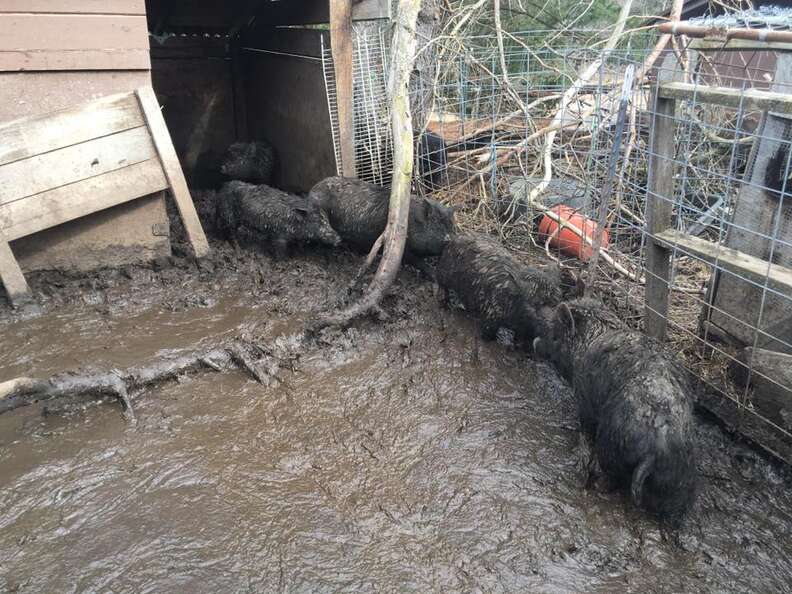 Haynes and her rescue team headed out to the property in the wee hours of the morning to begin the long process of recovering each animal from their waste-covered prison. Veterinarians were on-site to examine each animal for the case's records, and to document their condition for their eventual new owners.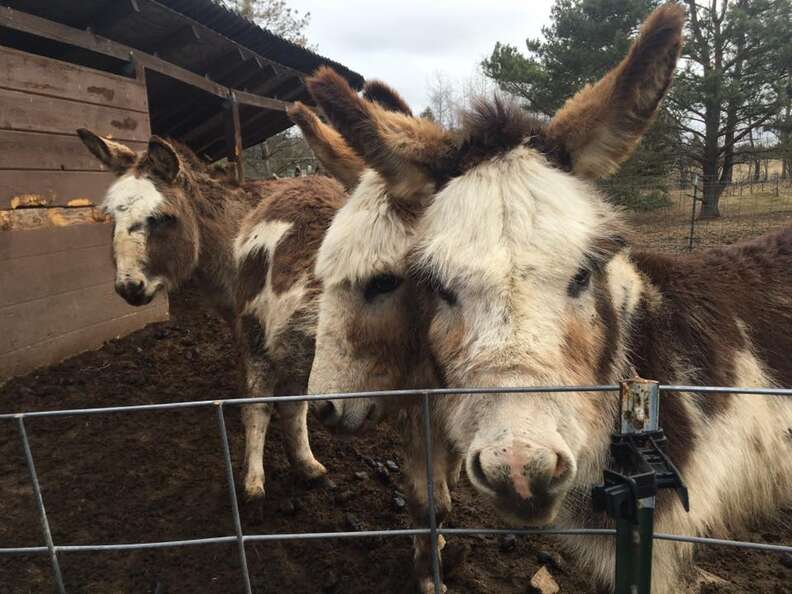 "We called out to our network right away because we knew there were going to be a lot of farm animals needing somewhere to go," Haynes said. "People stepped up immediately offering to take them in."
Between the goats, chickens, pigeons, sheep, pigs, donkeys, dogs and other animals, over 100 animals were living in the filthy conditions across the property — some even in enclosures with the bodies or bones of other deceased pen-mates.
After over 12 hours of freeing the animals and preparing them for transport, the team was finally done for the day. And luckily, enough of Haynes' rescue connections opened their doors that all the farm animals had found forever homes by the end of the weekend.
One of those volunteers was Dawn Hayman, founder of Spring Farm CARES Animal Sanctuary in nearby Clinton, New York. She took in all seven donkeys, three rabbits, a pigeon and a pig.
Now, she's gearing up for the rehabilitation process.
"The donkeys are in very poor condition. They are extremely malnourished, and have severely overgrown and, in some cases, now permanently malformed feet," Hayman said in an update. "Right now, we are continuing to assess them and slowly introduce food back to their systems. They are all safe and warm and loved and we can already see how happy they are about that!"
The other pigs are now being fostered by Southern New York Pig Rescue until they're healthy enough to be adopted. It's already clear they are loving the extra love and attention.
"The foster pigs are all settling in and relishing in the simple fact that they are now warm, dry, safe and have full bellies," the rescue said on Facebook.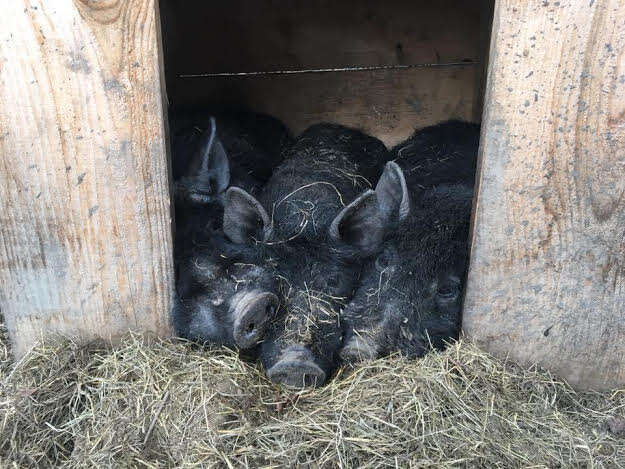 All nine dogs from the property were brought to Susquehanna Animal Shelter, where they've been groomed and are getting around-the-clock care and feedings. They will be available for adoption in the coming weeks.
"Their hair was matted and hardened," Haynes said. "These are long-haired breeds like collies and Great Pyrenees who aren't meant to be shaved down, but we really didn't have a choice. They're already feeling so much better."
Despite what all the animals had been through, Haynes couldn't help but recognize how thankful they were to be saved.
While it's still early on in the case, the two owners of the home, William Desimone and Gabrielle Bastian, have been arrested on animal cruelty and drug charges.
"The fact these animals can be tortured by humans but still love them … it's crazy," Haynes said. "They were happy to have attention and see people. They all seemed so grateful."