Nice Duck Returns Boy's Flip-Flop That Fell Down A Hill
So polite ❤
Recently, Myla Aguila was walking by a village near her home in the Philippines when this curious scene caught her eye.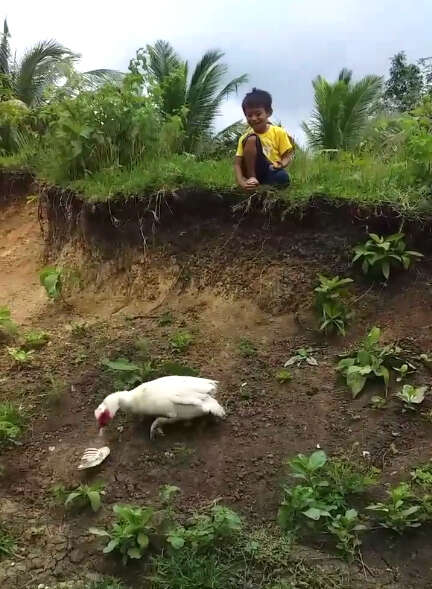 There, squatting atop a small hill off the road, was a young boy facing a little problem. Evidently, one of his flip-flops had fallen down the dirt slope and was now out of reach.
Though the boy could easily have climbed down to grab it, someone else got there first — a thoughtful duck, who kindly retrieved the flip-flop for him.
Here's that remarkable moment on video:
Aguila couldn't believe her eyes, and neither could the small crowd that had also been looking on. The bird had done this random kid a solid.
"I was dumbfounded," Aguila wrote online, going on to say: "The duck is kind. He really helped, even though he doesn't know the child."
The heartwarming incident defies easy explanation. But for Aguila, it's opened her eyes to a level of emotional complexity she'd never thought a duck could possess. It's changed her outlook for the better.
"There is a feeling like a person," she wrote, adding: "I will feel mercy on them because of what I saw."
For more playful, funny, unforgettable animals,
check out Dodo Kids
— the videos you love, tailored especially for the littlest animal lovers!