Cow Takes Wrong Step And Falls Into Huge Sinkhole
She was so patient and sweet while people helped her ❤️️
One morning last week, the Lincoln County Fire Department got a call about a cow who'd gotten stuck in a sinkhole, and was completely unable to pull herself out on her own. The hole was about 20 feet deep, and while the man who found her tried everything he could think of to help her out, he eventually decided to call for help.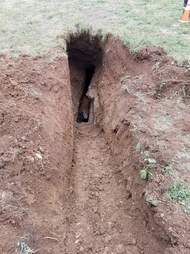 Dustin Whited
Around noon, the man contacted the fire department in hopes that they could help. The department sent some firefighters out to the scene, but they quickly realized that the rescue was going to be a tricky one, and wasn't something they would be able to do on their own.
In order to make sure everything went as smoothly as possible, the Lincoln County Fire Department decided to call in the Jessamine County Fire Department and the Lexington County Fire Department as well, to provide extra crew members and equipment, so that the poor cow would have the absolute best chance of getting out of that sinkhole as quickly as possible.
Dustin Whited
"Once on scene the fire department realized the rescue was beyond their scope," Captain Dustin Whited, who works with both the Lexington County Fire Department and the Lincoln County Fire Department, told The Dodo. "Most of them know that I am on the technical rescue team in Lexington. I got a call about the cow and they inquired if we would respond to assist them."
Once the entire rescue crew was assembled, they all assessed the situation together and formulated the best plan to get the cow out of the hole safe and sound. Throughout the entire process, the cow seemed scared and confused and yet remained calm, as if she knew that a whole team of people were working together to get her out.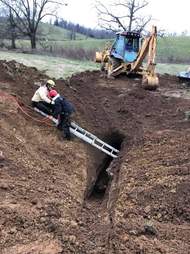 Dustin Whited
"We met with the backhoe operator and discussed what we needed," Whited said. "We had the operator dig the sides of the hole back and slope them at a safe angle so collapse wasn't an issue. Once the sides were sloped we were able to enter the hole, and use jack hammers to break away the limestone to allow the cow room to move."
Dustin Whited
Once the hole wasn't so narrow and unsafe anymore, the rescue crew was able to put straps around the cow and slowly lift her up to safety. They set her gently on the ground, removed the straps and helped her to stand up. She was a little wobbly at first, but eventually found her balance again, seemingly unharmed and unfazed by her whole ordeal.
Dustin Whited
The rescue crew took care of the hole to make sure that no other cow could accidentally fall in. The whole rescue took about four hours and three different fire departments worth of people, all rallying together to save one cow's life.
"I checked on the cow earlier today and she's doing just fine," Whited said.