Homeless People Find Cow In Dump — And Know She Needs Their Help
They even sat with her and pet her until help arrived 💕
Lying on a garbage pile at a city dump in Udaipur, India, Mabel the cow could only wait and wish that someone would help her.
She was so weak and hadn't eaten in a long time — but she wasn't the only one who was hungry.
AAU
A group of homeless people were rummaging through the dump for food last month when they stumbled upon the distressed cow. Although they were hungry, too, they knew instantly she needed their help.
They were able to call Animal Aid Unlimited (AAU), which sent rescuers rushing to the scene. The team arrived to find the kind people huddled around the cow, petting her back and comforting her until help came.
AAU
The people who had found her then rolled up their sleeves and jumped right in to help rescuers load Mabel into the rescue truck. Unfortunately, in India, impoverished people often find themselves searching through trash to find food or other valuables in order to survive. They usually share the space with cows who have been dumped by local dairy farmers.
"Cows who are not lactating are often abandoned or let loose by owners who live nearby because they don't want to pay [to feed them]," Erika Abrams, cofounder of AAU, told The Dodo. "They may believe the cow will get plenty of nourishment from the garbage. Either the owner doesn't know about the hazards of plastic and toxic substances, or does not care ... Those who are wandering are simply looking for food because they are hungry."
AAU
Once back at the rescue center, the veterinary team gave Mabel some pain medication and IV fluids to help ease some of the pain and weakness she was experiencing. One of her legs was sore and injured, so they made a point to massage the muscles.
AAU
Within two days, she was back on her feet — and it was clear how lonely she had felt during those days at the dump. She instantly began making friends with other rescued cows at the center.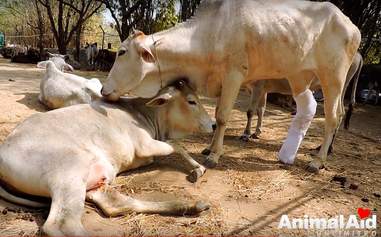 AAU
"She is independent and shy of people because she may not have ever been touched," Abrams said. "But she quickly bonded with the other cows and expressed her happiness with grooming, eating and snuggling with other cows."
AAU
Although Mabel is still on her road to recovery, she already has a great support system at her side to help her heal — and the most unexpected heroes to thank for saving her life.
AAU
"Sensitivity and compassion is always beautiful, and to see such vulnerable victims of poverty helping the vulnerable victims of human dominance was so sweet," Abrams said. "Help starts not with your pocketbook but with your heart, and that's what the people at the garbage dump reminded us."