Runaway Calf Spends Weeks Hiding In Snowy Woods To Save His Life
He was just a baby — but he was determined to make it 💪❤️
A daring calf named Finn is now safe and sound — after three weeks of hiding out in the freezing woods to save his life.
In late December, residents of New Britain, Connecticut, began seeing the wayward cow show up in their yards, but despite their best efforts, no one could get close enough to capture him. That's when Farm Sanctuary got involved, and once the group set up a feeding station with hay and a trail camera to spot Finn, the team was finally able to corral him.
Finn out in the snow

| Farm Sanctuary
"It wasn't long before Finn appeared on the camera hungrily scarfing down the food," the rescue group said in a press release. "[Finn] was even waiting at the feeding station for his next food delivery."
It turns out Finn was originally purchased by a local man at a livestock auction who was planning to take him to a butcher. But when the man was transferring Finn from his van to his garage, the cow made a run for it.
Farm Sanctuary
After his daring feat, 4-month-old Finn will get to live out his life in peace around others of his kind at Farm Sanctuary's Watkins Glen, New York, campus.
The other cows at the sanctuary have already given a warm welcome to Finn — and, after having been alone for so long and somehow survived the harsh winter on his own, the calf already feels at home.
"Cows, just like humans and all other animals, have a strong desire to live and enjoy their one time on this planet," Susie Coston, national shelter director for Farm Sanctuary, said in a press release.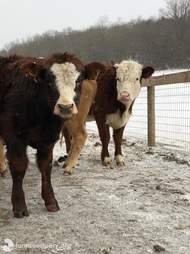 Finn (left) with another cow at the sanctuary

| Farm Sanctuary
As herd animals, cows thrive in groups and often build very special bonds with those they live with, especially their mothers.
But while Finn will never see his biological mom again, he's finding comfort in having older female cows around to watch over him, share meals with him and most importantly, help keep him warm.
Finn (left) outdoors in his coat

| Farm Sanctuary
After all that time in the freezing forest, Finn's quite happy with his new coat — and all the snuggling he's getting.
"He is still shy with people and he seems to be drawn to our adult female cows," Coston said. "The calves are interested in him but he seems to want to stay close to Gracyn, who is in her twenties, and Gidget, who is 14 years old. He was squished between them this morning when they got up. It was super cold — negative 6 — so that was a smart place to be."