Exhausted Carriage Horse Collapses On The Side Of The Road
He started coughing and just fell over 💔😭
Charlot the carriage horse was desperate for help.
Standing on the cobblestone street after giving a ride to passengers, the exhausted horse coughed and gasped for air as concerned passersby looked on. After a few minutes of wheezing, he collapsed onto the ground.
People called for SPCA officers, but it was too late. He was gone — and animal advocates are certain he won't be the last of Old Montreal's carriage horses to die right on the streets.
Charlot with a blanket covering him after he died

| Facebook/Julie Ducharme
This summer, the Canadian city announced plans to ban the carriages, also known as calèches, by December 2019 due to a long-running history of animal welfare violations. After this incident, proponents say the ban can't come soon enough.
"Nobody is overseeing the situation," Mirella Colalillo, coordinator for the Anti-calèche Defense Coalition, told The Dodo. "It's good that there is going to be a ban in a year, but in the meantime, nobody is protecting the horses and the laws are not being enforced."
Warning: Graphic footage of the incident below
This incident especially hit home for Chris Romanyk, who lives in the apartment building that Charlot collapsed and died in front of. "Even in our apartment, you heard the horse crying," Romanyk told CBC News. "It was gut-wrenching. It was screaming in pain. It is really hard to actually describe. It was really an upsetting sound."
According to Colalillo, it's currently harder than ever to keep track of and document welfare concerns throughout this industry, as the city has not kept advocacy groups up-to-date on the records of individual animals whom the companies own. She also said the company owners regularly change the horses' names to make it harder for groups like hers to monitor them.
A carriage horse in Montreal in May 2016 foaming at the mouth

| Facebook/Anti-calèche Defense Coalition
"I have been asking the city for a list of the horses registered to pull calèches so that we can keep track of them, and to facilitate complaints when warranted," Colalillo said. "The list has been provided in the past, but I filed an access to information request in July and I'm still waiting."
The horse's public death has also grabbed the attention of the city's mayor, Valérie Plante, who says the tragedy just reaffirms the dire need for the industry's shutdown.
"It says to me: 'You made the right decision … the calèche industry has no place in Montreal anymore,'" she told The Globe and Mail on Monday.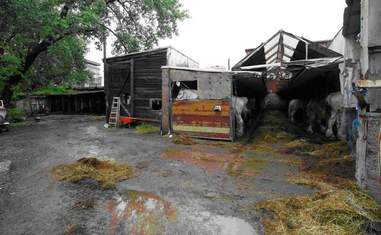 Barren sheds where some of Montreal's carriage horses are kept when they're not giving people rides

| Facebook/Animal Alliance of Canada
In addition to the physical stress of parading down roads for up to nine hours each day, carriage horses also face potential collisions with cars, extreme temperatures and loud noises that can cause them to bolt, endangering themselves and humans. When not working, horses are often tied in stalls with no option to walk or graze freely.
According to the Montreal SPCA, most of the horses who can no longer be used to pull carriages are sent to auction or to slaughter. Or, they'll die in the streets like Charlot, never having a glimpse of freedom.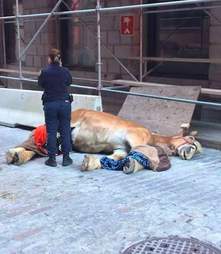 Charlot lying in the road after collapsing

| Facebook/Sauvetage Animal Rescue
Until the ban is finalized next winter, Colalillo and other advocates will continue to raise awareness about the horses' plight — and hopefully save others before it's too late.
"My group has been urging anyone who sees a calèche horse that looks sick, injured or is being mistreated to contact police, and to write to MAPAQ [Ministry of Agriculture, Fisheries and Food] Minister André Lamontagne to urge him to take action to protect the calèche horses," she said.