Traumatized Baby Goat Learned To Snuggle With Herself
Now she's making friends with a blind little lamb.
When Daisy was just a tiny baby on a farm in Canada, she had a stroke of terrible luck.
Not only was she supposed to be sold for slaughter, but she was brutally attacked by a group of wild crows.
FARRM
Unable to see her family, she comforted herself by curling up and resting her head on her body.
It seemed like life couldn't get any harder for Daisy — until the farmers raising her decided to show her some mercy.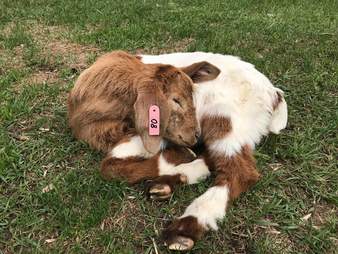 FARRM
The farmers gave Daisy to Farm Animal Rescue and Rehoming Movement (FARRM), a rescue and sanctuary in Alberta, Canada.
When Daisy arrived at the sanctuary earlier this week, rescuers discovered that she was suffering from diarrhea. She was also covered in biting lice that make her itch constantly, rendering her skin raw.
FARRM
But after just a few days at the sanctuary, Daisy is already making great progress. Despite the damage to her tongue, the little goat is learning to eat grass, which her rescuers call a miracle.
And despite her painful past, Daisy is so affectionate and happy. She thoroughly enjoys bouncing around the yard.
FARRM
"Needless to say Daisy is uncomfortable right now but FARRM is doing everything necessary to ensure that she heals from the trauma she has sustained," Melissa Foley, founder of FARRM, told The Dodo. "She's received a full medical intake has started a full regime of salves and warm compresses to help her recover."
Daisy is also healing emotionally. Another resident at the sanctuary is a blind lamb named Merlin, who just met Daisy. And rescuers are confident that the pair will become fast friends.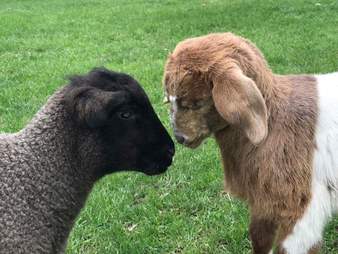 FARRM
It's amazing to think that without that initial stroke of terrible luck, Daisy never would have gotten here.
"We don't often see animals from meat industries suffer this level of trauma and be given a second chance," Foley said.