Caitlin Cimini doesn't know exactly what happened to the baby goat, but the story she got was pretty strange. Apparently, the baby goat was born on a New Jersey farm in the middle of a snowstorm, and abandoned by his mom. When the farmers eventually found the baby goat, he was half-dead and frozen to the ground. So the farmers scooped up the goat, took him inside their house and put him in the oven.
While placing a hypothermic animal in the oven — with the door open — has saved lives before, it's definitely a very risky technique.
"It's seriously one of the most dangerous things you can do because you can't regulate temperature in the oven," Cimini said.
Yet miraculously, the goat — who would later be named Toast after his unusual start in life — came back to life. But the farmers noticed that Toast couldn't move his back legs — he was paralyzed.
Leanne Lauricella of Goats of Anarchy first rescued the goat, according to Cimini, but Lauricella couldn't take in any more goats at the time. So she asked Cimini to take him to her sanctuary, Rancho Relaxo.
Since Toast was paralyzed, Cimini assumed he'd need a special cart to get around, and she looked into getting one made for him.
But when Cimini picked up Toast, the goat had a high fever, so she took him directly to the vet. The vet team stabilized Toast, and, while he was in their care, they examined his back legs and gave him injections in his joints.
"They said that when he was abandoned by his mother in the snowstorm … his umbilical cord was completely exposed, and he got a major infection through his umbilical cord," Cimini said. "He was basically septic, and all of his joints were affected. They said because all the damage done to the joints and bones in the very beginning were so bad that there was no way that they were ever going to work again."
There was also a high chance that they'd need to amputate, Cimini explained.
Amputation wasn't going to be the end of the world, since Cimini expected Toast to be in a cart anyway. But she was still nervous about his overall health, and she called the vet every day to learn about his progress.
Then, a couple days later, the vet called Cimini.
"The vet said, 'Caitlin, I just want to let you know that he started kicking out his back legs a bit. He can't stand, but he's moving them,'" Cimini said.
Cimini was astonished, but cautiously optimistic. How could a paralyzed goat start moving?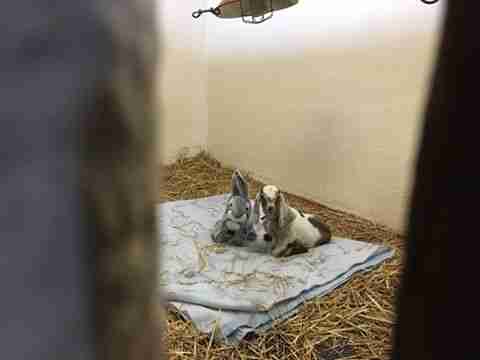 After a few more days passed, the vet called again.
"The doctor was like, 'Caitlin, I don't know what is going on with this goat, but our whole staff walked in this morning and he was standing up,'" Cimini said. "And I was like, 'Oh my god — is he moving, is he walking?' And he said, 'He's not walking, but he's standing up.'"
Not long after that, Toast was walking — and running and jumping and doing everything a normal goat could do.
"We were all so astounded by it," Cimini said. "We were floored. Now he is literally bouncing off the walls. He won't need an amputation and he won't need a cart for the rest of his life. You would never know that he was once paralyzed."
No one really knows how Toast managed to recover — the vet team can't even explain it, according to Cimini. But Toast now lives a very normal life.
"He loves to cuddle with people, as well as his rabbit," Cimini said. "When he was in the hospital, he was given a small rabbit stuffed animal. He slept with it the whole night the entire time he was in the hospital, and the day that we picked him up, we surprised him with a human-sized rabbit. When it's standing up, it's about 4 feet tall."
Even with Toast feeling better, he still loves cuddling with his stuffed rabbits, Cimini said.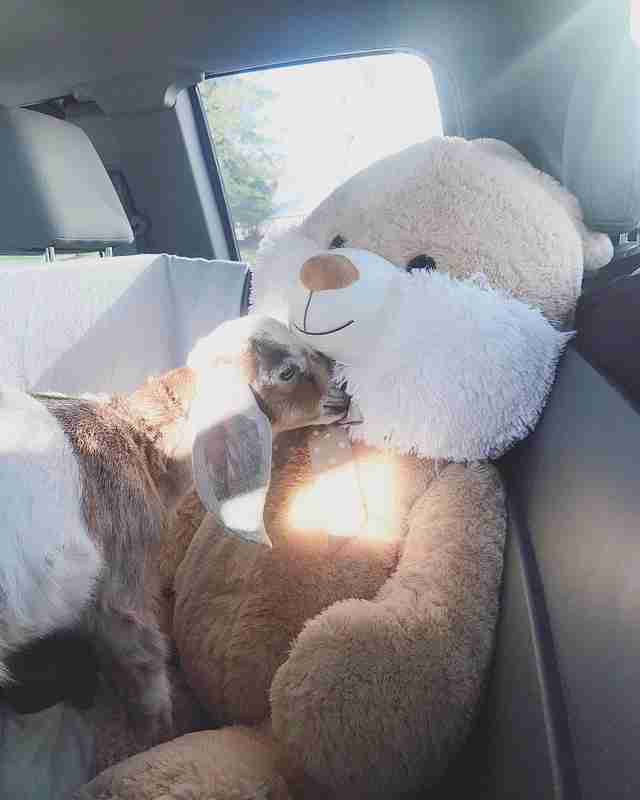 "He has them both, and he sleeps with them every single night," Cimini said. "He loves them so much."
Toast also loves hanging out with the two other baby goats at the sanctuary, but he frets when people aren't around him.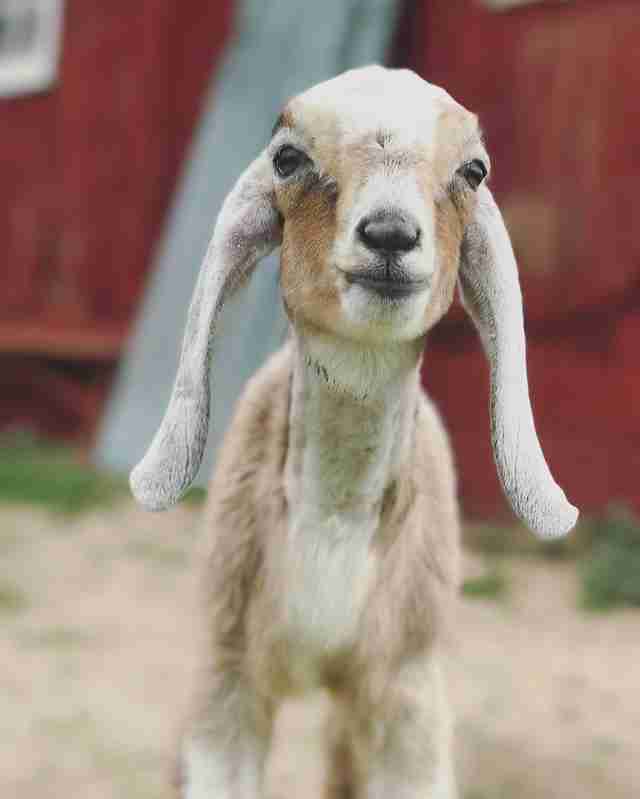 "He's a little bit of a clinger," Cimini said. "Toast will follow the other two baby goats — his big brothers, I call them. But as soon as he realizes that he's not with a human being, he just starts screaming. He turns around and he's looking all over for us. And when he spots us, he beelines right for us."
"He's just a normal, affectionate little goat," Cimini added. "We're honestly surprised that he can even walk towards us, let along bounce towards us. We're all still so astounded by it."