Kids Are Learning How To Read By Practicing With Rescued Farm Animals
It helps them both be less afraid.
Sometimes the best ideas are right in front of you — you just have to see them.
That's what the people at The Alice Sanctuary in Alberta, Canada, recently realized, after one of their residents needed extra help.
"The idea started to blossom back in December when one of our big Yorkshire pigs, Oliver, hurt his foot quite badly. He was on bed rest," Leslie Gould, a volunteer at The Alice Sanctuary, told The Dodo. "Pigs are very intelligent animals and since he couldn't move, we had to get creative with how we kept him entertained."
So the people at the shelter began to read to Oliver. "He seemed to take great comfort in that," Leslie said.
Oliver isn't the only colorful character at The Alice Sanctuary, which was founded on the conviction that people can help animals in need — and vice versa.
"As the sanctuary has grown over the last three years, we have had more and more children coming out to volunteer," Leslie said. Suddenly the people at the sanctuary had a great idea. "We thought what a perfect pairing — kids who are learning to read practicing on our residents!"
So the idea went from thought to reality pretty quickly. The sanctuary implemented reading days earlier this month, and plans to hold them every Wednesday.
And people were pretty excited to go to the first reading day. "My kiddos have a pile of books ready which they think the animals will like," one commenter wrote when the sanctuary announced plans to start the program.
"Over 100 animals call the sanctuary home, and many of them need to have their trust in humans rebuilt," Leslie explained. "We have had a lot of great successes with these types of animals in just taking things slowly and having a volunteer simply sit in their enclosure reading either to themselves or aloud."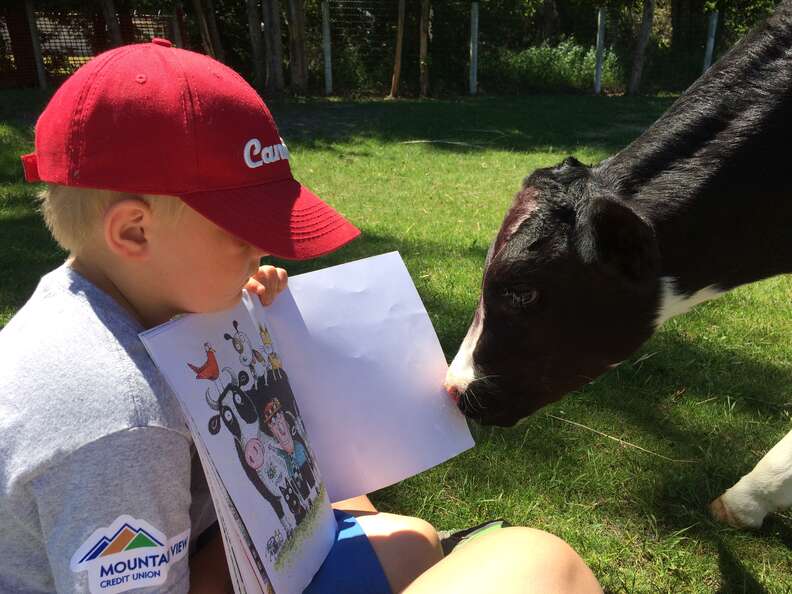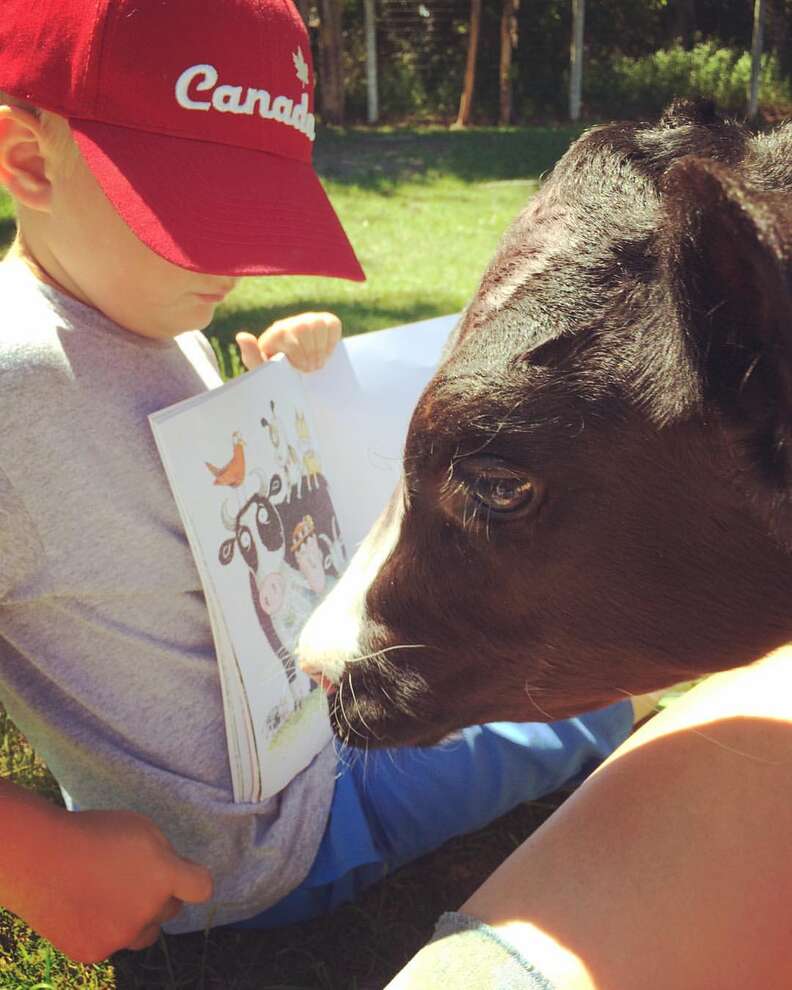 And the first reading day was a hit.
Some kids sat near the animals, absorbed in their books, while others showed the animals what they found so interesting between the pages.
"To tell stories to ears that will not give criticism or judge the way we read or explore our imaginations ... helps build confidence and self-esteem," the sanctuary wrote.
"My kids loved their time today!" one participant wrote after the first reading Wednesday was over. "Already looking forward to our next visit."