Rescued Turkey Finds Best Way To Thank His Dad For Saving Him
"Albert gave me everything he had ... If he wanted a hug, he'd jump up and tell me."
Two Thanksgivings ago, Albert the turkey was destined for the dinner table.
At the California farm where he was raised, customers could pick out a live bird to be butchered and cooked for their holiday feast. But Albert's fate would be different.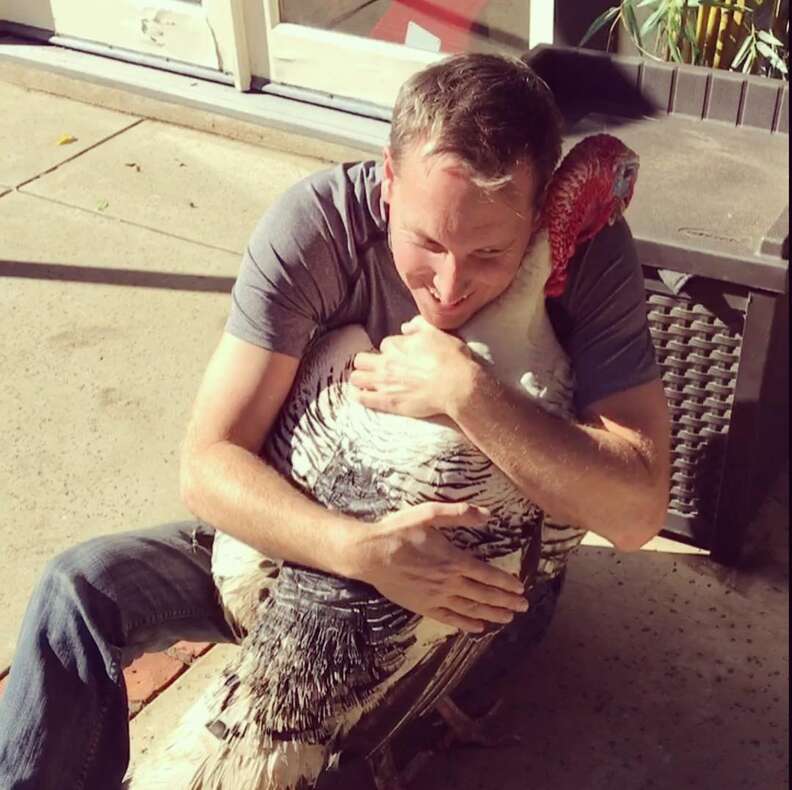 Brant Pinvidic, a TV producer, showed up at the farm after hearing about the "pick-your-own" deal — but he knew right then that his birds would become his pets, not food. He brought home Albert, and a female named Princess, and set the pair up in a coop in the yard.
That Thanksgiving morning, Pinvidic let the birds out for a stroll and they happily sauntered around the neighborhood, pecking at the grass and stretching their legs. But while Princess was happy exploring on her own, Albert was so overjoyed that when Pinvidic knelt down in the yard, the bird ran over and leapt into his arms.
This was only the beginning of an amazing friendship. Before the California family knew it, Albert was following them into the house and begging to be snuggled. Naturally, Pinvidic welcomed the affectionate 25-pound bird onto his lap for hugs. Albert even became star of the family's annual Christmas parties, greeting each guest and snuggling with kids.
"Watching him wandering around a party with 200 people was so surreal," Pinvidic told The Dodo. "After about 25 minutes, people weren't even reacting to the fact he was a turkey. He was just walking around doing his thing, people were talking and he would just strut in between them."
Albert quickly made his way into the hearts of everyone he met — and thousands of people online who began following his social media accounts. Pinvidic began receiving messages from fans daily, thanking him for sharing Albert's life with them and for totally changing their minds about how they see turkeys.
"He's brought joy to so many people," Pinvidic said. "Followers would reach out saying, 'I'm having such a bad day, but thank God I saw your video. Seeing Albert just makes my day.' That's something really special. I kept up with posting because I knew he meant a lot to people."
Albert quickly became known as "the world's most lovable turkey," because he simply loved socializing and getting attention. Albert was larger than life, and he spent every day as if he knew he had gotten a second chance.
Above all, Albert loved his dad so much — and his dad even helped to raise Albert and Princess' two babies from hatchlings. The rescue turkey family had grown, and in the process, they were teaching countless people about just how emotional and social these birds can be.
"Unlike dogs, turkeys don't have a lot of mannerisms or very much to say," Pinvidic said. "But Albert gave me everything he had. If I looked at him, he put his feathers up. If he was outside and I was inside, he'd peck at the door until I let him in. If he wanted a hug, he'd jump up and tell me. He was every bit as part of the family as our other animals."
But this Thanksgiving, just two years after Albert came into his life, Pinvidic is now met with the heart-wrenching question of how to possibly move forward without him.
Last week, the family was faced with a devastating loss after a predator broke into Albert's coop overnight. Albert, along with his partner Princess, their two turkey children, and the rest of the rescue flock were killed.
Pinvidic not only lost members of his family, but one of his dearest friends, Albert. Their friendship, he says, meant everything to him — and the house just won't be the same for a while.
"When this first happened, we instantly got these thoughts of, 'We can't do this [rescue] anymore. We can't possibly go through this kind of loss again,'" Pinvidic said. "But we need to keep going. We need to eventually rebuild our coop and rescue more turkeys. That's just what I do."
After Pinvidic rescued Albert, he founded an adoption network called Albert and Friends, which provides a loving foster home for at-risk animals until they find the perfect family. He's found great homes for many animals — and this year, he has rescued every turkey from the farm where Albert was raised.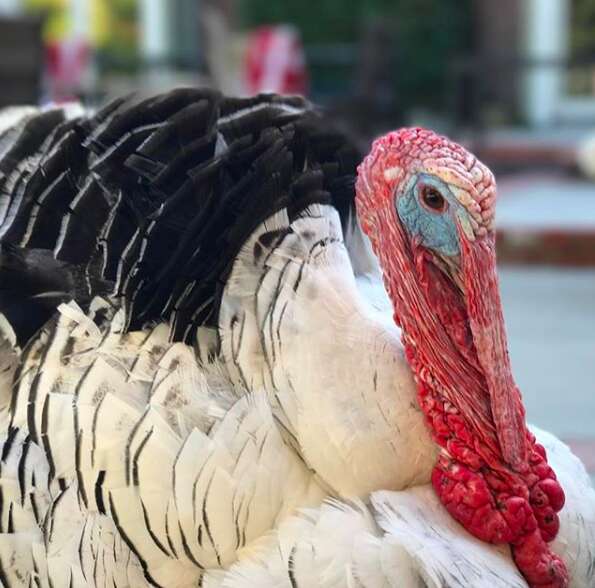 Because of Albert, 40 turkeys will get to experience the same special love that he did, and live out their lives in peace.
"The farmer raised turkeys for butchering … but because of Albert, he doesn't sell them anymore," Pinvidic said. "This year I paid the guy to just house them there instead, and then they will go on to sanctuaries or live as pets."
While the Pinvidic family is still coming to terms with the loss, they can't help but think back on the amazing memories that Albert has left them with.
He was not just a turkey — he was family. And he never stopped showing just how thankful he was for his second chance.
"I can't tell you how many people have stopped eating turkey because of Albert," Pinvidic said. "He brought so much joy to everyone. Oh man … I loved that bird."