Abandoned Pony Had Hooves So Long She Could Barely Stand Up
"There are no words."
About 10 years ago, it was very popular in certain parts of Spain to buy little ponies and keep them as pets.
"These ponies were very fashionable," Sue Weeding, cofounder of Easy Horse Care Rescue Center (EHCRC) in southeastern Spain, told The Dodo. "People were keeping them like they keep a dog. But then Spain had this huge financial crisis, which we're still in."
Without the financial resources to care for such a pet, demand dropped and breeders no longer had use for their ponies. And that can help explain how a 15-year-old pony now named Annie came to the rescue center this week in such horrible shape.
Covered in parasites and with hooves so long she could barely walk, Annie is believed to have been used for breeding before being shut away for years in a dilapidated barn and then finally abandoned in the street.
"There are no words to describe her horrendous general condition," EHCRC wrote on Facebook. "How sad to see an animal in such a shocking state."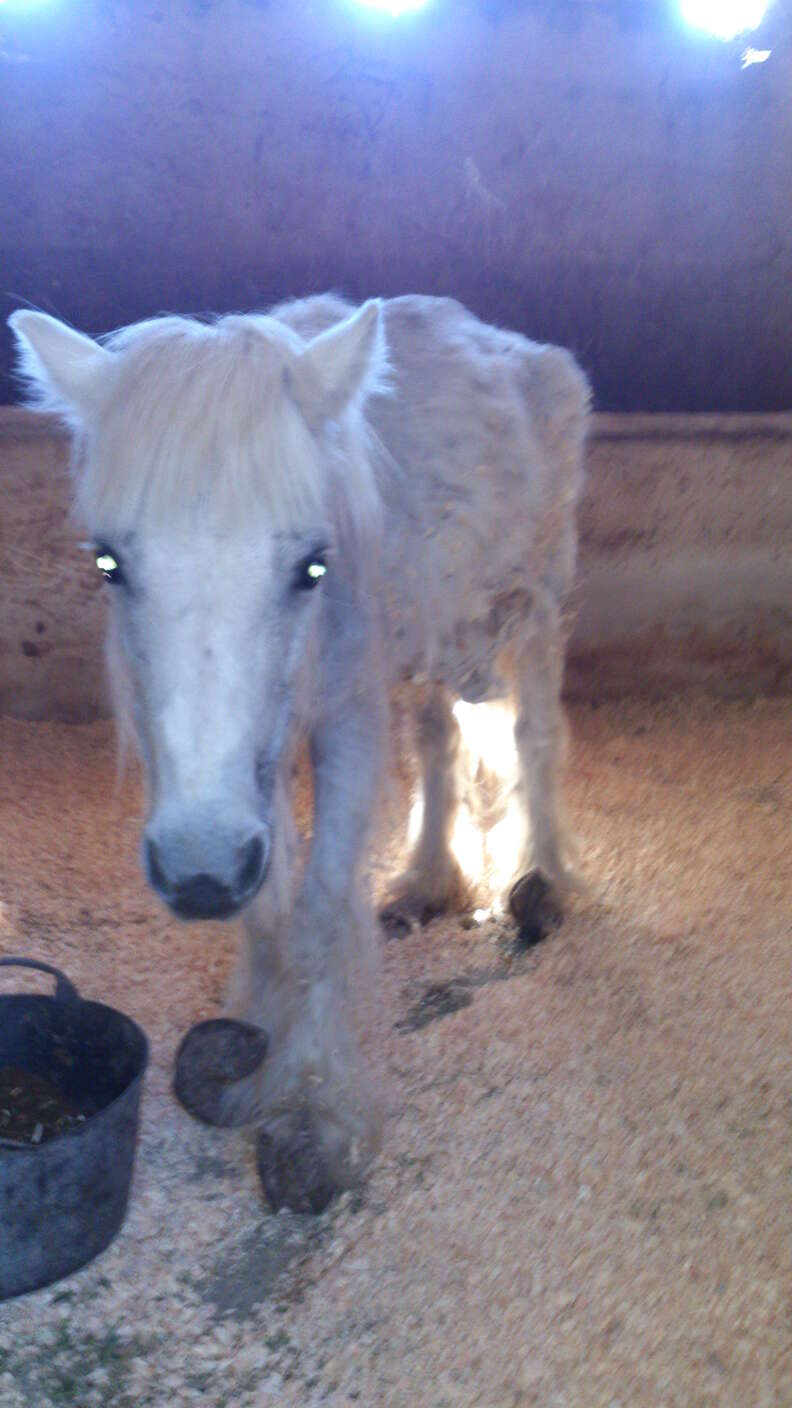 When local police discovered Annie, they immediately called EHCRC, the only place in the area that knows how to help these poor animals.
"She got to the point where she had no use anymore and was thrown out on the street," Weeding said. "We have about 30 other ponies who have been picked up off the street just the way she was."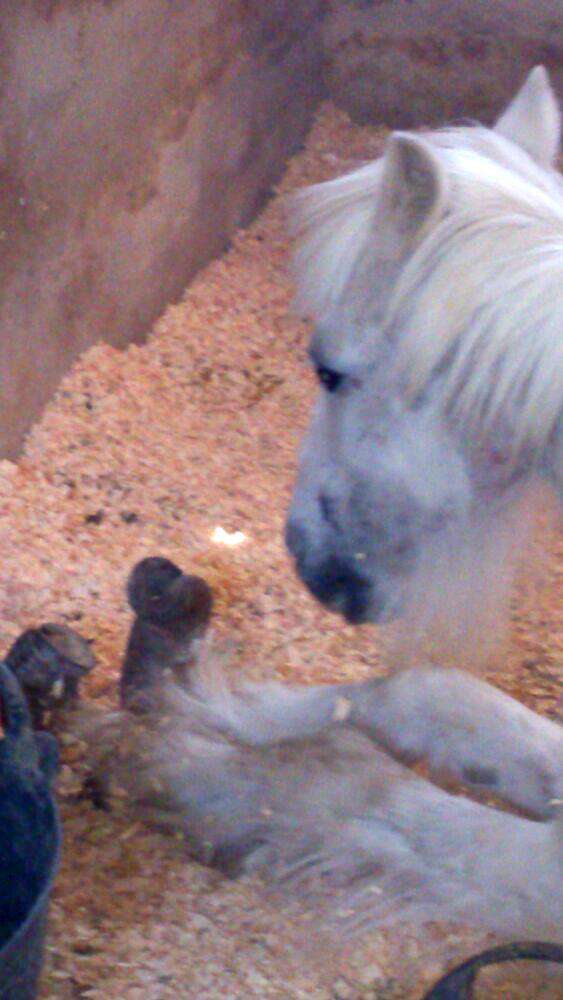 When the police asked if Weeding would help, the answer was obvious: "We always do," she said. "The police brought the pony to us late Saturday evening ... She is absolutely skeletal. She's obviously never had her feet trimmed."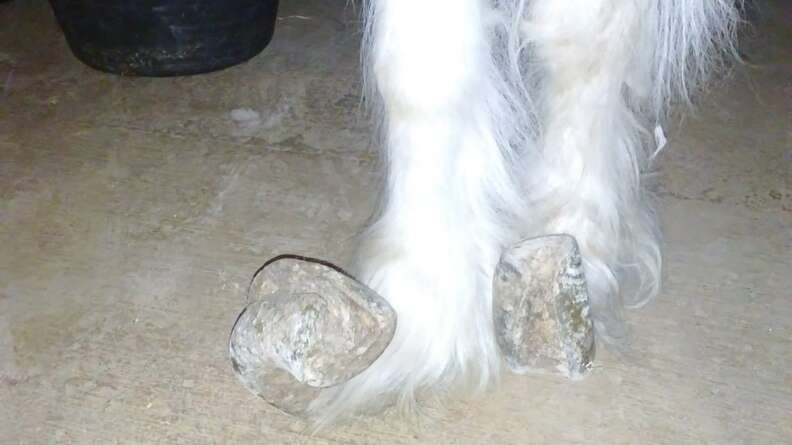 First, rescuers gave Annie a bath to get rid of the parasites that were making her skin so irritated. Her beautiful white coat started to shine after she was cleaned up.
Then, rescuers hurried to give the skeletal pony some fresh food. Most likely, it had been a very long time since Annie was given a real meal; Weeding said that many of these ponies are just fed white bread instead of the food they desperately need for nutrition.
Finally, an expert farrier was called in to trim Annie's hooves very carefully. Annie was given a sedative to make the experience as easy as possible for her.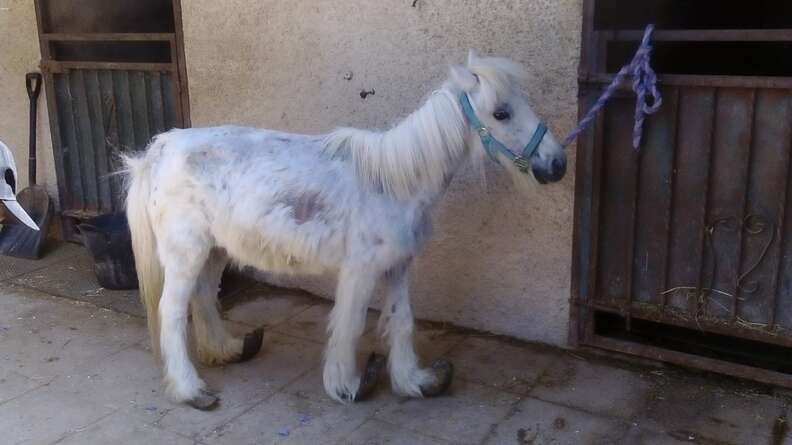 "He had to do it very carefully because it can affect how she stands," Weeding said. "It's about 10 years of growth on her hooves."
Annie may have to have follow-up treatment, even surgery, to help her legs recover from such overgrown hooves. She may also have laminitis, a painful tissue inflammation, likely caused by being so malnourished.
But Annie's rescuers are willing to do whatever is needed for Annie to feel better.
For now, she's adjusting to her life surrounded (for once) by people who care about how she feels. And she's trying out standing on her newly trimmed hooves.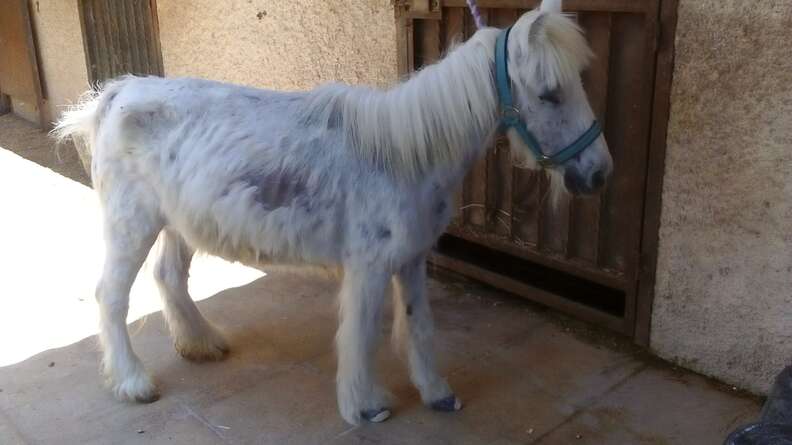 Leaving her past behind will literally be something she takes one step at a time.
"She's already moving so, so much better," Weeding said.
You can help EHCRC care for Annie and all its other animals rescued from neglect and abandonment by
making a donation
.