People Couldn't Believe Who They Found Inside This Rusty Trailer
He had been living in darkness for a very long time 💔
The field was nothing but mud and barbed wire.
As rescuers stepped through the foul sludge of mud and horse feces, they sunk deeper and deeper. Seven horses were trapped on the barren Hood River, Oregon, lot with barely any food or water.
The horses were starving, and their hooves were decaying from standing in the swamp-like conditions day in and day out. A neighbor had reported the neglect, and members of Silent Wave Horse Rescue and 3 Sisters Equine Refuge rushed to the scene to work out a plan to save them.
And then they heard a noise coming from a locked trailer nearby.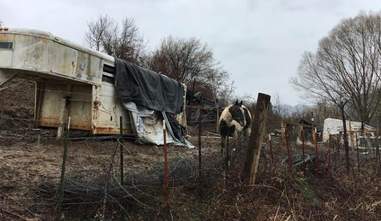 Silent Wave Horse Rescue
"I heard the clambering of hooves as I walked past," Lisa Neuburger, executive director of Silent Wave Horse Rescue, told The Dodo. "I looked in and saw this little guy ... I have had nightmares ever since."
Inside the completely dark trailer was a miniature horse, completely covered in wounds and lice. He had been locked inside with nothing to eat but wet, moldy straw. He was terrified.
"He backed up against the wall in fear," Neuburger said. "We tried getting a halter on him to lead him out and his legs locked up."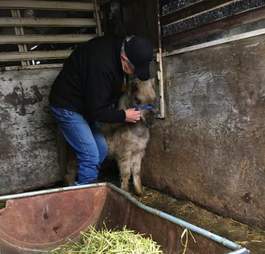 Rascal inside the trailer

| Silent Wave Horse Rescue
No one could tell for sure how long he had been shut in there — but it was clear the little horse had been suffering for a long time. It took four people to eventually lift him out of the trailer because he was too scared to walk out on his own.
"Rascal ended up being our first one out of there," Neuburger said. Luckily, the seven other horses were all brought to safety as well.
Rescuers picking Rascal up

| Silent Wave Horse Rescue
Rascal was the tiniest of all the rescued horses — but he was in one of the worst conditions. He was so itchy from the lice that he had continuously rubbed himself onto the metal sides of the trailer, giving himself sores in the process.
Rascal had worn the hair off his neck from scratching himself against the trailer

| 3 Sisters Equine Refuge
His hooves were overgrown and rotted, and he barely had any muscle from being kept in such tight quarters without exercise.
The rescue happened in March 2017. Michele Lynn, a local horse lover, took Rascal in as a foster shortly after to help him get back to health.
Rascal's overgrown, rotting hoof

| Michele Lynn
"Our biggest concern were his long hooves and overall poor hoof condition," Lynn told The Dodo.
At that point, Rascal was still very fearful — but it was clear all he wanted was to stretch his legs and run after being cooped up for so long.
"He was pretty weak from being locked in the trailer," Lynn said. "When we first got him, he would try to run and fell down every time."
But with plenty of food, vitamins and love, Rascal was getting stronger and more lively. Soon his wounds were almost entirely gone, and his coat had gotten so full and shiny. And most importantly, he finally started feeling comfortable around people — for quite possibly the first time in his life.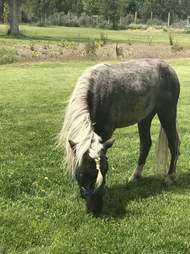 Rascal grazing in the pasture

| Michele Lynn
"It took about six months of love before Rascal started to trust me," Lynn said. "Over the past year, he's spent time playing with his farm friends, grazing on lots of green grass and learning to be led around with a halter on."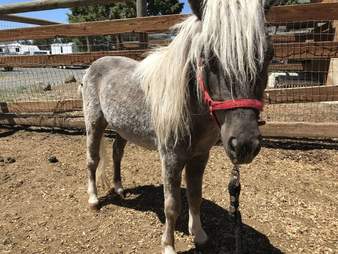 Rascal freshly groomed

| Michele Lynn
Rascal has not only formed a strong bond with Lynn, but also with another mini horse on the farm named Spanky, who was rescued from slaughter. The two now spend their days soaking in the sun and running around together as fast as their little legs will take them.
Seeing how naturally loving Rascal has become, Lynn thinks he may be ready for a very special job in the near future.
"This next year, I hope to do some training with him so he can be a therapy horse," Lynn said. "He has lots of personality and is [a] very sweet boy."