Injured Horse Stuck In River Was Just Waiting For Someone To Notice Him
No one knows where he came from, but he's finally with people who care ❤️️
After a horse was abandoned in Cardiff, Wales, he somehow injured himself and was wandering through a field all alone when he came across a small river. He went down into the river to try and soothe his leg injury — but unfortunately, he was unable to climb out of the river on his own. Tired and sore, the horse waited patiently there in the river until, finally, someone noticed him. 
RSPCA
The RSPCA received a call about the horse and his plight, and rescuers quickly rushed out to the river to assess the situation. The horse appeared to be too injured and stuck for rescuers to get him out on their own, so they called on the South Wales Fire & Rescue Service for a little extra help. They were able to use their equipment to carefully pull the horse up to safety. 
"We're so grateful to South Wales Fire & Rescue Service, who were able to assist us and get this horse out of the [river]," Selina Griffiths, an inspector with the RSPCA, said in a press release.
RSPCA
Once the horse was safely out of the river, he was taken in by the RSPCA's Cymru shelter, where he was looked over and the extent of his injuries was carefully assessed.
"Sadly, we found the horse to have a serious leg injury, and he is now in our care and requiring urgent care and support," Griffiths said. 
RSPCA
The RSPCA still has no idea where the horse came from, and fear that someone may have abandoned him in his injured state. The horse was not microchipped, meaning there is no way to track down his owner, so the RSPCA is looking to the public for potential answers. 
"We're eager to find the owner of this equine, or more information as to how this skewbald horse came to be left so badly injured in a field by Wentloog Industrial Park," Griffiths said. "Anyone with information can contact our inspectorate appeal line on 0300 123 8018."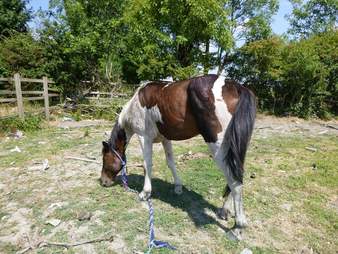 RSPCA
In October 2020, the law in England regarding microchipping is set to change, and all horses will be required by law to be microchipped, which will hopefully prevent situations like this from happening in the future — and the RSPCA is hoping that Wales will follow suit with a similar law soon.