Couple Comes Home To Find An Unwanted Little Animal Dumped In Their Yard
"It was dark outside when we found her. My headlights just happened to reflect off her in the driveway."
When a woman and her partner were driving home the other night, they had no idea that there would be a little surprise waiting for them once they arrived.
"It was dark outside when we found her," Kail Marie told The Dodo. "My headlights just happened to reflect off her in the driveway."
Kail Marie
As they got closer, they realized it was a scared little chicken — and there was obviously something wrong with her.
Given the line of work Marie is in, finding animals in need dumped at her doorstep is sadly not all that unusual. Marie is the founder of Tallgrass Parrot Sanctuary, a rescue in Kansas for discarded pet parrots.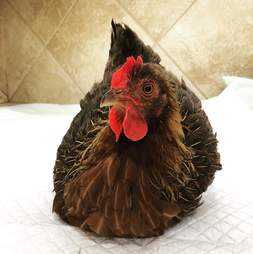 Kail Marie
So, the good news for the chicken was she was abandoned at the exact right place. The bad news was that she would need extensive care to survive, which is another strain on the sanctuary's resources — and there's no question for Marie that the animal would get the help she needed.
"We believe that every being suffers, feels joy and sadness; loves and feels love," Marie said. "We do not hold one being's value less than another. If we can save a life, or reduce suffering, we will."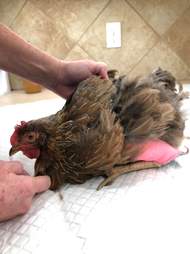 Kail Marie
Marie named the little chicken Dorothy, after the heroine of the Wizard of Oz. And she brought her to get help.
There was obviously something wrong with Dorothy's little leg — Marie had put it in a tiny pink splint to protect it. And at the vet's office, Mariposa Veterinary Wellness Center in Lenexa, Kansas, an X-ray revealed that the leg had been broken.
Kail Marie
For Dorothy to have any hope for survival and a normal life, she would need surgery to fix her broken leg — something that many people would agree to for a dog, but not a chicken. Thankfully, Marie sees little difference.
The veterinarian, Dr. J.C. Burcham, and her staff also saw Dorothy's life as certainly worth saving.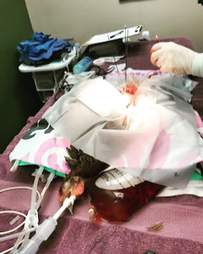 Kail Marie
The injured and abandoned chicken no one had wanted found herself on an operating table, surrounded by people who wanted her to get better. Meanwhile, Marie waited at home for news — and luckily, it was good news.
Kail Marie
"She came through surgery with flying colors," Marie said.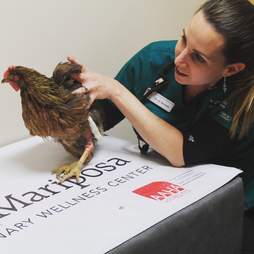 Kail Marie
Dorothy had her bones pinned so they could begin to heal. In several weeks, she'll go in for a checkup to see how her leg is recovering.
In the meantime, Dorothy is relaxing and getting accustomed to her loving new home.
"She has a kennel set up in the house," Marie said. "She is doing great."
Kail Marie
And Marie has found that Dorothy is something of a lap chicken. "I discovered that she loves to be held and petted," Marie said. "Sweetest chicken."
Marie has plans to buy Dorothy a little wheelchair once she's ready.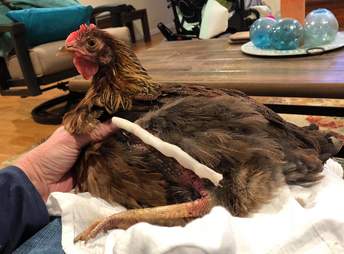 Kail Marie
As the temperature drops and the days begin to get shorter, Dorothy — also known as the Thousand Dollar Chicken — is in luck that her life was saved by people who just want to nest with her and help her get stronger.
"We sat and watched TV together last night," Marie said. "'The Walking Dead' ... There's a joke in there somewhere."