Six Horses Have Died At This Famous Race In Just 5 Years
"The tragic death of Cliffsofmoher in this year's Melbourne Cup horse race was both sickening and unnecessary."
When the race began, horses barrelled down the track. Their jockeys who were riding on their backs urged them forward with whips. But one horse fell behind — 5-year-old Cliffsofmoher broke his shoulder, and his jockey had no choice but to pull him off the track.
Shortly after that, race organizers shielded Cliffsofmoher from the spectators with a green tarp, and he was euthanized right on the field.
Cliffsofmoher is the sixth horse to die in the last five years at the Melbourne Cup, a famous race that takes place each November in Melbourne, Australia. In 2013, a horse named Verema was also euthanized due to a race-related injury, and two horses, Admire Rakti and Araldo, died in 2014. In 2015, a horse named Red Cadeaux was killed after shattering his leg, and Regal Monarch died at last year's race after breaking down on the track.
All of these deaths, including Cliffsofmoher's, could have been prevented, according to the Coalition for the Protection of Racehorses, a horse advocate organization based in Australia.
"Horses are pushed too hard and too young," a spokesperson for the Coalition for the Protection of Racehorses told The Dodo. "As a 5-year-old, he would only just be becoming skeletally mature, yet he was being forced to race since he was 2 years old. Additionally, if whips, possibly spurs and even tongue ties were not being used, [he] would be less likely to be pushed beyond his physical limits and therefore less likely to sustain injuries like so many others also do."
Georgie Dolphin, program manager for animal welfare at Humane Society International (HSI) in Australia, holds a similar view.
"The tragic death of Cliffsofmoher in this year's Melbourne Cup horse race was both sickening and unnecessary, adding to the huge death toll resulting directly from this cruel 'sport,'" Dolphin told The Dodo. "Yesterday's spectacle highlighted the reality of horse racing, publicized for the world to see — the suffering experienced by Cliffsofmoher was evident and he, like so many others, was yet another victim of an industry which routinely pushes these magnificent animals beyond their limits."
Unfortunately, it wasn't likely that Cliffsofmoher could have been rehabilitated after such a devastating injury.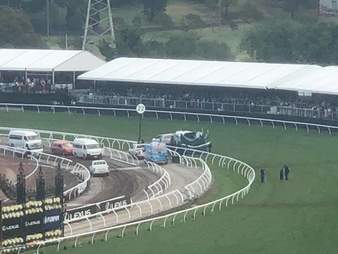 Race organizers covering Cliffsofmoher's body with a tarp as they euthanized him

| Coalition for the Protection of Racehorses
"For those who sustain injuries to their fragile limbs, recovery can prove problematic because they cannot rest one leg or lie down for long periods, and often after surgery they can get up quickly and injure themselves again in the process," Dolphin said. "If Cliffsofmoher wasn't part of the racing industry, he wouldn't have sustained his injury in the first place."
The Melbourne Cup is a well-known race, so Cliffsofmoher's death was well-publicized. However, racehorses die all the time in countries like Australia. In fact, it's estimated that a horse dies every three days due to racing injuries, according to the Coalition for the Protection of Racehorses.
If horses don't die on the track, they often die another way. When horses can't race anymore or no longer become profitable, they're "retired," but this doesn't mean they spend the rest of their days grazing and sunbathing. Instead, retired racehorses are usually sent to slaughterhouses, and their meat is then used for dog food in Australia, or it's sent to countries like Belgium or France for human consumption.
Over 25,000 Australian horses are killed in slaughterhouses each year, and the majority of those horses were race horses, according to Animals Australia. What's more, the killing process is quite horrific for the animals — horses usually have to watch their friends and family members die while they wait to be killed themselves.
"They are treated as disposable objects and when they are no longer wanted, without a retirement plan, most are destined for slaughter," the spokesperson for the Coalition for the Protection of Racehorses said. "The horse slaughter industry and the horse racing industry have an unofficial economic partnership where young horse flesh is in ready supply."
Racehorses in the U.S. don't fare any better. In 2015 alone, for example, 484 horses died on U.S. racetracks, according to the American Jockey Club. While horse slaughterhouses are illegal in the U.S., unwanted horses are simply shipped to slaughterhouses in Mexico and Canada.
But thankfully, things are changing in Australia and the U.S. as more and more people speak out against the racing industry.
"We have seen a steady increase in awareness regarding the issues surrounding horse racing and a steady decrease in race day attendance," the spokesperson for the Coalition for the Protection of Racehorses said. "However, this year it definitely feels like we have reached a turning point. The public outrage over the death of Cliffsofmoher has been larger than any other Melbourne Cup horse death in history — the opinions loud, passionate and educated against the industry and the tone, even from the mainstream media, has more often than not been unfavorable towards the industry."