Only About A Dozen Sochi Strays Adopted
While the Olympics draw to a close, some athletes have turned their focus on bringing home Sochi's stray dogs, in addition to medals. According to the Los Angeles Times, which spoke to Nadezhda Mayboroda, who set up a makeshift shelter in Sochi funded by Russian billionaire Oleg Deripaska, about a dozen adoptions have been arranged so far -- mostly for dogs slated to go to the U.S. But It's not so easy to get the dogs out of Sochi, says the Times.
Pet transport from Russia costs between $150 and $2,000 based on the airline, according to the Humane Society International. The dogs also need international health certificates from a local veterinarian before they can travel. Those cost about $15 here. Dogs must have paperwork showing they have been vaccinated against rabies at least 30 days prior to entry into the United States, according to the Centers for Disease Control and Prevention. Unvaccinated dogs are required to receive rabies shots within 10 days of arrival in the United States and are kept in confinement for at least 30 days.
Some Olympians have managed to get the dogs out though, often on chartered flights, like:
David Backes, U.S. men's hockey team, and his wife Kelly: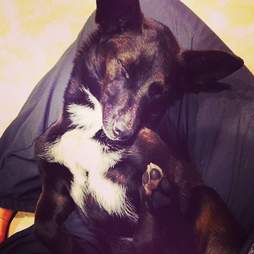 Others who are still working on transporting their dogs out include:
U.S. bobsledding and skeleton team spokesperson Amanda Bird:
Gus Kenworthy, U.S. skier, who had to leave for a press tour but expects his dogs to join him: