66-Year-Old Bird Is About To Be A Mom Again
Her faithful husband is still helping her raise the kids.
The world's oldest known wild bird is well into her sixties, but she's still not slowing down.
Wisdom, as the Laysan albatross is known, was first identified and tagged by biologists in 1956, when she arrived to her species' colony on the Midway Atoll to breed. Because the birds reach reproductive age at 5 years old, that means Wisdom is at least 66 years old today.
Just as remarkable as her longevity is the fact that, all these decades later, she's about to be a mom again.
Kristina McOmber / Kupu Conservation Leadership Program & USFWS
Earlier this month, U.S. Fish and Wildlife Service (USFWS) staffers at the Midway Atoll National Wildlife Refuge were delighted to discover that Wisdom had returned to the Pacific island colony - and that she was in the company of a new egg.
"When I made it to lunch, I knew something was up," USFWS project leader Charlie Pelizza said in a release. "The staff was abuzz with the news that Wisdom was back and incubating. It's amazing what a bit of good news can do to brighten the day."
Wisdom incubates an egg laid in a previous breeding season

| Daniel W. Clark/USFWS
With any luck, this latest offspring will develop and hatch successfully, but there's no doubt that he's in good hands.
Since 2006, Wisdom has raised up nine chicks, and likely several dozen more over the course of her lifetime.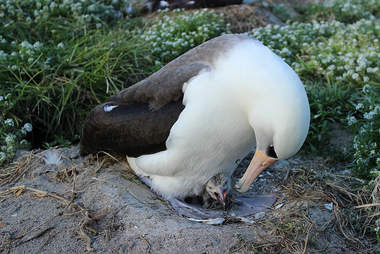 Wisdom with her hatching born in 2014

| Ann Bell/USFWS
Albatrosses mate for life, but Wisdom is believed to have outlived at least one previous partner. Fortunately, caring for this new egg won't be an effort she has to make alone.
Just as in recent years, she is joined by her current partner, a faithful male albatross named Akeakamaiare (whose name means, appropriately enough, "lover of wisdom"). He'll share in the duties of incubating the egg and feeding the chick after hatching.
We wish them all the best.
Wisdom and her mate snuggle together with their egg in 2015

| Dan Clark/USFWS