World's Oldest Orca Still Going Strong At Age 105
Seeing how effortlessly this majestic killer whale is leaping from the water, the purest expression of life and zest, you'd never guess just how many years she has behind her.
Granny, also known as J2, is believed to be the oldest orca on the planet. Estimates based on historical sightings put her age at about 105 years (give or take a dozen years) - but don't let that number fool you.
This old orca is still going strong. (Funny, SeaWorld says orcas only live to be 30.)
She was spotted recently by Orca Network photographer Heather MacIntyre, breaching like a rambunctious youngster off the coast of San Juan Island, in Washington state. There with her were two of Granny's adopted sons from her family group of Southern Resident orcas, called J pod.
They got in on the action, too.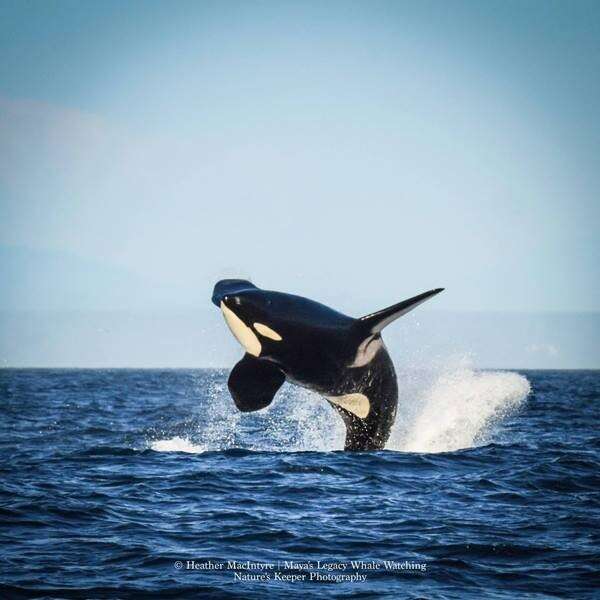 Sadly though, such happy sightings have become increasingly hard to come by. Truth is, these animals are in crisis and could some day soon be gone.
"Moments like this are bittersweet," MacIntyre told The Dodo. "These whales are dying because they don't have enough to eat. People don't realize that if we don't do something to protect their food supply, we're not going to see them anymore. They'll all be dead in 20 years."
In the 1970s, this population of Southern Resident killer whales was devastated by marine parks like SeaWorld forcing their calves into captivity. That practice has been outlawed, but other dire threats remain.
At the heart of these orcas' current crisis is a shortage of Chinook salmon, a staple of their diet. The fishes' numbers stand at just 5 percent of what they were when Granny was born - meaning orcas in the region are dying off too, and ultimately human activity is to blame.
"We've lost 95 percent of our Chinook salmon out here," said MacIntyre. "Still, we're overfishing these salmon, and dams are still inhibiting their migration routes. It's unsustainable, yet people keep buying salmon. It's a huge problem."
Granny, with her unmatched knowledge of where to find food, is credited with helping her family group stay alive through these hard times - but she cannot do it forever, and she cannot do it alone.
"Granny has seen the days of 100 pound salmon. She's seen those days," MacIntyre said. "Now, with the salmon disappearing, she could be the last hope. We don't know how long she's going to live. I hope we can show the same compassion for her family that she does by taking action to protect them."
Click here to learn about how you can get involved to save Southern Resident killer whales from extinction.