As I waited for a red light near my home on my drive home from work one day, I spotted something unusual out of the corner of my eye, some sort of animal. It was a dog, I presumed, but it was difficult to tell. The poor creature's blonde hair was filthy, matted and had grown so long that it reached the floor. It looked like a small mop had escaped its handle and was moving by itself along the sidewalk. As the light turned green and I turned the corner, the creature ran across the street without seeing my car. I slammed on the brakes, pulled the car over, got out and went to stop the poor thing before it got hit by another car. It continued walking in a straight, steady line. People gasped in horror at the sight of the thing and moved aside to give it room. I walked beside it for a few paces and then picked it up in a swoop. When I got the creature home, an astonished neighbor yelled, "What is it?!"
I brought the dog into my backyard. I got some scissors and started to carefully cut off the many long dreadlocks that imprisoned her. After some time, a tiny, old poodle emerged. She was not scared, just relieved to be freed from the hair that had been tugging at her skin. I gave her a bath and made an appointment at the vet. I named her Penny because I had found her outside a store called Pennyfeathers and, well, she was like a lucky penny I found on the street. I was fully aware that giving her a name meant that I was going to keep her. I already had two dogs and a cat, but this little Penny obviously needed a home.
When our veterinarian saw her, he declared, "This is the oldest dog I have ever seen." After examining the frail thing, the news was not good. She was blind, deaf, had few teeth, and was very, very thin. "She has clearly been through a lot. She may only live another few days or weeks, but if you give her a home, then, at least, her last moments will be comfortable."
Penny lived for three more years.
She had the most indomitable spirit I have ever encountered. How she survived on the city streets for months without seeing or hearing anything, I will never know. Once she settled into the house, she assessed the situation, discovered (through smell?) some paths where she could get to her food and water without bumping into furniture. If she made a mistake and ended up at a wall, she would wait there patiently until someone rescued her and put her back to somewhere familiar. She was amazingly adaptable, patient, a model of endurance.
And she was also the most loving of dogs. Perhaps this was because she was so thankful for having a home. Whenever I picked her up, she had a way of wrapping her front paws around my chest as if she were hugging me. She gave me abundant stinky kisses. She loved nothing better than to be snuggled and, occasionally, to be given a piece of popcorn.
As a senior "special needs" dog, most people would have dismissed her. But she did not care what others thought of her. She was a dog, through and through, and all she wanted was to be loved, fed and sheltered. She had no time or need for the judgment of others. She was a survivor, not a victim. Although her circumstances were extreme, she never once begged for pity. Penny taught me much about how to live life to the fullest.
After Penny left us, I began to adopt other "special needs" dogs: a 3-legged dog, a 2-legged dog, a paralyzed dog, and so on. Like Penny, each of them has had no awareness of being different. "Special needs" dogs are special, yes, but not because they are damaged. They are special because they remind us that life is what you make of it. These dogs never wallow in their problems. They do not focus on the past. They do not cry over what they are missing. They live in the moment and make the most of what they have. Their "needs" are the same as any other dog's needs. My 2-legged dog, Cyrus, might want me to pick him up every once in a while to make it easier for him to get somewhere, but if I am not there, he will figure out a way to get where he wants to go without assistance. He does what he must to get what he wants. No more, no less. He remains positive, focused, and goal-oriented.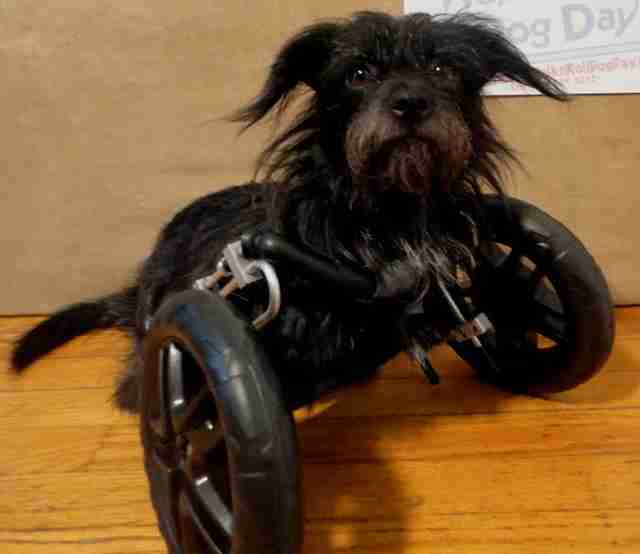 I have eliminated the word "disabled" from my vocabulary. I replaced it with "differently abled." These dogs are capable. They adapt themselves to achieve their objectives. Living with them has helped me to re-evaluate my own problems, to stop sweating the little things that bother me, and to progress forward without being distracted.
There are many dogs who are in need of homes. Among them are "special needs" dogs that are harder to place than most. On petfinder.com, these dogs are given a heart symbol under their pictures. This is most appropriate, for they are filled with more heart than your average dog. There are websites like petswithdisabilities.org where adoptable special needs pets can be found. If you are thinking of adopting a pet, I urge you to consider one of these special dogs. Your life will be changed forever, and you will gain enormous insight and perspective from these wonderful teachers.