Elderly Dog And Soldier Mom Have The Sweetest Reunion
When Army Private Hannah Foraker left for basic training last November, it was the first time in 13 years her dog Buddy had to spend time apart from her best friend. As hard as separating was, however, it led to a joyous scene caught on camera when Hannah finally came home for Christmas.
At her advanced age, Buddy is now mostly deaf and has arthritis according to Foraker, but upon reuniting with her best friend, the dog seemed to turn into the happy puppy Hannah first met over a decade ago.
"We opened the front door and she came running out and greeted me and my family," Foraker told Buzzfeed News. "She was completely overwhelmed and she couldn't even stand up."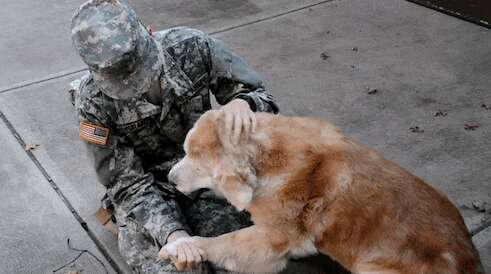 Foraker says even her family was surprised by the newfound energy Buddy suddenly discovered.
"My parents were so astonished by how happy she was," said Foraker. "She normally has trouble going up and down the stairs and takes shorter walks, but now that I was home she was so happy and active. She would get up and do her happy dance."