Little Boy Gave This 'Ancient' Cat The Best Life
"JJ didn't see a 20-year-old cat with falling out fur and a crooked smile. He saw a best friend, a fuzzy soulmate."
A 20-year-old cat with a crooked smile doesn't just walk out of the shelter.
Someone has to save his life. Even if that someone already has four big dogs at home, a husband and a couple of young children.
And those kids? They were begging for a kitten.
But when an email went out to staff at the Best Friends Animal Society that temporary homes for its cats were desperately needed, Jill Williams answered the call.
"We were pretty sure that even if we took in a homeless cat, even temporarily, that we'd need to keep them separated," Williams, a senior manager at Best Friends, tells The Dodo. "We had no clue how our dogs would receive a feline family member."
When Williams got to the sanctuary, the sheer number of cats looking for a home was overwhelming.
"Big cats, small cats, cute little spunky furballs of kittens, kittens with beautiful fur and bright eyes," she recalls.
She was thinking of a tiny kitten with energy to burn.
She found a very old, toothless cat named Dexter.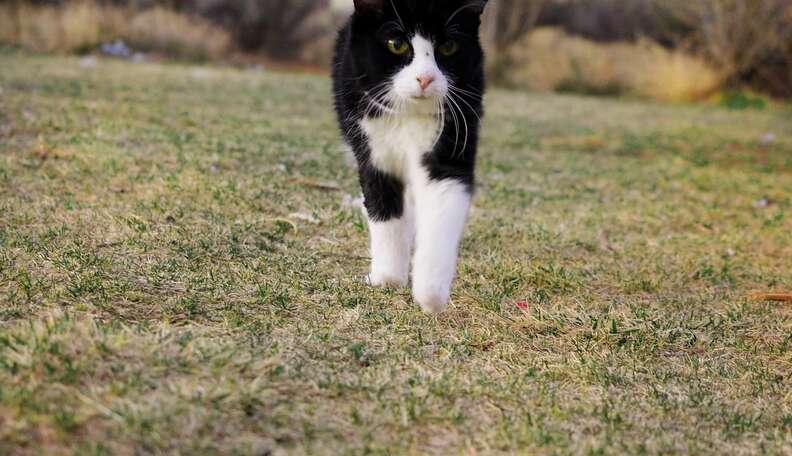 "Dexter looked very rough," she says. "His fur was very patchy all over, none on his tail. He had a very stern meow."
Dexter's kitten days were long behind him. And his few remaining days seemed destined to be at the sanctuary.
"My first impression was, 'Wow, this cat really needs a home,'" she says. "There were a million thoughts running around in my head."
Namely, how would a 20-year-old cat find his groove among four dogs and two fawning children? Especially when, as she says, he had already "fulfilled his nine lives"?
Dexter didn't care about any of that stuff.
"Dexter was incessantly meowing at me, weaving in and out of my legs, putting his paws up on my lap as I knelt down," Williams explains. "OK, I was going to bring him home."
When Williams got Dexter home, the first thing she did was call a family meeting. There needed to be some ground rules.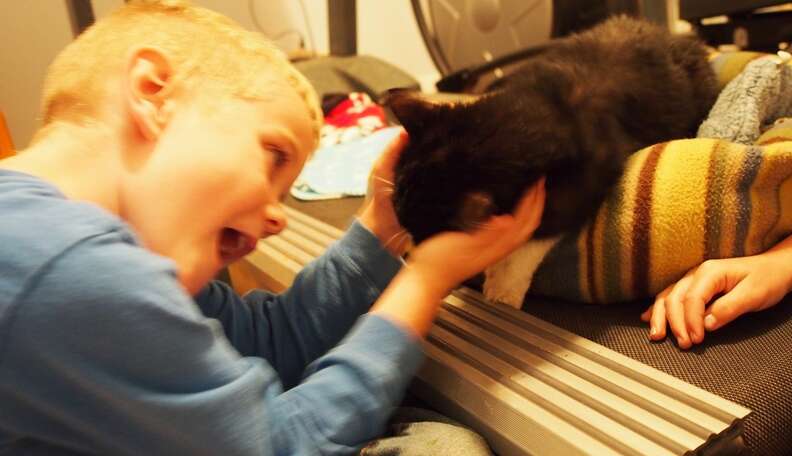 "I said, 'This is Dexter. He is 20. He really didn't like being with other cats at Best Friends, so I think we can give him a pretty good life for a while.'"
Also, she added, "Do not open the door, we have four huge dogs out there and I have no idea how they will act with an ancient kitty."
Again. Dexter didn't care about any of that stuff. He was finally home.
JJ and his brother Harry, who was 7 at the time, fell hard for Dexter.
"JJ didn't see a 20-year-old cat with falling out fur and a crooked smile. He saw a best friend, a fuzzy soulmate. At only 5 years of age, JJ saw the importance of helping this cat - no matter his age or his appearance."
But it wasn't just human hearts that Dexter would triumph over.
"Over the next few days, Dexter would meow and stick his paws out from under his door," Williams says. "The dogs were all very curious. They never seemed aggressive or anxious."
Flora, a 140-pound malamute, was particularly keen to know who owned those paws under the door.
"She sniffed Dexter's nose through the gate and Dexter meowed and reciprocated the hello gesture," Williams says.
The dogs finally got a chance to meet Dexter, and the old cat worked his charm.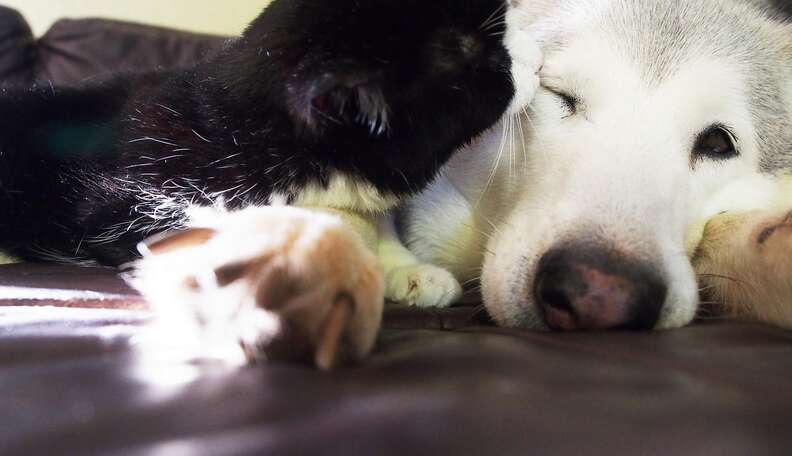 "The dog pack happily accepted this elderly kitty into their family," Williams says.
"It was the craziest thing," she adds. "I still can't believe it. All of them would sleep with Dexter. Dexter was king."
And he established his throne on JJ's heart.
Dexter spent the next two years basking in his family. He put on weight. His fur filled in.
"He was active and loving," Williams says. "He never acted old. Never. He loved anyone with a heartbeat."
Maybe it's because he had wasted too much of his life on solitude, but Dexter refused to spend another moment alone.
When his family was working, he cozied up on their laps. He joined the dogs on the bed at night. When JJ played video games, there was Dexter, curled up on his chest.
The only thing Dexter couldn't do was make his mighty heart any bigger. It was already bursting. And last week, it finally gave out.
"Losing a pet is never easy," Williams says. "And Dexter was the hardest yet for our family."
Of course, the boys grieved. Flora, the giant malamute, spent days howling outside.
But the last of Dexter's nine lives was bigger than all those that had come before. Because that was the life that brought him a family.
And that old cat still had something to teach his family.
"We decided to go to Best Friends and help another homeless cat," Williams explains. "We thought it was the best way to honor Dexter."
Williams took home a 1-year-old cat named Trixie.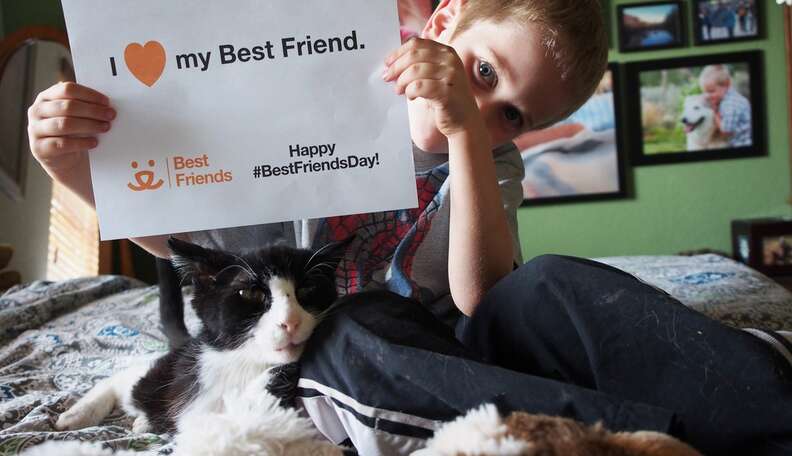 "She is loving and spunky. We think of her as Dexter's little sister," she says. "Flora has stopped howling, and our human children are smiling a little brighter since her arrival. We'll never forget Dexter and the legacy he left behind."
The Best Friends Animal Society helps countless animals like Dexter find homes. Even when the odds seem stacked against them. Consider making a donation here.
You can also watch a video about Dexter and his family below: