Senior Dog Abandoned In Freezing Cold Is So Loved Now
Three years later, he's "a happy confident little old man of 17."
The coldest day of Joe Joe's life was December 3, 2013.
The 20-pound terrier mix found himself tied outside an Iowa shopping mall in subzero weather. His family had left him there. He was about 14 years old.
It seemed the only people in the world who had any interest in him now were animal control officers. Joe Joe got his mugshot taken. Terrified, old and in poor health, he seemed a portrait of the unadoptable dog.
Diann Helmers
Diann Helmers found him cowering in a kennel, flinching every time someone tried to touch him. And from that moment on, Joe Joe would never know cold again.
Helmers, founder of Agape Fosters, began working her animal rescue network, looking for a family for Joe Joe. She would even waive the adoption fee.
Bonni Brown Holiday, a board member for another Iowa-based rescue, the Hardin Eldora Animal Rescue Team (HEART), responded to that call.
"I stepped up and picked him up bought him a cheeseburger and he has been my shadow ever since," she tells The Dodo.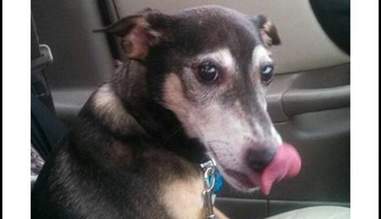 Bonni Brown Holiday
Sometimes, it's that simple.
Of course, for Joe Joe, coming back from the brink wasn't without cost. Already missing several teeth, he had to have eight pulled.
Then there was the heart murmur.
None of it gave Holiday pause. Not even when Joe Joe's cataracts and glaucoma led to the dog to lose his sight in 2015.
It hasn't stopped Joe Joe from growing into, as Holiday says, "a happy confident little old man of 17."
Bonni Brown Holiday
And he's got good friends in fellow rescues, Annie and BabyDoll.
Bonni Brown Holiday
Today, the only thing about Joe Joe that gives Holiday pause is the moment when he curls up on his bed. Old, blind and perfectly loved.
Holiday took a picture of him last week. Just like that. A portrait of the adopted dog.
The everydog of rescue.
Bonni Brown Holiday