Officers End Standoff With An "Aggressive" Pit Bull -- By Befriending Him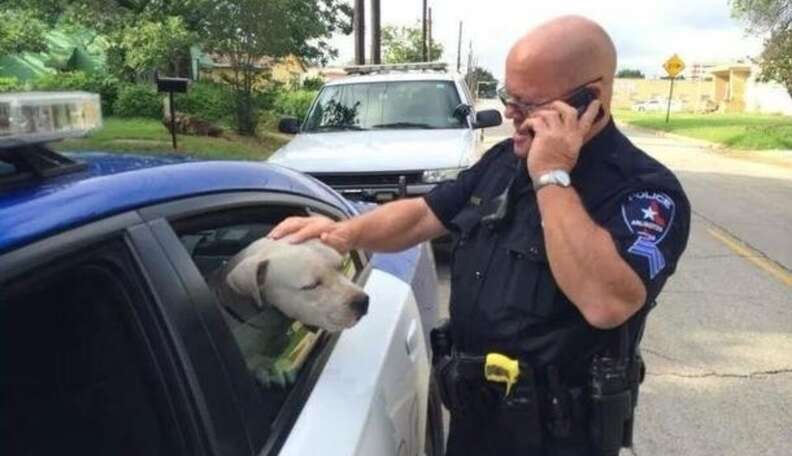 Two police officers in Texas are being praised for ending a tense situation with a potentially dangerous dog, not through the use of force, but with the power of compassion.
After responding to a possible home burglary in an Arlington neighborhood this week, Sgt. Gary Carter and Officer Heather Gibson were flagged down by several panicked residents who said that they had just been chased by an "aggressive" stray pit bull roaming through neighborhood.
"This dog is so vicious, please get him," one in the group told the officers.
Carter and Gibson parked their patrol car and soon managed to locate the dog, which was covered in dirt and looked like a stray. As they drew closer, the large animal disappeared behind a nearby house. Then, just moments later, the pit bull came charging towards them -- with a yapping little chihuahua hot on its tail.
"He ran right to me, like 'Help me, help me! This monster is going to eat me!'" Carter told the Star-Telegram.
Carter and Gibson quickly determined that the dog was not aggressive after all, and what might have been a tense standoff soon de-escalated. Carter instead retrieved a protein bar and lured the frazzled animal close enough to gain his trust with a few friendly pets.
"He was very dirty. Based on his cleanliness, he's probably a decent dumpster diver. He seemed awfully happy to get that protein bar," says Carter. "You could tell he was friendly and open and he needed someone to get him off the street. I'm glad the way it turned out."
Eventually, the officers were able to convince the dog to hop into the patrol car so they could take him to an animal shelter where the dog, named Jeffery, was later reunited with his owner, safe and sound.
"This is exactly the type of compassion we love to see our employees exhibit and credit their good judgment and our significant investment that our organization has made in providing training to officers on how to deal with dogs," says Police Chief Will Johnson.