Things could have ended badly for a 5-month-old Chihuahua who was left alone in a hot car - instead, the little guy was rescued AND adopted ... by the same guy!
Officer Jeff O'Rear was one of the officers who responded to an urgent call about a puppy left alone in a hot car parked outside a Kansas City, Missouri, shopping center last week. Surveillance footage showed that by the time police arrived, the puppy had been stuck in the sweltering car for an hour and 52 minutes, KCTV5 reports.
"I've been on the job for 18 years," Officer O'Rear said, "That was one of the worst things I've seen."
When officers opened the car to save him, the puppy was passed out inside his crate, on his back with all four little legs in the air. The heat index that day was near 110 degrees, local outlet 41 Action News reports.
Officer O'Rear rushed the dog into a nearby pet supply store to try to revive him, and miraculously, the little puppy seemed as though he was going to survive.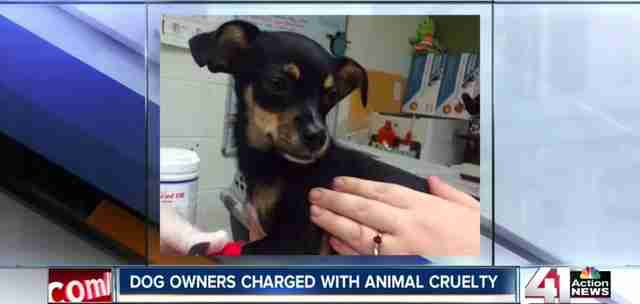 His tiny body had heated up to 107 degrees, but thanks to his rescuers, the puppy will make a full recovery. His former owners will be facing animal cruelty charges.
Last Wednesday Officer O'Rear rescued the puppy a second time - by officially adopting him. He hadn't been able to stop thinking about the little guy whose life he saved, and he decided to formally bring him into the family - surprising his daughters with the news.
"I want to make sure that he lives pretty much a life of a king for the rest of his life because of what he went through," O'Rear said. "I think we'll be able to provide that."
It's never OK to leave a dog in a hot car - even for a short time. For more information about what to do if you see a dog trapped in a car, click here.