ONE EYED O.B.ONE CHEATS DEATH-​The "force" is strong in this one.​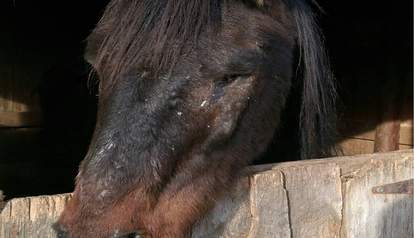 This one-eyed stallion wouldn't give up and neither did we.
Say hello to O.B.One (Obi-Wan), a stallion from the White Sands herd. O.B.One is an original member of the White Sands herd and once roamed the open spaces of the White Sands Missile Range in New Mexico.
When the U.S. ARMY and the State of New Mexico wanted all of the wild horses removed from the missile range, the ISPMB was there to oversee the safety of the wild horses. When the last of the White Sands herd was in danger of going to slaughter, the ISPMB was there to stop it. Read more at http://www.ispmb.org/WhiteSandsHerd.html
In 1999 the ISPMB saved the remaining White Sands herd, including O.B.One, and moved them to their South Dakota ranch. O.B.One was a free-spirited stallion among the White Sands herd; full of life and enjoying his new home on the ISPMB ranch.
For over 16 years, the one-eyed O.B.One was free to be among the herd and live a life of peace and safety; never to be rounded up again. He lost his left eye during a stallion fight but it has never slowed him down.
With old age and years of mock and real battles with other stallions, O.B.One started showing signs of slowing down. With his age estimated at 25 to 30 years old, the ISPMB kept a close eye on him, ensuring he was still an active and healthy member of the herd.
As one of the oldest members of the White Sands herd, his senior age caught up with him. He laid down on one of the coldest days in January and was unable to get back to his feet. The ISPMB team carefully watched O.B.One; giving him a chance to get up on his own. When it became evident that he could not do it alone, they helped him to his feet and gently loaded him in the trailer. He was immediately placed in the senior center; a place where the most senior of horses get special attention, senior feed and all the medical assistance needed to ensure their golden years are spent in good health and happiness.
His first week in the senior center was touch and go when he struggled and was unsuccessful getting on his feet. A custom sling was made to help raise him up. Although he was unsure of the activities around him, he never lashed out in fear but instead responded to our kindness and assistance. Even on his blind side, he eventually trusted that he was being helped. O.B.One may not have been able to get up from time to time during those first few days, but his will to live was obvious and strong. He excitedly ate his senior diet, even with the hidden medication inside.
It has been just under a month since O.B.One was near death and now he is bright eyed and sweetly greets his caretakers each day. He gets up on his own now and enjoys his barn with its warm fresh shavings and his fellow seniors Geronimo and Troy.
The ISPMB is a non-profit organization and has been saving America's wild horses for over 50 years. Follow them on Facebook, click ISPMB or visit them at ispmb.org
For just 64¢ a day, you can help the senior horses at the ISPMB. Your monthly gift of $20 will help us help them through their golden years.
Become A Monthly Senior Donor:
https://www.paypal.com/cgi-bin/webscr?cmd=_s-xclick&hosted;_button_id=BZKTBREJ5RA2Q – Don't forget to click the recurring payment option.
Make a One Time Payment: Any Amount Helps!
https://www.paypal.com/cgi-bin/webscr?cmd=_s-xclick&hosted;_button_id=SH9FDFQXGVF2L
#wildhorses #ISPMB #charity #donate #foragoodcause #saveamericaswildhorses #helpforhorses #protectwildhorses