NYC Mayor To Liam Neeson: The Carriage Horses Must Go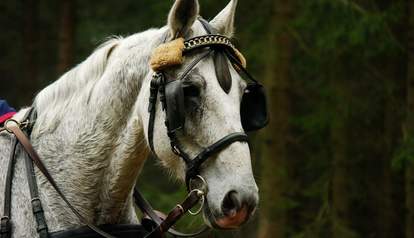 Liam Neeson gave a guided tour of a stable that holds some of New York City's controversial carriage horses to city council members and the press last weekend, provoking the ire of animal welfare activists and prompting the mayor to fire back.
According to the New York Times, Neeson has a personal connection to the drivers:
Mr. Neeson said he has been walking around Central Park admiring the horses for 20 years. He also has a personal connection to the carriage drivers, many of whom, like the actor, are Irish: The wife of one driver has worked as a nanny for Mr. Neeson's children.
But at a news conference on Sunday, new mayor Bill de Blasio said the horses are still on the way out, despite Neeson's star power. The mayor said he would visit the stables to talk to drivers about getting jobs driving the antique electric cars he proposed as replacements.
"I used to be someone who thought the carriages were sort of part of life in New York City, and I've traveled my own journey coming to the view that it really didn't make sense anymore," Mayor de Blasio said a press conference. According to ABC, he added:
"I respect Liam Neeson a lot. I'm a big fan of his work. But the fact is I've put forward a plan and a vision, and the people ratified it in a election, and that's what mattered most. What we do want to do, and we've said this repeatedly, is work with the carriage operators to find a good path for them individually going forward. Other job opportunities for them. They would get first dibs on those job opportunities. We have to put together all the pieces."
Animal advocates have slammed Neeson for his support of the industry, which they say is cruel and puts the animals in danger. They also anticipate a full ban soon, with the horses being put up for adoption. Allie Feldman, executive director of NYCLASS, said in a statement:
We are exploring options to determine the smoothest, most fair and equitable way to transition out the use of inhumane horse carriages, transition in the job-saving electric antique replica cars for current carriage drivers. The commitment of Mayor de Blasio and Speaker Melissa Mark-Viverito is unwavering, and we look forward to working closely with them and other officials to get the horses off the streets in a way that is humane for all.
Last month, The Daily Show host Jon Stewart took down Neeson on the same issue, saying that the carriage industry "does not seem to be a particularly fulfilling life for an animal."