Elephant Who Can Barely Walk Forced To Give Rides Over And Over
Sometimes she's called Bubbles. Other times she's called Tiny or Peanut or Dumbo. But she's known mostly as Nosey, and she's quite possibly the saddest circus elephant in America.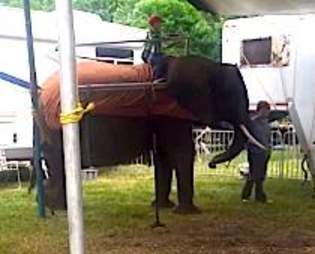 Nosey travels from town to town, forced to give rides.

| YouTube/Keri Fields
Hugo Tommy Liebel of the Liebel Family Circus, also known as the Great American Family Circus (which has racked up many animal welfare violations over the years, while Liebel denies wrongdoing), has owned Nosey since 1988. Liebel might change her name, but she's always the same sick, exhausted 34-year-old elephant, one of the last traveling circus elephants in the U.S. (Even Ringling Bros. and Barnum & Bailey Circus decided to give up its elephant act.)
Karen Ess, of the activist group Action for Nosey Now, worries that nothing is changing for her anytime soon.
"After seeing Nosey in person several times early in the year, the rate at which her condition has worsened is shocking," Ess told The Dodo.
"For at least the last couple of engagements, Nosey has been exhibited at no charge to the venue host, leaving more, if not most, of the responsibility to generate revenues on Nosey's back - literally," Ess said.
This means that Nosey has to give enough painful rides to support the business and travel expenses involved in carting her from town to town, according to Ess.
At a recent gig at a strawberry festival in Lagro, Indiana, a Nosey advocate named Keri Fields shot some video of Nosey - and glimpses of Nosey's plight are harder and harder to come by. Nosey's travels this year began in Kissimmee, Florida, at a petting zoo behind the Gator Motel.
"Since Kissimmee in April, Nosey has been kept behind the shrouds of tents or makeshift tarp walls for exhibitions," Ess said. "Photography is strictly controlled. Why, if there is nothing to hide, would anyone go to such great lengths to keep Nosey from public view?"
In the latest video, Nosey's left rear leg alternates between dragging and a rigid, awkward sideways swing, Ess observed. "It doesn't take a vet to recognize how contorted Nosey's gait has become," she said.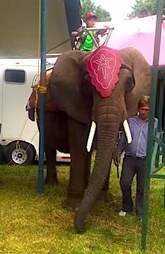 Nosey was taken from her mother in the wild at age 2.

| YouTube/Keri Fields
So, this traveling season - the warm summer months when towns hold festivals and when Liebel can cart Nosey from town to town in a truck, making profits off of her - is shaping up to be like all the others.
"Quite frankly, I don't know how Nosey will be able to get through a full season considering the clearly painful condition she is enduring," Ess said.
Urge Congress to take action for Nosey now.
Watch a video below about elephants who got the love and care they needed: