Last week, Norwegian Broadcasting Corporation (NRK) began airing an animal-centric program called Piip Show. The streaming online series, described as "a reality show with wild birds," follows the unscripted lives of feathered visitors as they stop by a bird-feeder made to look like a tiny coffee shop.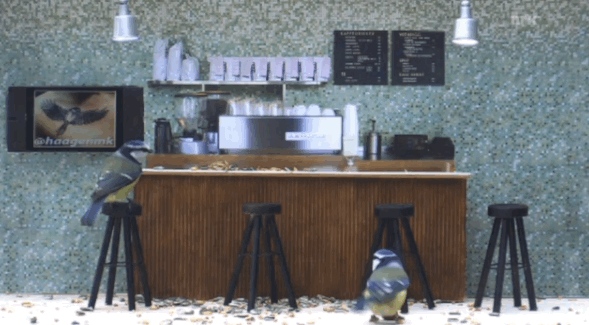 Creator Magne Klann says the live-streaming reality show is as real as it gets. Aside from encouraging them with a bit of bird seed, the avian stars are acting on their own.
"We are not able to do anything to make them act the way we want them to act," Klann tells The Local. "We just have to anticipate what they will do. That's a big part of the idea and that's a big part of what fascinates people."
Piip show, with its eclectic cast of wild birds (and the occasional surprise guests) has become NRK's most-watched web program, even attracting the attention of Norwegian royalty:
Piip Show is slated to run until the end of June, though Klann says that as the reality show progresses, new settings will be introduced. If the birds are agreeable to the idea come Spring, he hints that perhaps the program might even feature its wild cast members building a nest and starting a family -- but that's entirely up to them.
"In two or three weeks, I expect we are going to see some changes, but I can't really tell you what at the moment," says Klann.