In less than two weeks we will take possession of Hound Sanctuary's new rescue property. I wish I could cry tears of joy, but I've been holding back tears of grief for a while now because this achievement comes only through continued rejected requests for help, followed by dents to our personal bank accounts and risk to personal financial security-scary enough without the added host of resultant stresses. We are still out there daily with our begging bowls, trying to dredge up donations for the things still needed for the sanctuary to open for the rescue dogs, but it looks like we'll be paying for most of that ourselves as well. As for the advice I read somewhere recently, that if you really want to save animals, the best thing you can do is to become rich . . . well, let's hope that the next best thing you can do is faithfully spend all you have and trust that it will all come back to you just in time.
G Van Hoy
(Our two podencos playing in our old back yard in CA)
Our model was certainly not the standard model. We founded HS in late 2013, then began rescuing, rehabilitating, and rehoming desperately needy dogs from our home in Rio Del Mar, California-a 2000 square foot home on a less than 5000 square foot lot with neighbors set tightly all around. Last month, we sold that home and are now using the relatively small amount of equity from its sale to purchase a larger property in Oregon, where such property is more affordable. We still needed to take out a new purchase loan, however, because the money netted from the sale of our personal home was not enough to cover the entire purchase of the sanctuary property, and we also need to make changes to the new property to make it dog-safe and rescue-ready.
Rosemary McDonald/Jacky Hazeleger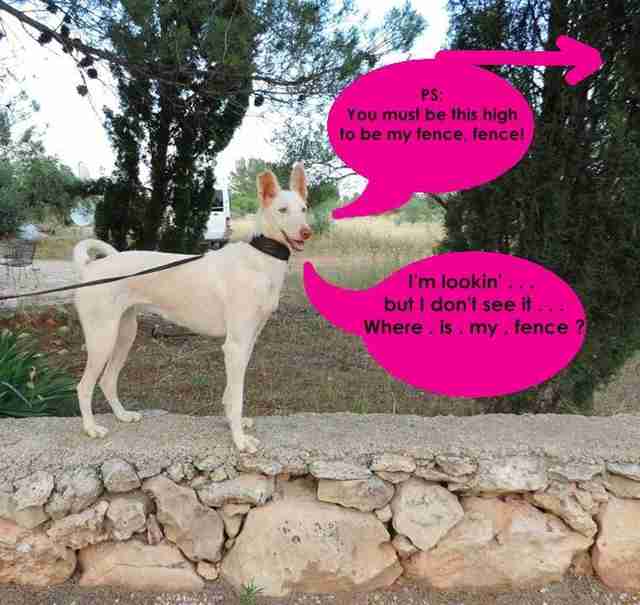 (This is Iona, a Podenca Ibicenca waiting to come to Hound Sanctuary and find a forever home)
We continue to hold monthly fundraisers, and we do have some consistent supporters. It is through the kindness and generosity of the people who bid in our fundraising auctions, who are signed up in our Pawholders automatic monthly donation program, who send donations once in a while as their budget allows, who sponsor a particular dog that we are trying to save, or who donate something to be auctioned off, that we have been able, so far, to continue our rescue missions and help save lives. It is also these people-for the most part, it is the very same people-who are now trying to dig deep to help us pay for the $47,900 fence that we absolutely must have in order to open the sanctuary in two weeks. We've raised somewhere south of $2000 for that project so far. That is not a whine; in fact, it is a testament to the good nature of our relatively small pool of actively engaged supporters who may have small personal budgets, but enormous hearts.
G. Van Hoy
(This is our own podenca, Dahlia, whom we saved from a Spanish killing station. Sweetest creature ever.)
Yes, we've asked all the known animal-welfare names. Yes, Ellen (God yes-love her. Remember that deer/hunter bit she did eons ago? I've loved her ever since). Yes, Ricky. Yes, Bridgette. Yes, Betty. Yes, yes, yes. We've asked and asked. I personally have sent out hundreds of letters in regular mail as well as the likely more annoying tweets, Facebook messages, emails, and so on. And yes, we've also asked the appropriate philanthropists, but to no avail. If you, dear reader, know someone, grab that person by the ear, drag that person over here, and get that person to call me. Please. 831. 239. 9417. We have t.w.o. w.e.e.k.s.
SCAN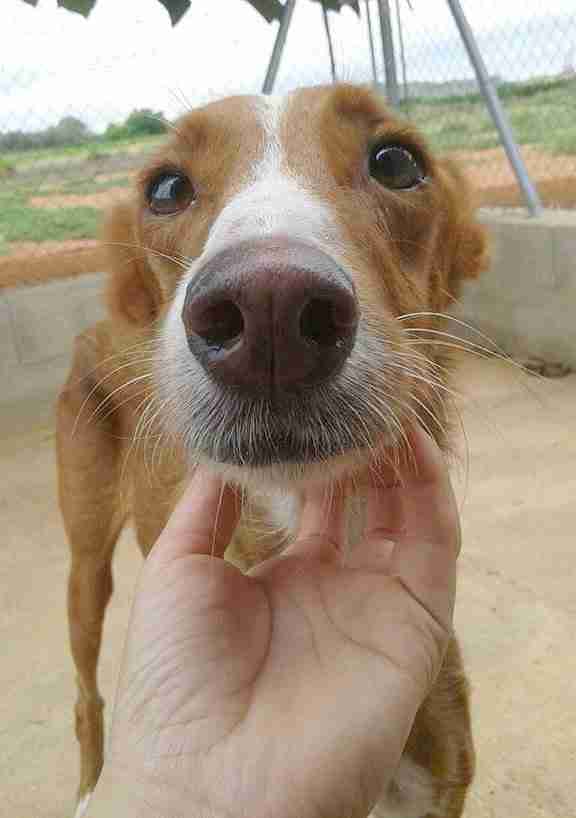 (This is Fawn, who is also waiting to come to the sanctuary this year.)
The largest single donation we have ever received (not counting the myriad donations we ourselves have made) was $1000, and it was unsolicited. Who do you think it was from? It was from one of our adopters, who already was, additionally, paying our standard, oft-maligned*, $500 fee to adopt a podenco. I am not even going to try to turn this point into a moral.
SCAN
(Johann & BamBam will also come to the sanctuary this year and find forever homes, once the fence is up.)
I have to trust that next time I write here, it will be with good news of the sanctuary's grand opening, complete with photos and happy hound faces living in Oregon and meeting potential forever parents. I know for a fact that there will also come hundreds more sad stories to tell-and that, dear readers, is why I am willing to give up my income for this project. The question is, how can I convince those of you who can afford to give up some of yours, to do so?
Convinced already? Visit www.houndsanctuary.org, or call me at the number mentioned above.
___________________________ *People sometimes complain about the fee, so we need to explain to them that the fee to adopt a podenco is $500 because it costs us at least $2000 to $2500 to rescue one podenco or galgo; thus the $500 fee is really more of a partial expense reimbursement. If we were being truly fair, we'd ask the adopter to pay the entire thing. Instead of worrying about getting all our money back, we try to help the dogs get great forever homes.