Mudhole Dog Reunites With The Construction Workers Who Saved Him
<p><a href="http://www.blueridgehumane.org/">Blue Ridge Humane Society</a><span></span></p>
For months, construction workers would show up at their North Carolina job site like clockwork. And every morning, they were met by the same sorrowful scene from a yard across the street.
The Dodo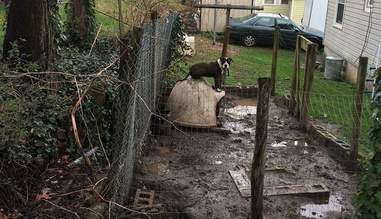 The Dodo
A dog had been living in a muddy pen, on a Hendersonville property slated for demolition. He would run to the fence, his tail wagging feverishly. The construction workers were his only visitors and rarely saw anyone emerge from the house, except to occasionally throw dry dog kibble over the fence, where it scattered in the mud.
The Dodo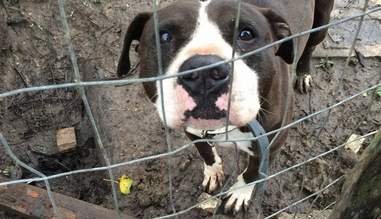 The Dodo
The workers would share their sandwiches with him. Other days, they'd bring spare construction materials and build him a makeshift shelter from the elements.
The dog, who they named Demo, was all licks and gratitude for every scrap of compassion. At some point, a worker, worried about the dog's condition, called an animal rescue.
The story, published in The Dodo last month, won the dog a legion of admirers from around the world.
The day after it ran, Demo's day finally came - he was taken in by the Blue Ridge Humane Society.
While he's still looking for a real home, Demo, who has since been renamed Noah, is warm and healthy and catching up on all the love he missed.
This week, he got something more: a reunion with the construction crew who showed him the only kindness he had known.
Local residents and animal lovers wanted to show the workers their gratitude for being Noah's lifeline.
The glorious reunion went like this:
Here's happy Noah, straining at his leash as he rolls up on the scene.
Here's Noah glued to the first worker he sees.
The whole gang gets in on it.
When he was finally able to tear himself away from his heroes in hard hats, Noah went back to the humane society, where he's still waiting for his forever home.
"He's had a lot of interest, but no takers yet," shelter director Eryn Carper tells The Dodo.
Think you can help? Get in touch with the Blue Ridge Humane Society through its website or call 828-685-7107