A tiny lamb appeared in the middle of the night and at death's door.
It was 3 a.m. on June 3, and a member of the public had brought the little lamb to Edgar's Mission, an animal sanctuary in Australia, begging them to take her in and try to save her life.
Filthy and freezing, the lamb was just a few hours old. "Judging by the terrible condition she was in and the smell of the filth that covered her, she was either born on a livestock transport or stockyard," Pam Ahern of Edgar's Mission told The Dodo. "She appears to have been trampled by other sheep and she was covered in urine and excrement, with her umbilical cord still dripping blood. She was definitely a newborn and more than likely missed out on her mother's life-saving colostrum."
Rescuers were determined to do everything in their power to help the poor animal survive after her rough beginning. They cleaned up the freezing lamb and wrapped her in blankets to keep her warm.Edgar's Mission announced the arrival of the tiniest lamb they have on its website, adding cautiously that it "will indeed be amazing if she survives." They named her Grace.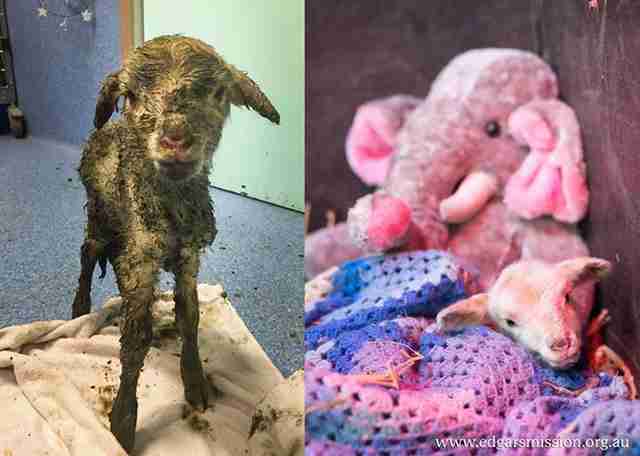 "Young and vulnerable animals such as she, having had such a traumatic start in life, are really behind the eight ball when it comes to surviving, and we knew if would be absolutely amazing if she could make it," Ahern said. "But Grace is one brave and courageous little girl."Grace was given colostrum, which upped her chances. "For the first 24 hours this is all we gave her, this and many many prayers and good wishes," Ahern said.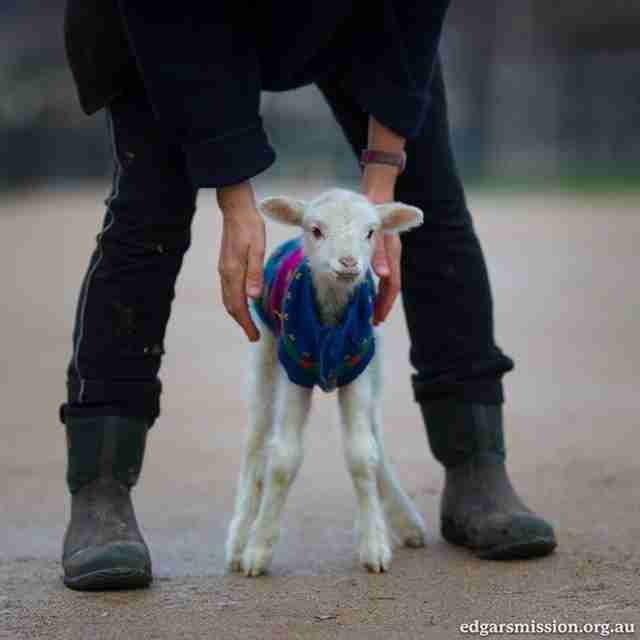 Grace snuggles up warmly with her new friends, who include fake animals ...
... as well as real ones. Here she is in a sweater with her new friends ... also adorably dressed in sweaters.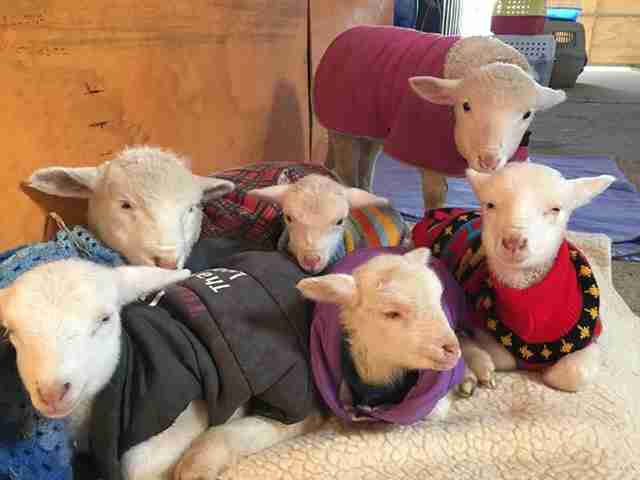 Days later, Grace the lamb is making incredible strides. The tiny lamb is growing stronger each day and she still remains one of the smallest lambs Edgar's Mission has ever encountered."Our nursery is growing by the day and little Grace greets each new arrival with a little kiss on their ear, we swear she is whispering you're safe now you're at Edgar's Mission!" Ahern said.
We're so happy Grace is making such an incredible comeback.Learn how you can help Edgar's Mission here.