According to a report from the International Business Times, crewmembers from the Japanese whaling vessel Nisshin Maru were attacked by a pod of orcas after jumping into the ocean when they smelled a gas leak aboard. In the incident, writes the IBT, 16 whalers were killed, including at least one who was "gobbled down alive" by an orca.
"It was horrific," a witness is reported to have said. "The water was red with blood, there were bodies everywhere."
News of the violent scene is quickly spreading across social media, leaving many in disbelief -- and rightfully so. The story is a bunch of baloney.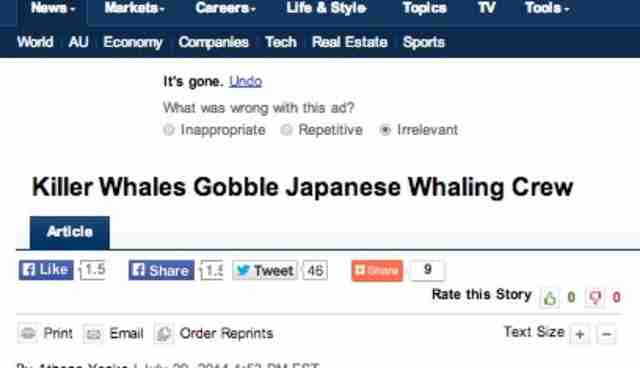 The International Business Times cites as its lead source a website called World News Daily Report. Despite the quasi-legitimate-sounding name, the site posts the following disclaimer: "All news articles contained within worldnewsdailyreport.com are fiction, and presumably fake news."
In contrast, there have been dozens of incidents in which killer whales in captivity have been overtly aggressive towards people which has resulted in a number of deaths.
To many, this simple fact suggests that orcas pose no threat to humans by nature, but may be driven to that inclination through the wholly unnatural conditions of their confinement at marine parks, like SeaWorld, where three people have died in an orca's tank in the last 30 years.